Wireless Technologies
C-Suite Talk Fav Tech: Ashley Unitt, NewVoiceMedia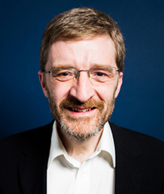 Name: Ashley Unitt
Job title: Chief Technology Officer
Company: NewVoiceMedia
Industry: Cloud computing
Location: Basingstoke, UK
Years' of experience: 20+ years
What is your favourite personal gadget?
The thing I use most is my smartphone. It's not necessary my favourite but it's definitely the thing I use most often for many different uses. Like most people, I'm addicted to it.
Do you have a favourite piece of personal software?
I would have to say Google Now for its combination of helpful features including travel times and reminders and ability to surface useful data and articles. It still suffers that you can get stuck in your own little bubble of interests and conformation biases but it's improving all the time. I'm very interested in the future of AI-based assistants.
What was the first piece of technology you got really excited about?
It would have to be my old ZX81. I still remember that first morning of getting up early before school to unpack it and get started with it. That moment set the direction for the rest of my life.
What device improves your life most at work?
I am big fan of using my smartwatch at work to keep track of important notifications and events. This is probably both a blessing and a curse as I am much more connected all the time.
What software keeps you most productive at work?
I do like collaborative document sharing and editing solutions. Google Apps are great for this and it's good to see companies like Microsoft and Dropbox catching up in this area.
Is there any technology that has become extinct that you would like to resurrect?
I was a great fan of the promise of Google Glass. To me Google Glass is the Apple Newton of its day. The Newton is really the ancestor of a lot of the smartphone technology we have today, it was under powered and searching for a purpose but the vision was there. In a few years we will see a lot more wearable, invisible intelligent assistants, whether they come as glasses, earbuds or part of our clothing, they will be there.
Is there any technology you would personally recommend that you don't think enough people know about? (Hardware or software, work or personal)
There are a lot of things going on in the hardware space rising from the Maker movement and the availability of cheap easily programmable hardware such as the Arduino and Raspberry Pi. There is a huge explosion going on of many small companies and individuals building their own devices and connecting them to the Cloud in new powerful ways. The Internet of Things is coming and is accessible to everyone to build and tinker with themselves.
Do you think anything about your personal use of tech would surprise your colleagues?
I think my colleagues know I'm a real technophile but maybe they don't really realise how much. I do love doing simple electronics and robotics with my children and I have surprised my colleagues at times with things like my Christmas tree that changes the colour and pattern of its lights when responding to Twitter messages. They probably don't realise quite how many tech toys and gadgets I have at home.