Lean Manufacturing
Crowdsourcing Innovation: Alroy Almeida, Voltera
Crowdfunding sites are offering a new path for inventors with original ideas. We talk to inventors looking to gain the public's favour...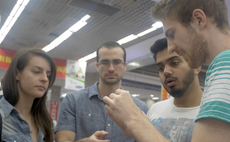 Name: Alroy Almeida
Job title: Co-founder
Organisation: Voltera
Location: Kitchener, ON, Canada
Product: Voltera V-One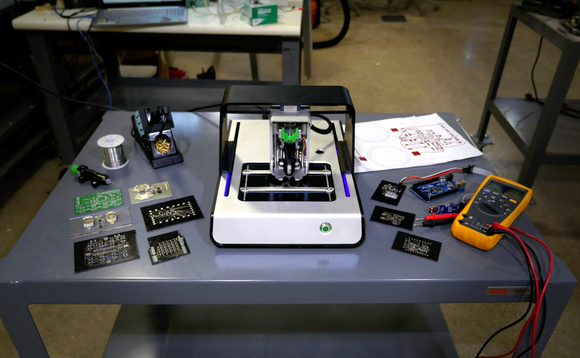 What it does & how it works:
The Voltera V-One helps hardware professionals and hobbyists to cut down their electronics development time from months to days. Sometimes this means a much shorter time to market and other times just a nerdy Halloween costume on a moment's notice.
The printer lays down a silver nanoparticle ink to create the electrical traces of a circuit. It accepts Gerber files as input and prints onto FR4. Standard in, standard out as we like to say. Why is this important? Factories around the world spit out tens of thousands of boards every day, but you'd be surprised how difficult it is to get just one! Electronics prototyping is expensive and time-consuming. We make it better.
Let's say you finalize your design but now you want to create 10 or 20 boards as the next step of your design cycle. The printer can also act a standalone solder, paste dispenser and reflow oven. No more messing around with stencils. No more high PCBA costs.
What makes it special?
The Voltera V-One is currently the only circuit prototyping tool on the market capable of creating 2 layer boards. This is accomplished by printing an insulating mask between conductive layers where they overlap. This is also a tool that will take a beating throughout the design cycle because it is actually three tools in one: circuit printer, solder paste dispenser, and reflow oven. It is a workhorse and built like one too.
Features aside, I think what really makes it special is what it represents. Faster prototyping means faster innovation. Easier prototyping means it is easier for people that are unfamiliar with electronics to start learning.
What's your background, and what inspired you to come up with the idea?
Jesus, James, and myself are alumni of the Mechatronics Engineering program at the University of Waterloo. That's where we met and that's where we identified the qualities in each other that made us realize we were okay spending an uncomfortable amount of our lives together! Katarina added her nanotechnology background to the founding team because on the chemistry side of things, we didn't know what we didn't know!
We had worked at various electronics companies and ran into the same problems over and over: 1) we would wait for weeks for PCBs to return from the fab house only to realize we had made a mistake or the product requirements had changed or 2) we would pay to expedite the boards and hope no one noticed the rapidly depleting budget.
Like typical geeks, we worked on projects at home as well and often resorted to etching the boards ourselves because we couldn't justify the fab house costs. Actually, one of the first things we get any new hire at Voltera to do is etch a board themselves; it's important for them to understand the pain.
Kitchener-Waterloo has a booming entrepreneurial ecosystem and we had many close friends that had started their own businesses who encouraged us to do the same. We had a great idea, a proof-of-concept (in retrospect it was more of a proof-of-an-idea-that-had-a-slim-chance-of-ever-becoming-a-proof-of-concept), and a great team that was inspired by the waves that 3D printing was creating for mechanical prototyping. The time was right!
Why choose Kickstarter?
1) We knew we wanted to run a crowdfunding campaign because it allows us to get funded in the form of sales, the best type of funding. More importantly, it takes a very special kind of people to back a campaign knowing they won't receive a product for a year. It would be foolish to not work with early customers that believe in you and your product that much! Plus, we're hoping to learn a lot from them as well - I'm certain that our current backers will have an unprecedented say in what kind of company we grow up to be.
2) There are many crowdfunding platforms available, each with their own pros and cons, each with fantastic teams behind them, and each with great success stories. We were looking for one with a great track record with electronics development kits and with 3D printers (the closest analogy for our product). Not only did Kickstarter have impressive projects in both of these areas, but some digging showed us that both categories shared similar backers!
Is Crowdfunding good for innovation? How so?
Yes! So much yes!
We feel like the Voltera V-One breaks down barriers to hardware development that were previously huge challenges for fledgling companies or hobbyists. It's hard to "move fast and break things" when you're constantly being slowed down by the processes around you.
In the same way, crowdfunding drops the barriers related to evaluating product-market fit, finding early adopters, financing manufacturing (for hardware businesses), generating PR buzz, and developing partnerships. Even failed campaigns can help businesses learn from their timing or communication mistakes (see Coolest Cooler's first campaign) or generate excitement about a good idea that could potentially exist at some point (see Ubuntu Edge).
A lot of the focus is on start-ups that are creating technology products... but that is definitely not the only kind of innovation out there. The Immunity Project raised funds to develop a free HIV/AIDS cure. Of the projects I have backed myself, one of my favourites is Augie and the Green Giant, a children's book I had bought for my niece. Not only is the protagonist a female, but she is passionate about math, science and taking risks. That's a message I can get behind!
Reactions from users on KS?
First of all, the reaction as a whole was way larger than we could have ever anticipated! We knew were solving a problem that we faced and one that others did as well, but now there is no denying the size of the market!
We were also surprised to see the response was overwhelmingly positive. There are limitations to our product, and we'll be the first to admit them. Actually, I think it was because we did admit them that the response we got as a whole was a lot more supportive than what you would expect on the internet. As a young company, harsh comments can cut really deep but messages full of love reminded us why we are doing this: we want to make a difference in people's lives.
What lessons have you learned from your campaign?
To be brutally honest, one of the main things we learned was that no matter how much you prepare, you're never going to be completely prepared. It's not that you forget things, but rather that it is impossible to expect the unexpected. The biggest piece of advice we can give is that you should prep as best as you can, but once you hit the button to go live to stop worrying about what can go wrong. This will be one of the most exciting points in your life and you should enjoy it!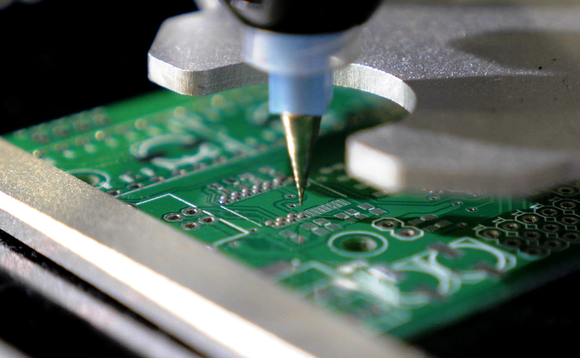 Who are you aiming the V-One at; Hobbyists or professionals?
In the business world, it is generally frowned upon to target both the consumer and the business markets. However, when we looked back at why we started building this tool, it was because we faced challenges designing circuit boards in the workplace and for our hobbyist projects.
We have definitely strived to make it as access able as possible for the hobbyist community (the Kickstarter price is several hundred dollars less than it will be post Kickstarter which will allow them to pick up a cheaper unit) but we have been seeing a lot of people from industry - both start-ups and larger businesses - that have backed us.
What do you see people using the V-One to design, and how do you personally use it?
The Voltera V-One is really a two application tool:
We expect a lot of people to be using the circuit printing feature to develop early ideas of electronics they want to build, to validate new ICs, and to build products they need. The template boards we are offering with the printer allows them to build off existing platforms like Arduino.
A lot of people are also very excited about the solder paste dispensing and reflow functionality that also comes baked in. We feel like this will have a lot of uptake with other hardware companies that want to build beta units or boards for final testing without paying for expensive PCBA on such low volumes; that's definitely one of the ways we use it!
In your campaign video you say you moved out to Shenzhen, China. What was that experience like, and would you recommend it to other entrepreneurs?
The decision to move to somewhere where we didn't know anyone, didn't have a support system, didn't know the language, and didn't have any idea how to get anything done was not a sane choice, but in many ways, neither is starting a company in the first place. We essentially had to take all of our plans for the future, throw them out the window, and start from scratch.
Not only was this the biggest decision we've made as a business, I think it really was the best one we've made. All of China moves at the speed of a start-up so we were able to accomplish more over there than we would ever be able to in North America in the same amount of time. We put together our supply chain and our plan for manufacturing. We were introduced to the HAXLR8R network and truly found a family in them.
We saw amazing growth in our company while we were there, and we also saw amazing growth in each other. I think the experience gave us an appreciation for different cultures and helped us learn things about ourselves - especially just how far we can push ourselves. If you're reading this and building hardware: go to Shenzhen, tour the electronics markets, eat the street meat, visit factories, drink baijiu with old Chinese men, and come back all the richer because of it all.
Possible business use/advantage?
Time is money. We've been hearing that since we were kids and never before has it been more true than in today's world. Rapid prototyping tools are seeing the huge jump in adoption because businesses are seeing the value in keeping early development in house for IP protection, they want to be able to bring new products to market faster, and they want to make sure they are paying engineers to engineer, not to wait!
We've seen demand for the Voltera V-One from hardware start-ups, large aerospace companies, research institutions, and even special effects studios!
What next for the company and the product?
We have so many ideas for future products and different directions we can take the company; however, we've learned not to think that far ahead. It's important to strike a balance between knowing where you want to go and not keeping your head buried in the sand.
2015: Our biggest commitment is to our Kickstarter backers. We're going to work tirelessly to get Voltera V-Ones into their hands as soon as possible. This will mean growing the size of the team - something that we're very excited to be doing.
2016: The first few months will be focused on getting the Batch 2 units out, but after that it'll be time to start working with our backers to make sure we're providing as much value to them as possible.