Analytics Software
From the Gulf War to Harrods - one man's race to get wearable tech to market
World-famous London department store Harrods signed its first retail deal for a range of wearable technology sports clothing in January, designed to help fitness enthusiasts meet training targets. Called Glofaster, the clothing range has already run its own marathon via UK founder and CEO, Simon Weatherall. His story is one of perseverance and determination. The fact that Glofaster even exists is an achievement in its own right.
Having left school with two GCSEs [examination qualifications for 16-year-olds], Simon went into the elite Royal Marines amphibious force, overcoming the odds and becoming one of six who made it through from a contingent of 54 applicants. He admits he had a tough upbringing and his stint as a commando with the Marines was tough too, having seen action in Sierra Leone and been part of the initial waves of the second Iraq war.
Marriage saw him leave the Marines and pursue a career as a personal trainer in his home town of Winchester, a historical town in Hampshire, England.
"I had already co-founded a website called Oobafit that calculates fitness and nutrition plans," says Weatherall, but when out running one evening he thought it would be "cool" to have illuminated trainers that responded to your performance levels.
"Then I thought a light-up suit that would be much better. It could show your heart rate and tell you what level you are working at, and the idea progressed from there. If you weren't working hard enough, the lights would do one thing and then another thing, depending on performance levels and targets."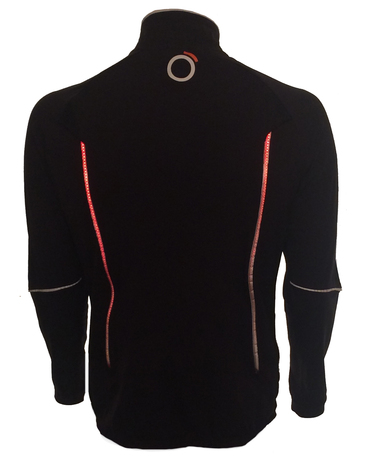 Sticky tape and Velcro
Weatherall even came up with an 'Iron Man' (no, not the film) training setting in the form of a light-up circle and started putting a prototype together on his kitchen table using sticky tape and Velcro.
He brushes over the fact that he fell ill with a stroke following a road accident and couldn't walk for a while and lost his old personal-trainer business at the same time as his marriage broke down.
"I had very little money left and realised I needed to do something, so I managed to buy a sewing machine and taught myself to sew. I got a jacket and some rubber tubing and looked at different ways to attach the wires and electrocuted my brother three times doing it. I spent a lot of cold nights sewing and gluing and eventually I had this suit. I took my boy George out with me first and about 10 people came over and asked us where we got the suit from. People seemed to like it, so I thought maybe there is a good market for this."
After putting together an initial website and trying to get some 'Likes' he found Dragons' Den, filled out an application form and got an audition for the show. He finally appeared on the show in February last year but it wasn't a successful TV debut for Simon. He didn't get the £80,000 ($122,000) investment he was looking for, but he did get some feedback, the nicest of which was from one of the 'dragons', Deborah Meaden, who, according to Weatherall said he had what it took to be an entrepreneur. Peter Jones's comment asking who would want to look like a Christmas tree while running down the street was followed by the claim that Weatherall was delusional. Piers Linney however told him to focus on the tech and that's just what he has done.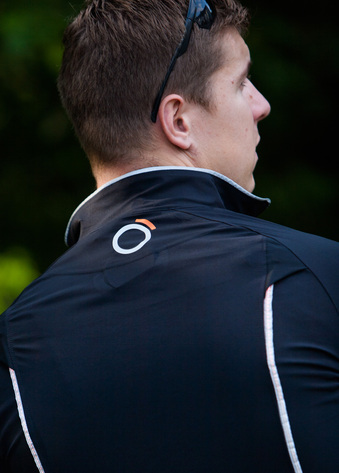 Getting the tech right has been the key to Weatherall's progression and while he took the comments on board he still had the issue of how to move the product to the next level. He needed investment.
"What's the point of being on Dragons' Den if you don't get something from it apart from a bullying?" jokes Weatherall. "I had set up a Kickstarter campaign to coincide with the Dragon's Den appearance and received about £7,500 ($11,400) in a week. After the show we had 4,500 visits to the website in five minutes and about 150 emails. From one of these emails we found an investor and that changed our whole strategy."
Glofaster made an appearance at the Wearable Technology Show last year and succeeded in creating a buzz, as Weatherall puts it. While some national press followed the business, they still needed a commercial breakthrough. The product needed to evolve. While Weatherall was happy with the way in which the tech was developing it was clear from feedback that the clothing quality itself had to improve.
Weatherall scoured the country and found a UK-based sportswear manufacturer that could make the clothing (the company already made clothing for some well-known brands) but he also improved the brightness of the lighting with LEDs and developed high brightness piping. The mobile phone can sit in the jacket snuggly "so you don't feel it when you are running," he says.
Custom design
Weatherall upgraded the embedded technology too with a custom-designed circuit board that sits in the clothing and communicates wirelessly via Bluetooth with a mobile phone. Called the Gizmo, this circuit board pumps electricity around the jacket to power the lights. It translates the messages sent from the phone (based on calculations created by the user around time and target distances) into a lighting pattern based on current speed. If you are not running fast enough the lights will flash until you reach the necessary speed to meet your targets.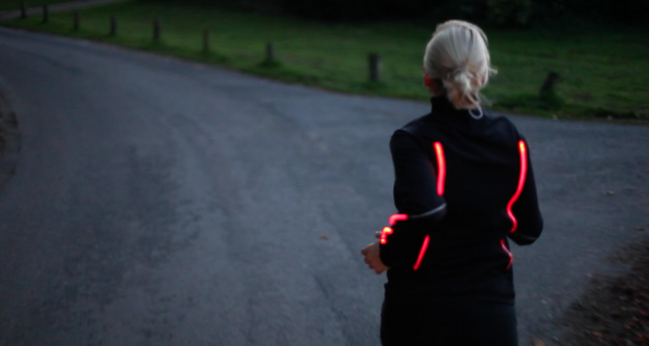 "The phone does all the clever stuff and the data is live, helping the runner to react instinctively. We do this by phone vibration and sound as well now."
So what next? How far can this go?
Weatherall of course is confident it can go far and the company is now being approached by other businesses to help build the technology into their product ranges. This, he feels, could take Glofaster to another level although he has jumped through enough hoops already to know that it's still early days for the company and the tech as a whole.
"We've got the Harrods deal," he says. "We want to keep our brand, the prestige with the clothing we are building." He is also opening up the application side of the business through a community called O-Labs, through which he hopes developers will create alternative applications for the range and drive the clothing in directions he couldn't himself take it.
These are early days but that, you feel, won't phase Weatherall. There is a raw energy about him and it's easy to see why Deborah Meaden thought he has what it takes. It's a market and a business worth watching with interest if only to see if this "delusional" school dropout from Winchester can hit his targets and run by one of Peter Jones' many mansions with a flashing message on his back saying "told you so."