Human Resources
Typical 24: Karl Mendez, CWCS Managed Hosting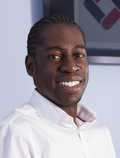 Name: Karl Mendez
Job title: Managing Director
Company: CWCS Managed Hosting
Location: Nottingham, UK
Years' experience: 15
1. What time do you reach the office each day?
It varies. I try to stick to normal office hours but this can change if I am meeting a client or if I am away on a business trip. I also occasionally work remotely.
2. Is your job varied?
Yes. My main remit includes day-to-day management of our brilliant leadership team and strategic planning to ensure our business continues to grow.
3. Is your job creative?
Yes. The technology industry is rapidly changing, so I am constantly looking for innovative ways to support new and existing customers.
4. What do you spend the majority of your time doing?
Managing the leadership team, ensuring they are given the support and tools needed to do their job effectively.
5. Do you personalise your desk?
I try to keep my desk clear and tidy at the end of the day, but I do keep various notes, appointments and reminders on my computer.
6. Would you describe yourself as creative?
Yes.
7. Do you have any quirky daily rituals?
I go for a walk in the morning before the day starts.
8. Do you tend to work on your own or with colleagues?
A mixture of the two. I find certain activities are better achieved on my own, but I also rely on team members.
9. How many hours on average do you work a day?
8 hours a day
10. Roughly how much time do you spend each day on email? Taking calls? In meetings?
Evenly mixed across all three, which is why I need to be organised!
11. Do you use social media much for work?
Not personally but a team member manages our company's Twitter account (@CWCS_Hosting) regularly.
12. What do you enjoy most about your work?
It has to be improving customer service and releasing new products to meet and exceed our customers' expectations. And also seeing the leadership team develop and perform.
13. What type of music (if any) do you listen to at work?
If I listen to music at work, it's usually Radio 1 and 1Xtra.
14. What do you do for lunch?
I have a packed lunch most days unless I am having a business lunch. I like to stay healthy although occasionally I can't resist some of the treats that my colleagues bring into the office!
15. Do you socialise with work colleagues?
Yes, we organise regular socials. I think it's really important we get to know each other outside of work, and find out what makes us all tick. After all, we spend most of our waking lives at work.
16. Are there any tasks (through your career) you've been especially glad to get rid of?
As the business has grown, I've found myself doing more and more management, and no longer 'getting my hands dirty'. That said, I wasn't glad to get rid of those tasks. It's more that the business can only grow if you find the right people around you and learn to delegate or outsource appropriately.
17. What is your last task of your day?
Definitely reflecting on the day and reviewing the plan for the next day. As I said earlier, I like to be organised!
18. How do you like to relax after work?
I enjoy spending time with my family and friends. I also like to go to my local golf driving range.
19. Do you keep checking email through the evening?
I do check emails until the early evening although I make a concerted effort to dedicate personal time to my family.
20. Do you take work projects home with you?
Sometimes, and it's normally during our busiest times which have recently been upgrading our processors and installing new cooling systems. We want to ensure these developments cause minimal disruption.
21. What would you say to your 20-year old self?
Keep going! I launched CWCS at the age of 19 and, although it's working out 15 years on, there were doubts along with way.
22. If you could try out any job for a day, what would you choose?
Pro golfer!
23. What device did you use to answer these questions?
Macbook Pro. I have to say I'm an Apple convert.
24. Do you use your own personal device for work?
No