Wireless Technologies
C-suite talk fav tech: Gaurav Kataria, Cyient
CIOs, and increasingly CMOs and CEOs, may be responsible for the technology within their group but what about their personal preferences? We profile the global c-suite to learn more about their 'fav tech.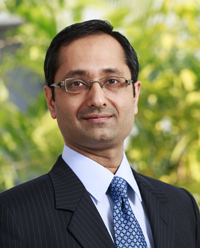 Name: Gaurav Kataria
Job title: Chief Information Officer
Company: Cyient
Industry: Engineering, manufacturing, data analytics, networking and operations solutions
Location: Hyderabad, India
Years' of experience: 18+ wonderful years and it only seems like yesterday that I was graduating from college!
What is your favourite personal gadget?
My mobile phone because it has all that I need: from my books and music to my photos and emails.
Do you have a favourite piece of personal software?
My audiobook collection on Audible.
What was the first piece of technology you got really excited about?
The Palm V5 personal digital assistant (PDA). It had a touch screen device that could take hand written notes, set reminders and store contacts. It was really handy!
What device improves your life most at work?
My mobile phone. It really helps boost my productivity.
What software keeps you most productive at work?
There are many, but I guess I will have to call out Microsoft Outlook for now. That said, I am becoming more of a fan of Microsoft Teams for collaboration.
Is there any technology that has become extinct that you would like to resurrect?
The evolution of technology is moving at such a rapid pace and rightfully so. It's a testimony to the changing ways of working and connecting. I'm not sure you can classify "time" as a technology, but in this fast-paced environment, getting back some time for myself would really help!
Is there any technology you would personally recommend that you don't think enough people know about? (Hardware or software, work or personal)
Reading is a critical part of one's intellectual growth. The internet is fairly pervasive, but apps that offer audio books (like Audible) or magazine aggregator applications (like Magzter) are really useful to help people take in more information quickly. That said, accessibility needs to be improved by bringing the subscription costs down.
Do you think anything about your personal use of tech would surprise your colleagues?
My very limited use of social collaboration apps like WhatsApp or Facebook often surprises people around me.