Cloud Computing
Typical 24: David Maffei, Vice President, Global Channel Sales, Carbonite
IDG Connect is looking to speak to IT, business and marketing professionals across the spectrum to discover more about their very different, typical working days…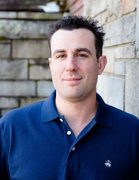 Name: David Maffei
Job title: Vice President, Global Channel Sales
Company: Carbonite
Location: Boston, USA
Years' experience: 11
1. What time do you reach the office each day?
I get into the office around 8:30 a.m. every morning. While I work in downtown Boston, Massachusetts, I actually live in southern New Hampshire. So, that means I either get up really early (motivated) and hit the gym before my day gets going or I sleep in a little later (lazy) and pay the price of the commute into Boston during rush hour.
2. Is your job varied?
My job varies greatly – probably a big part of why I like coming into work every day. One of the amazing things about Carbonite is the fact that while we are a strong, established Boston tech company, we play the game at such an incredible speed that it feels like an early-stage startup. This type of environment isn't for everyone, but it fits me perfectly. Those demanding 2 + 2 = 4 environments need not apply!
3. Is your job creative?
My job is beyond creative. It forces creative thinking at almost every turn. I always tell people who ask me what I look for in sales people, that I look for people who can think "outside the box" while being able to take the most direct path from Point A to Point B. It's extremely hard to find people whose nature allows them to naturally operate like this. To truly pull it off, you need to be über creative and be willing to walk through the proverbial fog. Ordinary just doesn't move the needle.
4. What do you spend the majority of your time doing?
The majority of my day is spent meeting with the different groups within our business on how to collectively implement strategies that allow us to achieve our big-picture strategies. That's a fancy way of saying I spend a lot of time in meetings with my executive peers as well as coaching my sales and marketing managers on how to get the most out of their teams. When I am not working internally to break down walls, I am talking to channel partners and customers – both new and prospective – about why Carbonite is a perfect fit for them. The best part of my day, sandwiched in between all the meetings, is typically a FaceTime call from my 5-year-old.
5. Do you personalise your desk?
Two years ago I read an article on LinkedIn that said to really accelerate your career internally, you need to keep your desk clean, neat and non-personalized. I guess I must not have bought into the concept. In addition to a massive amount of printed sales numbers and models covered in my chicken-scratches, I have a lot of pictures of my family, drawings that my children have made and an official MLB baseball which is essentially my version of a stress/thinking ball.
6. Would you describe yourself as creative?
I am probably less creative than I actually pretend to be. My creativity tends to come out in the form of questioning and challenging the ideas of the smart people around me, leading them to more creative ideas and leaving us collectively in a better place with a better work product. That said, it's not uncommon for me to float an idea to my team that is met with an eye-roll or two (or 10) and a sarcastic text message (or two).
7. Do you have any quirky daily rituals?
The first thing I do every morning before I even get out of bed is look at the sales numbers from the day before on my phone. I am either happy we had a good day or putting a happy (internal) spin on the day we are going to have in front of us.
Also, I'm somewhat of a creature of habit. I have three websites bookmarked on my iPad. That's it. Just three. Boston.com, ESPN and USA Today. Without fail, over lunch I will go to all three sites and get my daily intake of local news, sporting news and national/global news. Fifteen minutes a day allows me to stay relevant and seem educated in group discussions.
8. Do you tend to work on your own or with colleagues?
The team I manage is about 25 people and collaboration with them is critical to my success. In addition, I am fortunate enough to have a "drop in" relationship with my boss. We spend a lot of time each day "spitballing" hypotheticals and shooting holes in what are always initially genius ideas. Overall, I am consistently working with those above me, my immediate peers and those who report up to me. The job requires constant communication, collaboration and teamwork.
9. How many hours on average do you work a day?
I'm not sure how to quantify this. I'm not sure I ever actually stop being connected to work. I am in the office roughly 10 hours per day and spend an average of three hours in the car commuting back and forth to work. Once I'm home, I try and break away from the action to eat with or tuck in my kids and once they are down, I'll catch up on anything I missed or couldn't get to during the day. My most productive nights tend to be the ones where a show like The Bachelor is on TV because my wife doesn't want to talk to me anyway.
10. Roughly how much time do you spend each day on email? Taking calls? In meetings?
Of the 10 hours in the office each day I would say that six of them are spent in meetings and the remaining time is spent talking or emailing with customers, industry analysts and media types or one-off "drop ins" with my team and my boss. It's worth noting (and maybe a touch odd) that I probably spend over two hours every day across meetings and calls writing on a whiteboard. I guess you could say I am a visual person.
11. Do you use social media much for work?
This is a loaded question. I use social media a lot – flipping between Twitter, Facebook and LinkedIn. Earlier in my career I felt that the best way to segment my use of social media was to align Facebook with personal use and align Twitter and LinkedIn with professional use. Drawing a demarcation line between the two actually put me in a position where I wasn't using the social outlets at all. It was too cumbersome to maintain the differential and over the last few years, the amount of professional followers I have on Facebook and personal followers I have on Twitter has increased dramatically. As such, I am an avid Hootsuite user now, which allows me to broadcast work and personal messages to all three networks at once. An unexpected benefit of this strategy is the witty banter that takes place between work and personal contacts.
12. What do you enjoy most about your work?
This is the easiest answer for me to give. I love the people. I am surrounded by people that are way smarter than me and push me to think harder, go faster and execute at a higher level each day. I am lucky enough to work with people in some cases for the second or even third go-around.
13. What type of music (if any) do you listen to at work?
I actually tend not to listen to music at work, mostly because I am never in my office.
14. What do you do for lunch?
Of all the meetings that get scheduled for me throughout my week, one of the company's favorite types is a lunch meeting. I would say that four out of five days per week I am in a working lunch meeting where lunch is brought in and we spitball a plan while breaking bread. The risk here is that it makes eating clean and healthy during the week that much more challenging, hence hitting the gym in the morning.
15. Do you socialise with work colleagues?
I do, with both peers and reports. My mentor, who I have worked under for the better part of six years, taught me that when socializing with reports, you should have one rule – never be the last one there. Simple, yet great advice.
16. Are there any tasks (through your career) you've been especially glad to get rid of?
Truth be told, I hate interviewing people, especially sales people. Perhaps this is the same in every job type, but I have yet in my career to interview a sales person or manager who has not hit quota every year, made President's Club every year and isn't the best possible option for the role I am looking to fill. True story – in 2008 I had a candidate for a director of sales role actually doctor their W2 in order to try and get more money out of me. It didn't work. I tend to get a sense for the person I'm interviewing in the first five minutes of the interview and the remaining scheduled time is spent going through the motions. This isn't a productive way to interview and doesn't lead to optimal results, so I make sure that my managers are A+ players and I trust their ability to hire their teams. I don't need to be in the hiring weeds and do not want to be.
17. What is your last task of your day?
The last thing I do before I go to bed is scroll through the unread emails from the day and make sure that I a) didn't miss anything important or b) forget to do something that will cause me to wake up on the middle of the night stewing on.
18. How do you like to relax after work?
Living in Boston, I am an avid Red Sox and Patriots fan. I spend a lot of time with friends and family at both Fenway Park (which my office window overlooks) and at Gillette Stadium. With all these championships we keep winning (wink: New York), and having two young children, there isn't much time for relaxing. That said, a glass of wine on my deck with my wife overlooking the stream that runs through our property is about as relaxed as I get.
19. Do you keep checking email through the evening?
Through the evening and all weekend. It is sort of burned into my way of life. I do try and make a conscious effort to put the phone down during dinner with the family. I am (sort of) getting better at that every day.
20. Do you take work projects home with you?
Work kind of never stops… it is just kind of a way of life.
21. What would you say to your 20-year old self?
This is a great question. The number one thing I would tell myself at age 20 would be to filter through all the noise of all the advice that I was getting at that time and focus on one basic principle. Work smarter, not work harder. The easiest thing in the world to do is to work harder. Put in more hours, put in more time, put in more effort. However, if those efforts are flawed, the additional energy exerted is useless. Make sure you are thinking outside the box, taking the most direct path to the best resolution and think way smarter – not way harder. Also, to stop drinking that terrible beer and cheap liquor. Life's too short.
22. If you could try out any job for a day, what would you choose?
For a single day, most specifically on a July 31, I would like to be the general manager of the Boston Red Sox.
23. What device did you use to answer these questions?
I used both my iPhone and my work laptop.
24. Do you use your own personal device for work?
I use my own iPhone, but the company foots the bill for it. It's one thing in a long line of great benefits Carbonite offers – along with unlimited vacation!