Technology Planning and Analysis
C-suite talk fav tech: David James, Mapway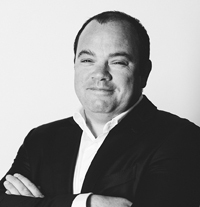 Name: David James
Job title: CEO and Founder
Company: Mapway
Industry: IT and Mobile Industries
Location: Based in Manchester, UK, but international company
Years' of experience: Over 25 years
What is your favourite personal gadget?
It would have to be my iPhone. I've been involved in smartphones for over 15 years, from being part of the development team on the Ericsson R380 and later the Sony Ericsson P800, through to founding mxData. I have seen mobile apps make huge strides over the past 15 years. The fact I can now use the new Philips Hue Bridge and Siri to control the lights in my house is great.
Do you have a favourite piece of personal software?
My favourite piece of personal software would have to be Evernote. It is really helping me manage all of my content digitally. I especially like being able to hold the phone over an article and watch Evernote perfectly transform it into a digital image.
What was the first piece of technology you got really excited about?
It would have to be my older brother's Sinclair ZX81 with a 16k Rampack. As a teenager he quickly lost interest with it, but I was 11 years old and got completely hooked. I remember spending hours both playing and creating adventure games. When you look at it now it's obviously very limited, but back then it was ground-breaking.
What device improves your life most at work?
My MacBook Air. I switched across to Mac's several years ago and never looked back. It is light, has great battery life and is reliable. For work purposes, I have to ensure the technology I use is efficient, has substantial memory storage and limits the hassle technology can sometimes bring. The MacBook Air just seems to work, and for someone who spends plenty of time on the move, it's a fantastic piece of equipment.
What software keeps you most productive at work?
Skype – we operate across multiple offices as well as working from home, and Skype really helps us collaborate and stay in contact with each other across multiple devices. It's proactive and ensures there is a lot of communication between the team, no matter where we all are.
Is there any technology that has become extinct that you would like to resurrect?
As a gadget person I embrace all new technologies usually finding them a step forward, but the one technology I miss is supersonic travel. As a child I remember going to Heathrow and seeing Concord and I only wish it was around now. Maybe in the future someone will create a nostalgic flying package in a similar way to the rail and the Orient Express.
Is there any technology you would personally recommend that you don't think enough people know about? (Hardware or software, work or personal)
So this isn't out yet, but last summer I was fortunate enough to go to Japan and meet Pepper, which is the first humanoid robot. I truly believe this will be the start of a new era in technology, bringing the Jetsons to life. On a business front though, I think people need to find the right technology for them to help make their lives easier, and this was part of the inspiration behind Mapway.
Do you think anything about your personal use of tech would surprise your colleagues?
Having grown up with technology, and as my career specialises in the IT and mobile industry, I don't think my colleagues would be overly surprised about my personal use of tech. If anything, I think they would be more surprised by my interest in non-technology items and activities such as narrow boats, railways, food, and travel and wine. Although I suspect the love of food and wine wouldn't be a surprise either.