Mobile Applications
Trainline sees mobile as route to staying on track
If you're one of the millions of people who regularly use Trainline to organise your journeys then Jon Moore is one of the people there you've probably never met - but he leads the team that is making your life significantly easier.
A self-described mobile specialist who has worked at the BBC, Hailo, Skype, Microsoft and the Guardian Media Group, Moore is chief product officer at Trainline and feels that the company he joined about a year ago is at an interesting junction. This is a London-based e-commerce company that is fixing the interface between the virtual and real world with a service that provides a live timetable of train departures and a ticket booking system, all from one website or mobile app.
"The really interesting thing about Trainline is here is this extremely successful business, the fifth biggest UK e-commerce firm with 28 million visits per month, and a big proportion of that activity is obviously trending towards mobile," Moore says.
"Mobile moved to over 50 per cent last May and by the end of 2016 it was 80 per cent. It's not a trend that's slowing down; it's picking up."
He's also enthused by the environment as Trainline is located in Farringdon, close to both the financial epicentre of the City of London and the Shoreditch area favoured by tech startups.
"I've been waiting a long time for London to become the San Francisco of Europe and finally it's the home of technology-focused businesses," he says.
The train but with less pain
Moore is responsible for product management, data science and design at Trainline, helping people to make better use of an old way of getting from A to B that is still growing in popularity – UK train journeys doubled between 1997 and 2015.
"Until recently we've travelled on trains the way we did in 1980 but our mission is to make train travel easier than it's ever been," Moore says. That means freeing travellers of the "shackles" imposed by individual train operator companies (TOCs) responsible for certain lines and regions, and saving on time, money and hassles
"People love the business and love the brand – it's as relevant to a grandmother in Aberdeen as a Hoxton hipster," Moore says. "We're solving problems on behalf of users, using the best of technology and fusing that into the real world. The old solution was so broken…"
It's true that in the UK at least Trainline has become a staple of smartphone usage as travellers tap in departure point and arrival point to get all the real-time information they need via a simple but effective user interface that masks the underlying complexity of multiple TOCs, timetables, tariffs, change points, strikes and delays.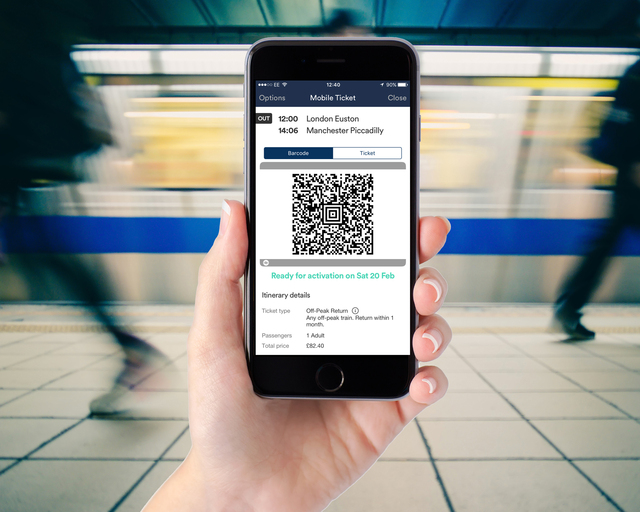 Of course, services like Citymapper, Skyscanner, Uber and Lyft have also helped create a new world of travel but Moore doesn't view them as potential rivals.
"Train travel is still a very, very complex world with huge barriers to entry," he says. "We save users an average of seven to eight minutes per day all because of a smart piece of technology. It's the gift of time which is the most amazing gift of all."
Moore also doesn't expect Trainline to take on those rivals. Future plans include pan-European expansion and more help in getting users to and from stations but he's most excited by mobile ticketing where tapping a device rather than using a physical ticket or smartcard will take more friction out of travel and reduce queuing.
Big data, big hassles
Another source of excitement is data: the billions of data points that can be used to make smarter decisions.
"I get out of bed every morning with a spring in my step and for me it's about that data," he says. "But Big Data today is a bit like teenage sex: everyone's talking about and nobody's doing it."
There are big challenges in cleaning up that data and making sure there is consistency. Partnering will be preferred to reinventing the wheel when it comes to adding services and features and Moore says that "Our business case won't be focused on taking on Google Maps." However, Trainline continues to evolve with latest app additions including postcode searching for nearest stations, easier group booking and help with mobile ticketing.
Next stations
Moore says his team thrives on best-in-class practices with clear objectives and a low documentation overhead, giving "an incredible amount of focus". Moore believes that the best businesses are re-architecting continually and says that Trainline's full microservices architecture give it room to innovate.
"I know the blood, sweat and tears needed to make a 4.5- or 5-star app," he says. "It's a brutal place to do business with instantaneous feedback but the only way is to take that feedback seriously and we have usability testing almost every day."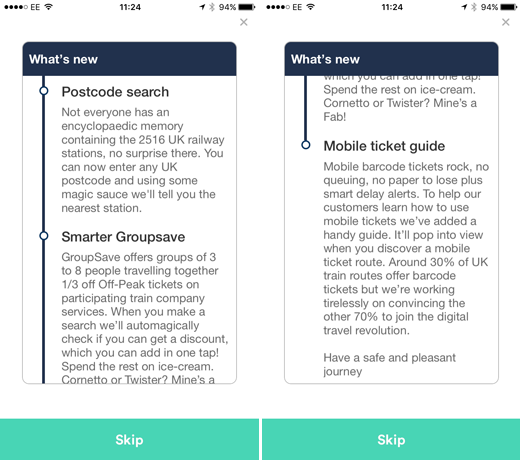 Lots of challenges remain: mobile refunds and the ability to self-serve when travel plans change will require some clever processes and coding and Moore is optimistic that services like Siri, Cortana and Google Now will help machines serve people better by proactively delivering information that is relevant and timely via artificial intelligence.
"I think it's coming," he says. "That concept of waking up in the morning and being delivered the best solution for whatever you might want to do is part of the way we think about train travel. But voice activation is a problem for Brits. We naturally shy away from having conversations in public places so that's a barrier.
"What you won't see from us is a vanity redesign… Silicon Valley is littered with the corpses [of victims of that thinking]. Functionally [the Trainline UI is] perfect; it just works and solves problems in split seconds."
And with that we shake hands and I'm off, checking my next train is on time as I take the lift to the street.
Also read:
Tesla Autopilot crash might be first of many