Handheld Devices
C-Suite Talk Fav Tech: Eddie Sheehy, Nuix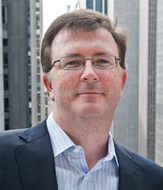 Name: Eddie Sheehy
Job title: Chief Executive Officer
Company: Nuix
Industry: eDiscovery, Cybersecurity
Location: Sydney, Australia
Years' of experience: 20 years
What is your favourite personal gadget?
Google Maps. I use it most days for some reason or other, and not just for finding my way around. When I'm finding out about new places or talking to people, I can understand where they live or where they grew up. That ability, within 30 seconds, to get not just a picture but a real feel for someone's town or street, it's a standout solution.
Do you have a favourite piece of personal software?
Encryption. We live in a world with so many people willing give away their personal information while at the same time, so many people are trying to steal that information. Many times, companies or government agencies ask for information and they really don't understand the value of what they're asking for. So when it comes to my personal devices, keeping private stuff private is a passion for me.
What was the first piece of technology you got really excited about?
In the 2000s, I got really passionate about the concept of application service providers, today they're called software as a service. I really liked the idea of renting software and paying for an outcome, as opposed to buying the infrastructure that comes with corporate IT solutions.
What device improves your life most at work?
I'm still a laptop fan. I don't believe a powerful laptop will ever be beaten by a tablet or smartphone but I'm willing to admit I might be wrong.
What software keeps you most productive at work?
Maybe it's a bit boring but definitely Microsoft Outlook. This is a personal preference and many of the people I work with would cringe to hear me say it. However, I've become very adept at managing hundreds of emails a day using Outlook. That's not surprising, because its developers have had many years to perfect its functionality so that it meets the needs of a very busy manager.
Is there any technology that has become extinct that you would like to resurrect?
Donkey Kong, the arcade game. I also really liked BlackBerry; I felt much more efficient using a BlackBerry than I do now using modern smartphones. The problem is, BlackBerry stopped innovating. That's a huge sin in the world of technology.
Is there any technology you would personally recommend that you don't think enough people know about? (hardware or software, work or personal)
Proof Finder. It's a full-powered but size-limited version of our investigation and legal discovery software. It costs US$100 and all the proceeds go to charity. It is exceptionally good for solving all kinds of problems that people think are too difficult. One big example is conducting small internal investigations such as into human resource matters. You can quickly find the evidence that proves someone did or didn't do what they're being accused of and short-circuit so much of he-said-she-said. With the proceeds, we raise money for Room to Read, which builds schools and libraries for children in developing countries. So you can solve business problems and do the right thing.
Do you think anything about your personal use of tech would surprise your colleagues?
I don't actively use social media and many other typical online services you might expect and that's, again, because I value my privacy. People don't understand the size of the digital footprint they create. I prefer to keep mine small. Of course in my position, that's basically impossible. But I try.