Virtualization
Virtual Reality Addresses UK Kids' Autism and Phobias
A technology that cures autistic children of phobias deserves its headlines. Earlier this month, Third Eye Technologies and Newcastle University's Institute of Neuroscience in the UK revealed it had cured phobias in eight out of nine autistic children using a virtual reality room.
Called The Blue Room ISV (the ISV stands 'Interactive Surround Vision'), this virtual reality box provides an immersive video and audio experience and has already been used across a number of sectors including defence, retail and entertainment. But it is within neuroscience that it has made its biggest impact.
A study of nine boys, aged between 7 and 13 and with a diagnosis of autism spectrum disorder, saw them gradually introduced to a scene of the real-life situation they feared. This included getting on a busy bus, crossing a bridge, going shopping or talking to an avatar shop assistant. Supported by a psychologist, they were given breathing and relaxation exercises in a controlled and safe virtual environment to help them learn to cope with that situation.
Around 150,000 children in the UK are thought to have autism spectrum disorder and it affects four times more boys than girls. A study released earlier this month found that the condition costs the UK £32bn ($50bn) every year.
For this reason the use of The Blue Room for phobia treatment has been considered a major breakthrough. We spoke to Third Eye Technologies managing director Paul Smith to find out how it came about.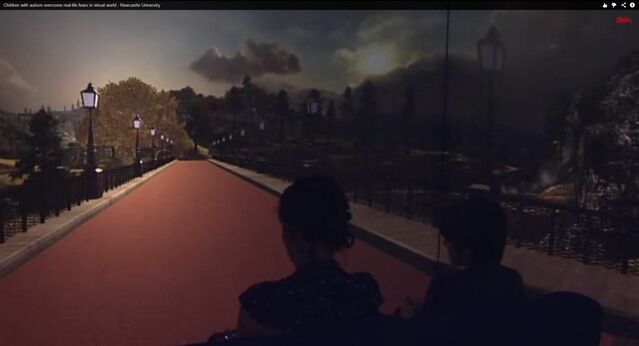 Q. The Blue Room's work on phobia treatment is being considered a major breakthrough. Are you surprised by the results and the reaction?
PS: Not so much surprised but very delighted by the results as it has given my company that opportunity to make a difference and help both children and their families. However, I am surprised at the reaction to this. Since the results of the study were announced in the leading journal PLOS ONE, the feedback has been astonishing.
Q. How did the idea for the Blue Room come about?
PS: Some years ago I was in discussion with the CEO of a leading industrial company and he was complaining about current training methods and said it would be wonderful if ever a technology was developed that could replicate real environments and that was truly 360 degrees without the need for headsets and goggles. This gave me the idea of the Blue Room. I wanted to develop a technology for mass participation as at that time everything involved goggles or single screens. It has taken 10 years to develop.
Q. What was the initial aim?
PS: The Blue Room can take a number of people and everyone sees the same images and scenario and therefore it gives a real feeling of being there, which is ideal for collective training and many other applications. The initial applications for the Blue Room were consumer research, marketing and brand activation, energy plant and asset design, hazardous and general training and operations defence training. It was first opened in 2007 by former Prime Minister, Tony Blair.
Q. How and why did you get involved with Newcastle University autistic research department? Did you plan for it to happen or was it good timing?
PS: We initially did some work with Oxford University and were introduced to Dr Jeremy Parr by them about four years ago and he was very keen to look at this project. We agreed to work together and have since developed an excellent relationship with him and his team at the Institute of Neuroscience at the [Newcastle] University, which happens to be one of the most respected in the world.
Q. How does the Blue Room help cure autistic children of phobias?
PS: It's important to point out that although participants entering the Blue Room know that it is a replicated environment, within a very short period of time they start behaving and reacting as they would in the real world, which we found very powerful. In terms of how this works, it comes down to being immersed in a feared environment but, through a combination of familiarity and coping techniques, the environment becomes increasingly less threatening. There are some great examples. One nine-year-old boy in the study had a fear of crowded buses and underground trains which meant, as his family had no car, they could face a 40-minute wait for an emptier bus or experience his difficult behaviour on a crowded bus. Building up his confidence with a scene of a bus that became more crowded over the four sessions has given a new lease of life to his family who are now able to board any bus, regardless of how many people are on it.
Q. How are the scenarios created?
PS: Headed up by Phil Watson [Third Eye head of development], the environments are modelled in a 3D modelling package from photographs and other reference material, then imported into the Blue Room Game Engine where a scenario is put together and along with the aid of specific programming the scenario is made interactive.
Q. Which scenario case study surprised you the most in terms of overcoming phobias?
PS: All of them were impressive but if we had to choose one it would be the one that covered heights and specifically bridges, as the results were clear to see from a very early stage in the trials. One of the boys had a severe fear of heights which meant his family had to somehow stick to ground level in shopping centres for example and avoid bridges. After just four sessions in the simulator he was able to tackle a real-life bridge that he had never been able to cross before. This made a real difference to the family's life. Once he had been taught the breathing exercise and got used to the situation in the simulator, after a very short space of time he was able to look over the edge of the actual bridge.
Q. Are there any limitations?
PS: There are no limitations, in fact it is believed that the Blue Room can be used for general phobias that many people have and struggle with. We are currently having discussions about how to do this practically.
Q. Is the Blue Room patented? If so, what does the patent cover?
PS: There are a number of patents both granted and pending that cover the overall system, design and specific areas of innovation within the market sectors that we operate in. The work that has been carried out in conjunction with Newcastle University has a patent pending and strong IP.
Q. What's next? What else can The Blue Room do to help medical science?
PS: We are in discussions with the University looking at other projects but in terms of autism the intention is to roll this out with two NHS trusts in the North East [of England] and then nationwide. £32bn a year is spent on autism by the NHS in the UK alone, so this could prove a significant saving in future years.
Q. How did a former Great Britain sportsman get involved with virtual reality?
PS: My background is certainly not technology. I played ice hockey for the Durham Wasps, England and Great Britain in a number of domestic, European and World Championships around the world. From 2000 to 2002 I was CEO of a London-based sports rights and intellectual property company, which acquired sports rights and re-packaged and exploited them around the world. I then set up my own business in sports management that was a success and then developed this current company that started as a digital media and corporate event facilitator with clients such as Siemens. It's been an unusual journey into technology.
Marc Ambasna-Jones is a freelance writer and communications consultant that has written about technology trends and issues for over 24 years for national newspapers, consumer and business magazines. He can be found on Twitter @mambjo.