Mobile Applications
iCondemn: A fake Muslim app to raise awareness
In January Daniel Haqiqatjou published a post on his website titled: "Get the Muslim iCondemn App!" This opened with the question "Why don't we Muslims ever condemn terrorism?" and went on to provide a real-fake solution. This was a spoof app - complete with range of beautifully mocked up screenshots - which allowed Muslims to denounce a variety of actions. The idea served to cock a snoot at both the Muslim community and its detractors.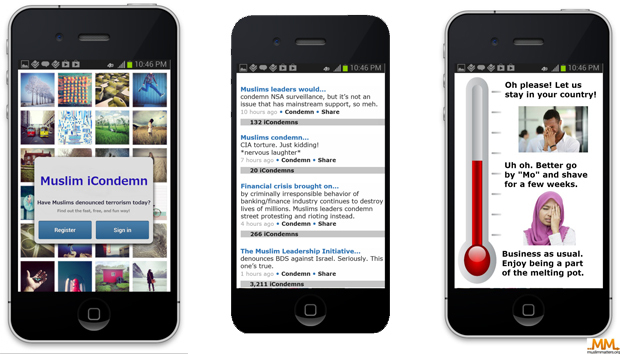 This generated quite a reaction online - many of the comments on the site didn't appear to realise it was a mockery. And the International Business Times even ran an article titled "iCondemn: Satirical app to curb Islamophobia and help Muslims denounce terror attacks" which described Haqiqatjou as "an app developer".
This is pure fiction. In reality Haqiqatjou is a commenter and academic who "writes and lectures on contemporary issues surrounding Muslims and modernity" and describes himself as the "Muslim sceptic" on his Twitter page. The whole thing is a brilliant and subversive comedy idea and I was intrigued to learn more. A Q&A with Daniel Haqiqatjou is published below.
You went to a lot of trouble creating mock-ups of the iCondemn app, along with great tongue-in-cheek fake sales text. This is quite different from your more serious academic writing, what prompted you to do this?
A lot of people have been writing more serious essays on this issue for years. After a certain point, another op-ed just fades into the background noise. Satire, graphics, and other art forms can convey the same message in a way that people can instantly understand and relate to, people who wouldn't necessarily have the interest to read through an article in the first place. I think Western Muslims can do a lot more to produce biting satire and other works of art to express their voice, fight for justice, and hopefully provide something unique and inspirational for society at large.
It sparked a lot of debate on your website, from a variety of perspectives, what is your own take on all this?
I think the reaction to the satire was good. Most people agreed with the underlying point: that you can't blame an entire demographic for the actions of a few.
There was a fair bit written about this at the start of the year, what reaction have you had to it overall?
Overall, I think there is this new McCarthyism when it comes to the American and European Muslim communities. It's interesting to see the dynamics between the outlets (e.g., Fox News) demanding apology/denunciation and the actual condemnations that Muslim spokespeople make. At this point, it's become akin to a passion play, a parody of itself - people on both sides just going through the motions, reciting the same script over and over, and the whole thing cut into clips and soundbites to be shared across social media. And it's just unfortunate because none of it has anything to do with actually coping with these tragedies and understanding them.
What it is about is forcing Muslims, as a racialized minority, into this assumed guilt in a very racist way. And this is not something new - other minorities, especially Blacks, have continually been the targets of assumed guilt at the hands of "white innocence." As Middle East scholar Juan Cole wrote about three years ago and as Chris Rock and others recently tweeted: "Black shooter = entire race guilty, Muslim shooter = entire religion guilty, white shooter = mentally troubled lone wolf." At some point, we have to break the cycle of shaming and assumed guilt and say, enough is enough. And there are different ways that that can be done.
Logistical issues aside, I can almost imagine this existing, has anyone thought it was real? Have you received any hate mail? If so, who was it from?
No I didn't receive any hate mail for this piece. But comments on the post seemed to suggest that some people thought it was a real app or that I was in the process of developing it. I got a kick out of that!
Do you think there could be a real-life tech solution which would help share the perspective of ordinary Muslims out there?
I think social media in general is a great way that Muslims are increasingly able to share their perspectives. Social media and the internet overall have been powerful "equalizers" in that way. Whether it is through sharing blog posts, videos, photography, etc., Muslim voices are out there contributing with the rest of society. And as more people hear those voices, hopefully that will lead to more understanding and less stigmatization and dehumanization of Muslims as well as other beleaguered minority groups.
As you lecture on this subject, what are the main issues facing Muslims and modernity?
Big question! Without trying to give a complete answer, I would say that main issues facing Muslims are the same issues the rest of humanity is facing. The danger of materialism and losing sight on what's really important in life, drowning ourselves in distraction, egoism and not caring enough for our neighbours and humanity at large -- these are all major challenges that everyone is facing today, Muslims included.
lslamophobia is clearly worsening, how is this impacting ordinary Muslims that you deal with?
I agree that the past 12 months have seen a resurgence of Islamophobia. It has caused a lot of psychological harm unfortunately for the community at large. The worst has been the recent hate-motivated murders of young American Muslims, six murders in total in four separate incidents. It's one thing to feel like you are being discriminated against for how you look, and another thing entirely to be worried about the possibility that you might be killed.
Is there anything else you'd like to share with an international audience that you feel is often overlooked?
Since 9/11, the mainstream media has increasingly portrayed Muslims as a group as fanatic, heartless monsters, and this is what contributes to racism and Islamophobia. But, if the larger news outlets wanted to show some even-handedness in their reporting of Muslims, they could bring attention to a lot of the great charity work American Muslim orgs are doing around the country. Just two examples: Recently, the Michigan Muslim Community Council and Islamic Relief donated $100,000 to prevent water shut-offs in Detroit, helping 60,000+ families. Also, IMAN, Inner-City Muslim Action Network in Chicago is a non-profit running all kinds of amazing programs working toward urban change and providing health and wellness services to those in need.