Human Resources
Typical 24: Dr. Mark K. Smith, ContactEngine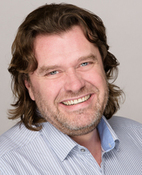 Name: Dr. Mark K. Smith
Job title: CEO
Company: ContactEngine
Location: London, UK
Years' experience: More than 20
What time do you reach the office each day?
Quite early if I can – the time between 7am and 9am is often my most productive, and helps set the theme for the day ahead.
Is your job varied?
Very much so, the core of what we do is cross channel communication – we send and received 100's of 1000's of different messages a day, that's fascinating in its own right, but combine that with the role of a CEO in a fast growth tech business with external investors and variation is the name of the game.
Is your job creative?
Yes, but in so many different ways – the creativity needed to work in the fast-paced environment of a tech firm is demanding, but creative ways to tell people about what you do is equally challenging.
What do you spend the majority of your time doing?
Talking and writing.
Do you personalise your desk?
What's a desk?
Would you describe yourself as creative?
That's probably for others to say, however I have won a few awards over the years with the words 'creative' and 'innovative' in the title. One of my creative highs was the development of a video app for the Paralympics Games in London to allow athletes to show 'behind the scenes' moments. The content was viewed millions of times and to have built an app that could even be used by a blind person (yes it had voice commands) was fairly creative I think.
Do you have any quirky daily rituals?
If I'm first in the office and the cleaner hasn't been in, I do have a habit of tidying up. I am especially (and irrationally) irritated by things that aren't lined up, chairs, pictures, coasters and so on. So I can find myself (when not in company) lining stuff up!
Do you tend to work on your own or with colleagues?
With people. I recognised early on in my career that there were things I did well, things I could make myself do and then things I'm rubbish at. Fortunately recognising that early on means you gravitate towards people that make up for your weaknesses and work with them or recruit them (though obviously I never tell people what they are ;-)
How many hours on average do you work a day?
I love what I do so I don't see it like that. However, I irritate colleagues by saying I only work when I'm awake. Which isn't actually true, I can also sleep on a problem and wake up with a solution already written in my head. Sometimes they are good – sometimes nuts!
Roughly how much time do you spend each day on email? Taking calls? In meetings?
I wrote a piece in defence of e-mail last year:
http://www.contactengine.com/blog/email-isnt-dead/ which was because I'm old enough to remember the tedium of letters and envelopes. I see e-mail as a great tool for carefully crafted prose, but I prefer the human engagement of meetings and telephone calls. Though I confess that I do so hate conference calls in all their forms – not being able to see someone's face loses me so much insight into what they are actually thinking. On average I'd say half my time is spent on correspondence, 30% on meetings, 10% on calls and the rest spent staring into space…
Do you use social media much for work?
Ah. You know the thing I said about things I'm good at above. Social media is a weakness. I used to run our social media Twitter output for a audio social media platform we created called ipadio.com – it was free and used by millions of people. When you give something for free and then a user has a pop at you – the social media norm is to be nice back. No so me. I tended to take the 'looking a gift horse in the mouth' approach and therefore started a few tweet wars. So now we have people who are nicer than me doing social, and I can be a grumpy git all on my own.
What do you enjoy most about your work?
The intellectual challenges, not only the complexity of tech, but also the trill of seeing a business that was an idea in your head become a fully-fledged success.
What type of music (if any) do you listen to at work?
I work in monastic silence.
What do you do for lunch?
One of the benefits of working near Silicon Roundabout means the choice of food is immense. So I try to vary lunch accordingly – I'm also a vegetarian which again is not so odd with the hipster community (of which, I must make clear, I am not a part of, merely a visitor to their lairs…)
Do you socialise with work colleagues?
Never work with your friends they say. Nonsense – most of the people I work with are pals, so yes we socialise. By the gallon.
Are there any tasks (through your career) you've been especially glad to get rid of?
Letters and envelopes – see above.
What is your last task of your day?
Newsnight.
How do you like to relax after work?
Read, drink, sleep.
Do you keep checking email through the evening?
Good god yes.
Do you take work projects home with you?
Good god yes.
What would you say to your 20-year old self?
Marxism really doesn't work, it's a beautiful philosophy but the inherent selfishness of the human condition means that we are not yet evolved enough to embrace that degree of equality. And stop wearing a cravat, you look like a twat.
If you could try out any job for a day, what would you choose?
Archaeologist.
What device did you use to answer these questions?
-
Do you use your own personal device for work?
No.