Human Resources
The CMO Files: Stefan Prestele, TeamViewer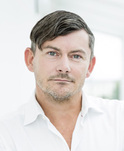 Name: Stefan Prestele
Organisation: TeamViewer
Job title: Senior Vice President Marketing and Chief Marketing Officer
Location: Göppingen (near Stuttgart / Germany)
1. Where were you born and raised?
In the beautiful Bavarian countryside.
2. What was your first job?
100% marketing, from day one.
3. What was the first product you got really excited about?
The Commodore 64. And the moment I got my first CD player – I was the first in my class to get one. I still have my first CD, but sadly no CD player anymore.
4. Who has been the biggest influence on your career?
There is not one single instance or thing. It's the entirety of experience in combination with the right mentors at the right time throughout my professional journey, and I'm thankful for the inspiration I got from individuals and my teams over time.
5. What has been your greatest achievement?
Finally, being able to cook real al dente Pasta like an Italian Mama! Professionally, I'd say continuing to rally teams behind an objective and then conquering the task and going into unchartered territory.
6. What has been your biggest mistake?
There is absolutely nothing I regret. However, there is lots I have learned and I am still eager to learn.
7. What is your greatest strength?
Slicing complexity into chewable chunks; then aligning with the teams, planning, executing (and delighting), measuring and iterating – all with lots of energy and passion. Oh, and being able to do some mechanical work on my vintage car.
8. What is your biggest weakness?
I´m very, very curious.
9. What do you think is the aspect of your role most neglected by peers?
Embodying customer centricity into the DNA of the marketing team and across the whole organization. Marketing has the ability to be in the driver's seat for business and is data-driven which adds value.
10. Which word or phrase is your mantra and which word or phrase makes you squirm?
"We have always done it this way" is definitely a pet hate of mine.
11. What makes you stressed?
When my vintage car doesn´t start in the morning.
12. What do you do to relax?
Enjoying the best of both worlds, while spending time with my four nieces and nephews and six grand nieces and nephews in the Bavarian countryside; but knowing I can always go back to my place in Munich, when I need more peace and quiet.
13. What is your favourite song?
There is no "all-time" favourite. But: Beethoven 7th, A Major, Op 92, II. Allegretto. All I need from Air is also a fav. Michael Jackson. Queen and the Rat Pack always cut through though.
14. Which book taught you most?
"Thinking Fast and Slow" by Daniel Kahneman.
15. Do you have a team or sport that you follow?
FC Bayern Munich. Period.
16. Which country would you like to work in?
I've been fortunate enough to have lived and worked in the States and had the opportunity to travel the world. So for the time being, I'm perfectly happy where I´m at right now.
17. Which company do you think has the best marketing?
Since I've joined TeamViewer I've come to admire their marketing strategy. Look at its more than 200 million active users that were gained by a viral and growth hacking marketing approach, then multiply this with the structures and processes I´m currently working on with my talented team, and you will see first-hand that TeamViewer will continue to rock!
18. What do you love most about your job?
There has never, ever been a dull moment. Marketing has reinvented itself and will continue to do so. It´s going to have an even more profound and measurable impact on business and individuals.
19. What is your favourite book?
Reuben´s Cook Book (Chef of a Restaurant in Franschhoek, South Africa)
20. What keeps you awake at night?
Fortunately I sleep soundly every night. Blessed!