Human Resources
C-suite career advice: K Nanda Kumar, SunTec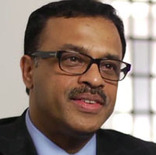 Name: K Nanda Kumar
Company: SunTec
Job Title: Founder & CEO
Location: Trivandrum, India & London, UK
What was the most valuable piece of career advice that you received?
25 years ago I founded SunTec, with very little financial backing, to solve a very complex problem in business – how to make your customer happy. This made the company's future very uncertain, it could have gone either way. The most valuable lesson I learnt during that period was to embrace and love uncertainty. If you can love the uncertainty in business it will allow you to strive and grow your business without fear. In the end this will pay off as you will have the business you want.
What was the worst piece of business advice that you received?
I have been very lucky in my career and been supported with good advice. However, one poor piece of advice I was given was to 'sacrifice business growth for profitability'. By this I mean a company should forfeit its profit margins in favour of fast growth and expansion, because in their opinion a company's expansion is more valuable than that of internal capital. In my opinion, it is more comprehensive to make sure your business is profitable first and can carry the costs of an expansion, instead of allowing expansion to eat into profit margins. Sadly, we have seen a few tech start-ups take on this advice and fail.
What advice would you give to someone starting their career in the tech industry?
There are lots of pieces of advice I would give to someone starting their career. But having to narrow it down I would state there are two very important factors to being successful in the tech industry. Firstly, you must sharpen your ability for fast learning and improve your skills in collaboration. Without the ability to learn quickly, I wouldn't have had the range of experience from working on numerous projects for India's largest telecoms providers, allowing me to gain the knowledge to build a billing system such as Xelerate. Secondly, it is best to go into businesses embracing the art of first time right. With both of these skills under your belt it will make navigating the future tech industry a lot less complex.
What tips would you give to someone aiming for a c-level position?
The most valuable tip for anyone looking to gain a position in the C-level group is the need to sharpen their ability to influence others to get things done, whilst valuing intelligence on top of intellect. What I mean by intellect is the means of using the data given and extrapolating trends from it, whereas intelligence means using the data to find out trends and take actions.
Are you particularly proud of any career advice that you've given or the career route/development of anyone you've mentored?
At the moment we have over 500 employees at SunTec, so in a way I'm responsible for a lot of careers. It is great to see all of the teams throughout the business grow. Whenever a member of the team does well, it is good not just for SunTec but for them as well.