C-Suite Talk Fav Tech: Draven McConville, Klipboard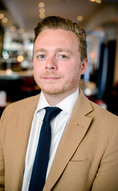 Name: Draven McConville, CEO of Klipboard
Job title: CEO
Company: Klipboard
Industry: Mobile enterprise
Location: London, UK
Years' of experience: Over 10 years
What is your favourite personal gadget?
Bang & Olufsen Wireless Beosound Speaker System. I am a big fan of music and having worked in the nightclub industry previously, clarity of sound is important to me. Bang and Olufsen manage to combine design aesthetics with superb quality of sound.
Do you have a favourite piece of personal software?
Uber & Apple Pay. I live in London, so Uber is quick, easy and competitively priced. And as someone with a business focused on an app, the intuitiveness is something that should be a prerequisite of any successful app.
As I always have my phone with me, Apple Pay reduces my need to reach for my wallet. A simple tap of my phone allows me to buy everyday necessities.
What was the first piece of technology you got really excited about?
The smartphone - I genuinely get blown away by how these pocket-sized devices have more power than what sent the man to the moon.
It's incredible to see how smartphones have changed the way we go about our daily lives, whether it's getting directions from City Mapper, listening to music on Spotify or paying for something via Apple Pay.
What device improves your life most at work?
Working on a start up is pretty full-on, the hours can be quite demanding, so good coffee from my Nespresso machine gets me through the day.
What software keeps you most productive at work?
Google Business Apps & Jira.
We use Google Business Apps across the company, not just for email, but for scheduling meet ups, Google hang outs etc.
Jira helps keep our development roadmap on schedule as we use an Agile methodology. Our software development team use it to plan, track and release updates to Klipboard.
Is there any technology that has become extinct that you would like to resurrect?
The fax machine - I used to work in ad sales and every time the fax sound was made you knew a deal was on its way! I suppose I am just reminiscing about the old days, it's obviously more productive not having the fax!
Is there any technology you would personally recommend that you don't think enough people know about? (Hardware or software, work or personal.)
Neeo, it is a smart home remote that connects everything in your house. It does this through a central "brain" hub so that you can control everything via its remote.
Do you think anything about your personal use of tech would surprise your colleagues?
They would probably be surprised by the fact I am the only person in the team not to be on Facebook!