Analytics Software
Rugby fans tackle wearable tech via Accenture Google Glass project
It's not quite Woody Allen's Orgasmatron or Barbarella in the Excessive Machine but, as interaction between human and technology goes, the idea that you could be sitting in the stands and yet feel the force of a rugby tackle would be technically very impressive. While science fiction still has its amusing moments of invention, wearable technology seems to have unleashed a new generation of creativity.
Ben Salama, Managing Director for Accenture Mobility in the UK, has been outlining the potential inventions that could emerge if and when sports stadia wake up to the idea of increased connectivity. While the rugby tackle shirt is a great idea (although you have to bear in mind that, according to research, a head-on tackle exerts a force akin to a 40mph car crash), it would, like any other wearable technology at the moment, face immense challenges.
Take connectivity. As it stands, stadia are not particularly Wi-Fi friendly and those that have already installed wireless access have met with a mixed reception. Only last August, Dutch football club PSV Eindhoven saw its fans protest at the introduction of free Wi-Fi with a colourful banner saying "F*** WiFi, Support the team". Rugby stadia at this moment in time are no different. In fact, you have to go the US to find anything resembling modern connectivity. This is mostly due to the NFL's insistence on getting all stadia connected by 2016.
Part of the problem is that no one really knows for certain why they should bother installing Wi-Fi. Even the idea of using data analytics to sell more food and merchandise is unproven, so Accenture's proof-of-concept wearable technology during the RBS Six Nations Rugby Tournament should at least give us some idea of how Wi-Fi and wearables could affect the spectator – for good or bad.
Salama agrees that some of the biggest challenges for technology in sport are cultural.
"Sports fans quite rightly ask what can technology possibly add to the match-day experience? Can it add value and not distract?" he says.
It's the right question to ask but Salama adds that spectators in a stadium could in fact be "missing out" on the stats and information that we have become accustomed to while watching live games at home. It's the 'second screen' phenomenon where smartphones and tablets are being used to access social sites or look up information during a live game, or, in fact, any TV show. There are plenty of stats on this too, such as this global breakdown from Statista, but is this really applicable to spectators watching games in stadia?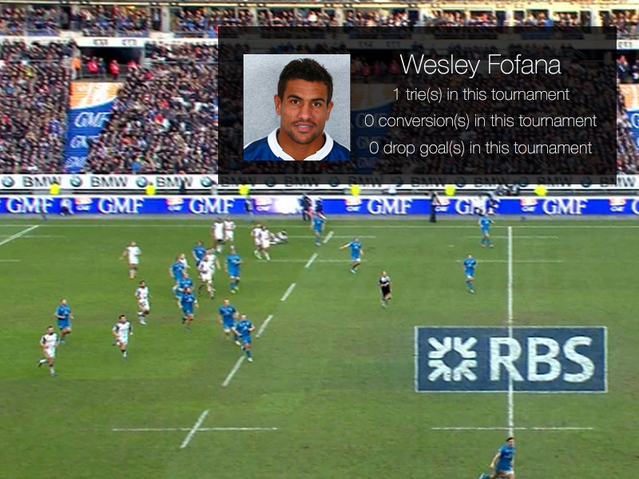 Google Glass
That's what Accenture is trying to find out. A small group of supporters wearing Google Glass headsets have been accessing game and player stats and information during live England internationals. A local Wi-Fi hotspot has been set up especially for the trial and apart from getting a bit of novelty interest from surrounding spectators, the trial seems to have been hassle-free.
"Feedback has been very positive," says Salama. "In many respects it's had the desired effect in that the users have said it's a good and interesting additive stream of information and it enhances the experience."
Accenture Mobile has built the official RBS Six Nations app and manages the analytics associated with it so it was already in the zone, so to speak. Salama says that delivering information via the headset is a similar process to the app but should also be possible through a smart watch or other devices.
"I don't want to overplay the scientific research here, it was more about whether it could be done and whether or not it was a value-add experience," adds Salama, keen to ensure Accenture is not judged on potential developmental and connectivity issues here.
"One of the applications that was running was a drinks ordering facility so the users could select drinks from a menu, select their seat number and place an order. We weren't actually fulfilling these orders of course as it was proof-of-concept, but people really liked this idea."
It is this sort of application that will surely help drive connectivity in stadiums, making the experience more pleasurable but also helping the bars and stalls sell more food and drink. Combined with a menu of additional services, which includes live player data and maybe even immediate action replays, it is possible to see how headsets could have a future in the sports arena.
Revolution
"I think there's going to be a revolution in how we enjoy sport in the stadium and in the home," comments Salama, who goes on to to explain his ideas on how existing GPS trackers and sensors in player shirts could lead to a number of interesting and commercial ideas – the tackle shirt being one of them.
Yet there is still a nagging doubt. To a certain extent I'm with the PSV fans. I want to watch the game but I also want to see replays and hear the action more. I'd like drinks delivered to my seat but then I'd like someone else to go to the toilet for me so I don't have to queue or miss the action. I get that clubs will discover new revenue streams through exploiting the data but what I can't see is this happening very soon. And will connectivity and security issues just be too complicated and expensive to make this worthwhile for a mass audience? Or will we see clubs offering it as a premium service where fans can rent headsets for a small fee?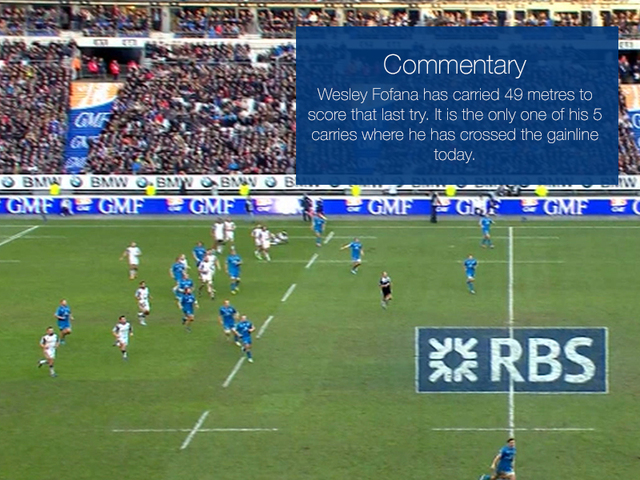 Money, of course, will talk but Salama is right when he says there is definitely something in this, despite cultural and other challenges. But perhaps not. And maybe rugby is the best place to start? Recent research from RadiumOne has found that 52% of rugby fans are second-screening during games – 44% actually within a stadium. UK fans have an average of 4.6 devices in their household and a fifth chat via instant messenger and social media during matches. It would be interesting to see the demographic but clearly rugby watching is changing and only time will tell whether or not it's for the better.
Further reading: No more cold burgers as teams target sports fans via data analytics