Human Resources
Typical 24: Benno Wasserstein, Box UK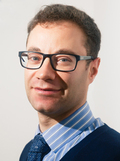 Name: Benno Wasserstein
Job title: CEO
Company: Box UK
Location: United Kingdom, London
Years' experience: 16
1. What time do you reach the office each day?
I typically start work around 7:30. I try and plan my day before the phone starts ringing. It doesn't always work out that way though.
2. Is your job varied?
Extremely, which is one of the many reasons why I love what I do. On any given day I'll touch upon strategy, marketing, finance and everything in between. I also get to spend time with my team and clients.
3. Is your job creative?
Definitely. I'm lucky to work with extremely creative and talented people which helps.
4. What do you spend the majority of your time doing?
Collaborating with people, whether it's phone calls, meetings or workshops. There's also a fair amount of listening, reading and thinking.
5. Do you personalise your desk?
My desk at home has a few small mementoes, but when I'm in the office I never spend much time in one place so tend to hot desk or use meetings rooms.
6. Would you describe yourself as creative?
Creativity is part and parcel of the industry we're in so you have to be.
7. Do you have any quirky daily rituals?
Not necessarily quirky or a ritual, but I have a pretty regular morning routine where I wake up before sunrise, make a double espresso and catch up on my favourite tech blogs.
8. Do you tend to work on your own or with colleagues?
A combination of both. Due the nature of my role, there are inevitably times working on my own, but I'm always happier when I'm working with people.
9. How many hours on average do you work a day?
Depends on what I have going on, but typically between 10 and 12 hours.
10. Roughly how much time do you spend each day on email? Taking calls? In meetings?
It's a real mix depending on the where I am and what's going on. Emails and calls certainly take up a fair amount of time each day.
11. Do you use social media much for work?
I used to use it a fair amount for work, but found that I tended to get slightly distracted by it. The value it offers though means it's certainly something I plan to do more of going forward.
12. What do you enjoy most about your work?
Working with great people to create great products. I love the often fast-paced environment and rapidly growing industry.
13. What type of music (if any) do you listen to at work?
I often listen to something upbeat when I'm writing or reading.
14. What do you do for lunch?
If I'm not at a business lunch, I typically have some sushi while I work.
15. Do you socialise with work colleagues?
As I live in a different city to many of my colleagues, I don't socialise as much as I'd like.
16. Are there any tasks (through your career) you've been especially glad to get rid of?
Writing tenders and proposals. I recall the many, many weekends spent preparing a bid and am rather pleased I now work with people who are far better at them than I ever was.
17. What is your last task of your day?
I use a CRM system and scan the day's activity to see how opportunities are developing.
18. How do you like to relax after work?
Family, friends and exercise.
19. Do you keep checking email through the evening?
Alas, yes. I have made deliberate attempts to do this less and think I've done pretty well, although my wife may well disagree.
20. Do you take work projects home with you?
Definitely.
21. What would you say to your 20-year old self?
Business is a rollercoaster and as long as the overall direction is upwards, you've just got to persist.
22. If you could try out any job for a day, what would you choose?
My boyhood dream - Jet fighter pilot.
23. What device did you use to answer these questions?
iPhone 6 Plus.
24. Do you use your own personal device for work?
I have one device which I use for both work and personal.