Data Mining
The story behind Rembrandt's last, 3D-printed masterpiece
The 17th-century Dutch painter Rembrandt Harmenszoon van Rijn was one of the world's greatest ever artists with the uncanny ability for creating portraits that cry out with empathy and direct the viewer to meditate on the lives and circumstances of the sitters. Surely, no computer could provide anything but a synthetic and unconvincing approximation of his genius?
In April The Next Rembrandt project was unveiled in Amsterdam. This 3D-printed painting mined data from Rembrandt's works and applied learning algorithms and facial recognition in order to encourage debate over complex conundrums relating to how art and technology might work hand in hand.
The project is a collaboration between ING Bank, advertising agency J. Walter Thompson Amsterdam, Microsoft and advisors from Delft University of Technology (TU Delft), The Mauritshuis and Museum Het Rembrandthuis. It took over a year and a half and resulted in 150 gigabytes of digitally rendered graphics created by a cross-discipline team of data analytics experts, Rembrandt specialists and software engineers to create a portrait that could pass for the 347th Rembrandt painting… and one that came hundreds of years after the painter's death.
For me, as a hobbyist art fancier, the "painting" is remarkable: subtle in tone, moving and convicingly Rembrandtian in that it is technically masterful and demands the viewer is immediately wondering about the life of the subject. It's also fascinating because we know Rembrandt never painted nor envisaged what is arguably a modern, albeit arcane, masterpiece.
I swapped emails with Ron Augustus of Microsoft Netherlands about this remarkable project. The following is a lightly edited version of our exchange.
How did the project start out?
The Next Rembrandt was started around 19 months ago, as a collaborative project between ING, Microsoft and J. Walter Thompson. The project creative lead, Bas Korsten, had read about a group of archaeologists who had reconstructed Jesus' face based on three skulls they had found around Jerusalem. He wondered whether we could apply the same approach to one of the world's most famous artists, to create something new and exciting that would fuel the ongoing conversation about art and algorithms, data and human design, and between technology and emotions.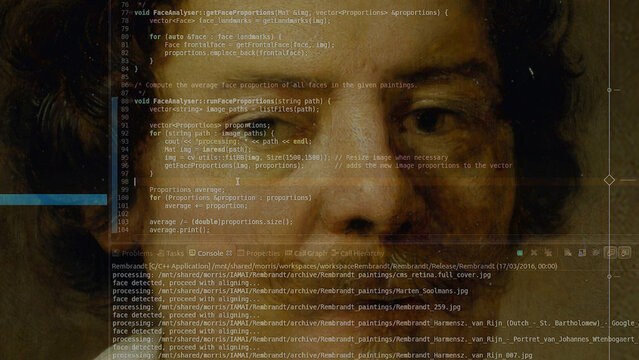 Why Rembrandt?
Rembrandt is probably the most well-known Dutch painter and a key figure in Dutch history. During the Golden Age of painting in the Netherlands, his work was revolutionary because he combined dark and light contrasts with thick layers of paint, creating a "3-D" effect by using his thumb as well as the brush. As such an innovative painter, he seemed the perfect fit for our project. Rembrandt was also continuously exploring and trying new techniques through his self-portraits, while our project was trying to innovate and explore the potential of data in the arts.
How many man hours went into the project?
The whole process took 18 months – I'm afraid we don't know exactly how many hours were put into it.
What sort of printer did you use to produce the image?
The project used an advanced 3D printer, specifically designed to make high quality reproductions of existing artwork. We used a Canon OCÉ printer for the final painting, which was printed by the University of Delft. Thirteen layers of UV-ink were printed in total, one on top of the other, which created the realistic painted texture.
Some might start out thinking that it's philistine or somehow unacceptable to combine digital tools with high art. Did you hear many objections or prejudices along those lines?
Not really. The intention of the project was always clear and we included art experts from the very beginning. We do not claim that the end result is "better" than a real Rembrandt. Our aim was always to show the possibilities of using big data analytics in an exciting new way, and inspire people to innovate and explore the potential of data in creativity and arts.
In fact, the digital techniques used in The Next Rembrandt project have great potential for art historians, as they can help reveal new insights into Rembrandt's work. Sometimes Rembrandt painted over older work, but by using X-ray techniques and our project algorithms, we may be able to discover "new" Rembrandts in the future by recreating these hidden images.
Throughout the history of art, there has always been debate around the use of technology. When photography was first invented, for example, it was frowned upon as an art form and photographers were seen as "lazy painters". Now, it is a fully accepted form of art. Perhaps in the future, computer generated art may become more mainstream, or perhaps even be used as a teaching instrument for other art forms.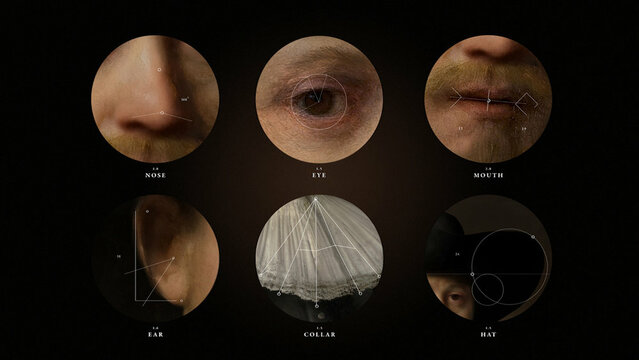 What was most surprising about how the project developed?
Personally, I was most surprised by how successful we were in creating a "real person" as the subject of the Next Rembrandt painting. By using data analysis algorithms to build the eyes and expression, the man in the painting felt more "real". He never existed, but maybe he could have been a merchant for the VOC, the Dutch East India Company, which was the first corporation in the world to trade with the East Indies. It really felt that our team had created a new painting of a person, instead of just "an average" of all of Rembrandt's work.
The final artwork is striking and looks like the work of an old master. What will happen to it?
The final artwork will tour The Netherlands this summer, but what will happen next is still to be decided.
When seen in person, is the painting generally accepted as having the same paint texture and brushwork of a real Rembrandt?
Looking at it broadly, as any regular art enthusiast would look at it, then the paint texture and brushwork looks the same as a "real" Rembrandt. That is the benefit of 3D printing, as it allowed us to create the brushstrokes as well.
Of course, Rembrandt experts can spot the differences in this painting. Some parts of the portrait, like the nose or part of the collar, reveal the painting's origins and differentiate it from Rembrandt's work.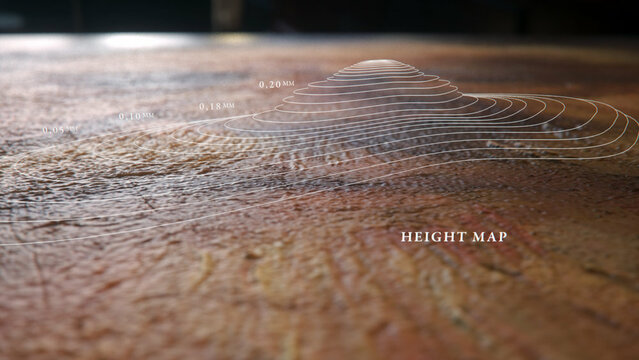 It would have been interesting to hear the view of a critic who did not know this was a simulation. Did you tell all visitors how you created the work or did you wait until they asked?
The critics who saw it first were very enthusiastic about the general look and feel of the painting, but also saw areas for improvement. All were told upfront about the background of the project, and of course no signature was put on the painting.
How have critics and connoisseurs reacted?
Critics and connoisseurs generally have all been very positive about the project's innovative approach in using "big data" analytics to better understand Rembrandt's work.
And ordinary art gallery visitors?
Our visitors loved the idea of the project and the possibilities it could bring to art generally. If it were ever hung in a gallery, we on the project team believe many visitors would believe it was a new Rembrandt.
Do you plan other such works?
We do not have any plans currently in progress. However, if this project continues to be a success, then we will evaluate other possibilities at a later stage.
Could there be a commercial market for such works?
The intention of the project was never commercial – our focus was always to show the potential of combining new ideas with technology, and encouraging new conversations.
Also read:
Can a computer be an art critic?
Bob Dylan's archivists mine new seams