Wireless Technologies
C-Suite Talk Fav Tech: Alison Vincent, Cisco UKI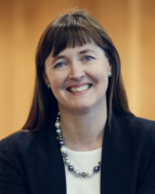 Name: Alison Vincent
Job title: Chief Technology Officer
Company: Cisco UKI
Industry: Technology
Location: Bedfont Lakes, UK

Years' of experience: 25
What is your favourite personal gadget?
My favourite piece of technology and one that I use the most is my iPad with Bluetooth keyboard. Not only is it convenient for browsing and performing digital tasks, but it's intuitive and fits in my handbag – what more could you need?
Do you have a favourite piece of personal software?
The app, Citymapper, is invaluable to me getting around London on business, but also brilliant for those occasional city breaks. Following as a close second; I'm beginning to love the Sonos system in my house, particularly as you can simply decide which music to play in which zone.
What was the first piece of technology you got really excited about?
My PalmPilot – yes a blast from the past. But it was the first piece of technology that provided digital portability for the office. I could wave goodbye to my trusted FiloFax and begin to access email and my calendar away from my PC. These were the early days of mobility and productivity.
What device improves your life most at work?
It has to be my iPhone - my one-stop shop for collaboration, social media and meeting management.
What software keeps you most productive at work?
I truly believe that as an organisation, Cisco is brilliant with its internally developed business apps. It provides a platform for menial tasks to be effectively managed; from expenses and travel planning through to sales education and sign-offs, the apps remove barriers to enable more day-to-day efficiency and get rid of the mundane tasks to add value to the industry. I think more organisations need to ensure they provide mobile applications to aid productivity and this starts with employees demanding more from their company.
Is there any technology that has become extinct that you would like to resurrect?
It's not extinct yet but Elon Musk's powerful electric cars are certainly disrupting the market and may well spell the end of the beautiful sound of a V8 engine.
Is there any technology you would personally recommend that you don't think enough people know about? (Hardware or software, work or personal)
Nanotechnology. The potential it holds is huge and exciting. The smaller something gets, the greater its surface area as a proportion to its volume – meaning nanotech has a huge number of potential uses and applications. Definitely one to watch.
Do you think anything about your personal use of tech would surprise your colleagues?
I studied geography to A-level and loved it. Even though I have some brilliant apps to forecast the weather on my phone, each morning when I come down for breakfast I tap my Barometer – it's not failed me yet!