Human Resources
Typical 24: Ravi Krishnamoorthi, Fujitsu EMEIA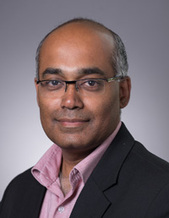 Name: Ravi Krishnamoorthi
Job title: Sr. Vice President & Head of EMEIA Business and Application Services
Company: Fujitsu EMEIA
Location: London, UK
Years' experience: 25+
What time do you reach the office each day?
When I'm in London, which is my normal office, I get there by 7:30am.
Is your job varied?
It is varied; quite extensively varied. Because of the nature of my role, I meet different cultures, work on different technologies, help develop disruptive platforms and mediums, and engage with varied levels of business and technology users.
Is your job creative?
Absolutely – it is. It's creative from the perspective of trying to help customers derive value from their technology assets… that's what I really get a kick out of. Technology is rapidly changing and all leaders need to be creative to survive in this world.
What do you spend the majority of your time doing?
Thinking, analyzing, and sometimes staring at my laptop! Other than the administrative work that I have to do, the majority of my time is spent meeting business leaders and people from customer organizations, and handling operational issues that come in the day-to-day running of any business. I also spend a great deal of time engaging and enabling my team to perform better and add value for the customer.
Do you personalize your desk?
I would like to, but I just don't have the time. Other than a table lamp, due to my failing eye sight, I don't really have anything.
Would you describe yourself as creative?
I would describe myself as more of a constructively disruptive person.
Do you have any quirky daily rituals?
I'm not sure how quirky they are, but I do have rituals. For example, before leaving home, I meditate for 5 minutes. If I don't do this, I feel as though I've not done my duties for the day. Also, every day that I'm in London, I walk the 3 kilometres from London Euston to the Fujitsu office in Baker Street. I'm always wearing a formal suit and tie, but I wear sneakers for walking in; I'm sure I look funny walking around.
Do you tend to work on your own or with colleagues?
I'm a very collaborative person by nature – I probably speak to my colleagues 3-4 times a day each. There are definitely different phases in my operational routine; sometimes I need to work alone, but this only makes up about 20% of the time. 80% of the time I work closely with my team because it's the team that makes the success of the organization.
How many hours on average do you work a day?
This is a really interesting question. For me, work and personal life are tightly intertwined. I deeply believe that if you hate what you do, you feel stress, but if you love what you do, you feel passion. Because I love what I do, and I'm hugely passionate about work, I don't need a separation between work and personal time. I work any time I need to work, and relax any time I need to relax.
Roughly how much time do you spend each day on email? Taking calls? In meetings?
Meetings take up the majority – about 60%. I probably spend 10% of my time on emails and 10% taking calls. The other 20% of the day is taken up with commuting and socializing with colleagues.
Do you use social media much for work?
I only use it for work. I do have a personal Facebook profile, but I only ever post motivational quotes. I use my LinkedIn and Twitter solely for professional purposes.
What do you enjoy most about your work?
It's the variety, creativity and opportunity to be constructively disruptive. It's also the ability to go and transform customers' businesses, genuinely adding real value to a customer where they have major issues or problems, such as reducing profitability and disruptive business models. I get my kicks from going in and changing a customer's business.
What type of music (if any) do you listen to at work?
I don't listen to any music at all.
What do you do for lunch?
Ideally a salad and a drink.
Do you socialize with work colleagues?
I do – once a month, we have a face-to-face team meeting, which is followed by a drink in the evening. Also, once a quarter, we have a business review, after which we have a meal, a few drinks and a fairly late night! I think it's important to have a balance, especially with your work colleagues.
Are there any tasks (through your career) you've been especially glad to get rid of?
Yeah – in the early part of my life, I was a legacy technology programmer. I started out as a C++ cobalt programmer. While I particularly enjoyed it at that point in time, I quickly found that I was business minded, not technologically minded. I have a business technology mind, to put it more accurately. I moved into the business side of technology, and moved swiftly into management. I'm so glad that I did, because I would've been an absolute failure in the technical world.
What is your last task of your day?
I do a wrap up of the day, noting down the actions that I've accomplished, then setting activities for the next day - I maintain a notebook, and I use OneNote, to keep track of what actions I have for all different areas, such as Finance, HR, Marketing, Shared Services etc. I do all of this before I leave work. I read when I get home; my family knows that the last 15-20 minutes of my day is 'my time'. I rarely go to bed without reading. Also, I read two books at a time, one on philosophy or management and one pure fiction – my choice of which one to read is dependent on the mood of the day. I tend to alternate every few days, which means that I have to be able to recall the 'story' up to the point I've reached in each book; I find that this really helps keep my neurons firing!
How do you like to relax after work?
Other than my 15-20 minutes of reading, and a small amount of time with my family, I don't really find time to 'relax' during the week. I tend to do most of my relaxation at weekends; there isn't as much pressure at weekends. I play cricket, keep up with the cricket fixtures that I'm interested in, and catch-up with the news from around the World.
Do you keep checking email through the evening?
I do, especially if there's something critical that I know I need to respond to.
Do you take work projects home with you?
I do, as work and personal life are so closely interwoven for me.
What would you say to your 20-year old self?
I'd say that life is much more than work. Enjoy today and don't worry about the future; as long as you have hope, faith and belief, life will turn out okay for you.
If you could try out any job for a day, what would you choose?
That's a very good question. In truth, I always dreamt of being an organic farmer, so I'd love to do that for a day – just for a day. I would soon get bored if it was for more than a day!
What device did you use to answer these questions?
A Fujitsu R726.
Do you use your own personal device for work?
No, I don't.