Human Resources
Millennials talk careers: Sarah Willis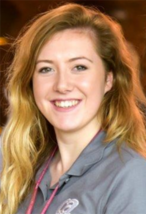 Name: Sarah Willis
Age: 21
Education: Undergraduate, BSc Information Technology Management for Business (ITMB), Loughborough University
Current role: General Business Intern at CA Technologies
Ideal role: Head of Sales, Software
Are the stereotypes about millennials true?
There is still a perception that millennials are lazy, but I don't agree with this. We've grown up using technology, which has allowed us to simplify much of our lives and get things done quicker than was possible in the past. Taking short cuts with technology is viewed as lazy, but as long as you're getting the job done well, that is what's important. The interns I work with here at CA show no signs of laziness; we're all looking to impress and climb the career ladder.
Another stereotype I've come across is the idea that millennials get bored easily and job hop as a result. I see it as a positive thing for career development. If we aren't progressing in our current role, there is a chance another company can offer the progression we are looking for. I have received advice from several more experienced workers that have encouraged job hopping as a good means of developing new skills and diversifying experience.
Lastly, many will comment on how millennials are addicted to their smartphones and are losing the ability to communicate effectively in person. But working at CA has made me realise the importance of speaking to colleagues face to face – texting and emailing can lead to misinterpretation so it's something you have to embrace, particularly if you want to thrive in the culture of a company.
What benefits most attract you to a new position?
There are a number of benefits I find important. For example, a competitive salary is attractive, but so too is the flexibility a company provides, such as working from home when you need to and being allowed time off the take doctor's appointments, etc.
Career development is also a priority, as well as personal development. I'll look to a company to provide internal and external training to not only help me improve my job skills and capability, but also to help build my personal brand and work on personal improvements.
In the long term which of the following is most important to you? (Please explain why?)
Career development – This is most important to me because my goal is to continue working my way up the career ladder. If you're developing yourself and getting more experience, the salary comes with that too. You can't expect to have a well-paying job if you don't have the experience and backing.
Salary
Work/ life balance
What do you think most companies are getting wrong when hiring/ retaining younger workers?
Companies rely too heavily on elaborate, automated applications and competency tests online, which take hours to fill in. For example, I believe my strengths lie in my people skills and drive, rather solely on my academic credentials, and many other talented millennials feel the same. Therefore, some companies are missing out on younger workers because they are placing too much emphasis on one qualifying factor, which is usually academic intelligence in the first instance, rather than the people who could do the job to a higher standard or in a different way with a more diverse skillset.
In terms of retaining younger workers, companies should think about how they can make job responsibilities more flexible, moving away from corporate structures and allowing individuals to capitalise on their strongest skill sets. Mentoring is also a great benefit to offer. As well as a more traditional programme, CA offers reverse mentoring in which a more experienced employee is mentored by a junior employee and vice versa. It helps to reduce division between generations and helps us work better together. Lastly, recognising and rewarding people for their work goes a long way. It doesn't need to be a financial reward, but it shows they are a valued member of the team.
Looking back, is there anything you'd change about the route you took to your current career?
I wouldn't change anything about how I got into this role. I always had a passion for technology, although my A-levels were focused on pursuing a dance-related career, but keeping an open mind and attending open days to find this role was a decision I'm glad I made.