Internet
Crowdsourcing Innovation: Matt Johnson, Founder of Bare Conductive
Crowdfunding sites are offering a new path for inventors with original ideas. We talk to inventors looking to gain the public's favour with something new to offer. Is this a business of the future?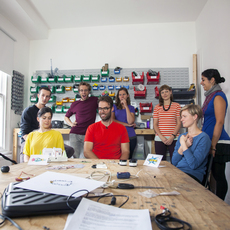 Name: Matt Johnson
Job title: Founder
Organisation: Bare Conductive Ltd
Location: London, UK
Product: The Touch Board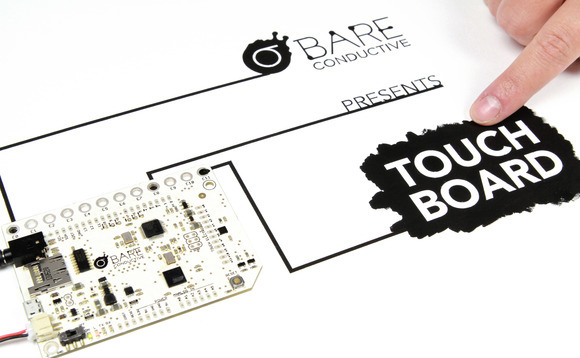 What it does & how it works:
The Touch Board is about exploring radically new ways to interact with computing. The Touch Board is a way to turn almost any surface or material into an interface by using capacitive sensing to turn any conductive material into a touch or proximity sensor. The board is based on an Arduino Leonardo, with a specific capacitive touch chip and an MP3/ MIDI processor and will ship pre-programmed so anyone can use it.
What makes it special?
Radical Interfaces: The Touch Board uses capacitive sensing to turn any conductive material into an interface. Imagine light switches painted on the wall with our Electric Paint, interactive books or hidden sensors that can detect a whole person.
No Programming Required: We'll be shipping the Touch Boards pre-programmed to turn touch into sound so all you'll need to do is plug in a micro USB cable or LiPo (we've built in onboard charging) and a speaker and you're ready to go.
Arduino-compatible: We wanted to make sure that this board was easy to use and had as wide an audience as possible so we based it on an Arduino Leonardo. Working with Arduino has been great and they're fully behind the Touch Board.
Almost everything is a sensor: You can use the Touch Board with any conductive material. The Touch Board project began as a way for us to create interfaces with our Electric Paint, but it can do a whole lot more.
MP3/MIDI Functionality: The Touch Board was designed with sound in mind. We wanted to make it easy to play MP3s as well as use the Touch Board as a Midi instrument or interface. With simple changes the board can become a Midi device, either as a stand-alone instrument or a MIDI interface.
What's your background, and what inspired you to come up with the idea?
Bare Conductive is a design and technology studio in East London, UK. Our company was born from a student project started at the Royal College of Art and Imperial College London, where we developed our Electric Paint (a non toxic, electrically conductive paint). After graduating we set up a business and started selling our paint and a range of electronic kits. From the beginning we have been passionate about developing accessible platforms for people to get creative with technology.
One year ago we looked back at the incredible range of projects created with Electric Paint over the past two years and we saw a common thread: capacitive sensing and radical interfaces. There was an abundance of work which used a combination of Arduino and capacitive sensing. From giant art installations to interactive books. Everyone was asking us for the same thing: give us an easier way to do capacitive sensing on an Arduino-compatible platform. We've responded with the Touch Board.
Why Kickstarter?
Kickstarter was an easy choice. It's a great way to get access to a much larger community of users, which means more projects in more areas. We love our interaction with our customer base, whether its working with them on projects, proving technical support or just being inspired by their creativity.
A successful campaign would give us enough capital to produce boards at a reasonable cost. In order to make the Touch Board affordable to everyone, we need to produce them in volume. We see Kickstarter as a great way to market the company and our philosophy.
Is crowdfunding good for innovation? How so?
Certainly! Though it does pose some interesting challenges to individual creators. For established business like ourselves, Kickstarter presents a great way to fund a new project. For individual creators though crowdfunding can present the opportunity for a whole business in itself. Over the last two years there have certainly been plenty of examples of individual creators who have the capability to create great ideas and prototypes, but lack the skills, resources or network to turn those prototypes into production products. In essence, crowdfunding shortens the path from prototype to product dramatically and that's not to everyone's benefit.
Reactions on KS so far?
We're getting fantastic feedback from contributors. It's been a mix of technical and application questions as well as many congratulations. I've put a couple quotations from our messages below. I included the quotation about the cat as its indicative of the fun project ideas that are getting sent through. The Touch Board clearly has an even broader appeal than we anticipated.
"I don't really have a question for you, I have a statement. You guys rock!!! You have donated pens in the past for my charity and I will never forget how amazing your people and company are."
"I am a Graphic Design student in my final year and have been working on using conductive ink to make typography more engaging and giving it a new and more exciting use in the world, getting it off of the screen! I came across this project looking for more ideas to expand my research and experimenting and fell in love with it."
"So... weird question... would the proximity sensor-feature be able to sense the proximity of a ... cat? I've been looking for a non-electrocuting way to scare the crap out of our cats when they try to venture onto the kitchen counter whenever we're not around. Could this be done with the touch board sensors, drawn on top of the kitchen counter?"
What have you learned from your campaign?
A lot! What we've learned most is that our community is larger, stronger and more passionate than we thought, which is a fantastic thing to realise.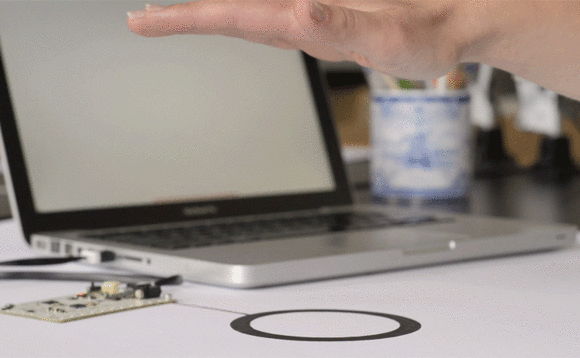 What's been the hardest part of developing the Touch Board?
Without a doubt the hardest part of developing any new product is in identifying its core attributes and not giving into "feature creep." We've had lots of requests from potential customers and its our job to focus those requests into a product that will work the best for everyone.
What uses have early users found for the Touch Board?
Everything! We just held a hack day with Moving Brands (a creative agency), which was wildly successful. We handed over 20 Touch Boards to a big group and at the end we had everything from an interactive chopping board, to a musuem display, ideas for a future record player and a safe you could unlock without even touching it.
Who do you see being the main users of the Board?
As with all of our products we're hoping that the Touch Board will span a range of users from the novice to the engineer. At the core though, all of our users will be more interested in what you can do with the board, than with the board itself. And that is exactly what we're aiming for. We want people to make and invent with our technology. It's only fun if you use it!
Possible business use?
The Touch Board certainly hints at a range of industrial applications from smart packaging to interactive architecutre. We're already getting a lot of interest from industry.
Aims for the future?
Looking forward to seeing what everyone does with their Touch Board once they receive them early next year!