Human Resources
The CMO Files: Massimo Macarti, Canon Europe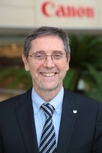 Name: Massimo Macarti
Organisation: Canon Europe
Job title: Chief of Communication
Location: UK/Italy
Where were you born and raised?
Bergamo, Italy. It's a very nice, medium sized town in the north of Italy, about 50km from Milan.
What was your first job?
After leaving University I worked as a high school teacher for roughly one year.
What was the first product you got really excited about?
My first Vespa, which I received as a present when I was 17. It's unfortunate that I no longer have it as I'm sure it would be a collector's item by now! From a technology perspective, I would have to say my first iPod Touch. It really changed my perception of user interfaces and how radically they could be changed.
Who has been the biggest influence on your career?
Even though I didn't realise it at the time, I think it was my primary school teacher. He was always saying to me, "you are intelligent but you can do so much more". At the time I didn't take this seriously but later I realised that he was right.
What has been your greatest achievement?
To have had the opportunity to take many different career paths. I've been a teacher and a consultant, I've worked in technology, sales, human resources and marketing. I've done so many things and I'm proud to say that I have done them well.
What has been your biggest mistake?
In one of my previous jobs I put all my trust in a senior colleague and because of this, I ended up being jointly responsible for an error on his part. It taught me to trust my gut instinct and to always believe in myself.
What is your greatest strength?
I believe my greatest strength is my adaptability and my ability to learn quickly.
What is your biggest weakness?
Sometimes I am not assertive enough, which can be perceived as backing down from a confrontation too easily.
What do you think is the aspect of your role most neglected by peers?
In the marketing world, too many people believe that everything is about creativity and having exciting, new ideas. What I have discovered is that there is a lot of hard work and sweat involved in getting results as well.
Which word or phrase is your mantra and which word or phrase makes you squirm?
My mantra would be to always think "and" instead of "or." Often, in both the business world and in life, you cannot afford to make a clear choice between two alternatives so you must pursue both. For example, short term and long term growth.
The phrase I don't like is "think global, act local." I think for the majority of the time you must "think local", as this is where your customers are and you need to have a real understanding of them. Then you "act global" as this allows you to benefit from economy of scale.
What makes you stressed?
When I see people trying to avoid their problems which they should be able to find a solution for themselves.
What do you do to relax?
I grow Bonsai trees. When I am working on them my mind becomes completely free.
What is your favourite song?
I am a jazz fan. With jazz there is not really the concept of a "song" as improvisation is the key, so a "song" can be interpreted in a million different ways.
Which book taught you most?
The business book which influenced me most is "Good to Great" by Jim Collins. It discusses the ingredients that provide companies with long term success and is where I found my mantra of "and" instead of "or".
Do you have a team or sport that you follow?
I enjoy basketball, which I played at a competitive level when I was a teenager. I also enjoy playing tennis and I'm a big Federer fan. Many people find it funny that as an Italian, I'm not that mad about football, but I would still say I support my small home town team, Atalanta.
Which country would you like to work in?
I have lived and worked in Italy and the UK, and I am very happy with these two!
Which company do you think has the best marketing?
It's difficult to name a particular company, as it depends a lot on the marketing objectives the company has, and the kind of industry they operate in. The best marketing teams are the ones who fully interpret the business strategy and objectives, and execute activities in alignment with them.
What do you love most about your job?
I love the fact that digital and social are now central to marketing and communications. This gives an extra dimension to what we do, in addition to traditional media. It's fascinating!
What is your favourite book?
I have read and loved most of Gabriel Garcia Marquez's books, particularly '100 years of Solitude'.
What keeps you awake at night?
When I have to make decisions about my team. I find these to be the most important ones, as I am a firm believer that your success depends on your team's capabilities.