McAfee Total Protection is priced for home users as part of a suite licensed for up to 10 Macs and PCs for just $45 for the first year. Unfortunately, it doesn't deliver enough at that price, much less its cost of $100 for subsequent years—especially compared to one of our top picks, which has a similar price with no later rate increases.
First off, the app looks clearly like a port from an older platform. Just clicking on tabs in its preferences window causes the window to resize and shrink towards the bottom of the screen. That hides its deeper flaws, which includes a seeming lack of real-time scanning. We reached out to McAfee with detailed questions to get clarification on the situation but did not receive a response.
The package includes a firewall and native browser plug-ins. The Safari plug-in works as one would hope: Attempt to load a page with malware on it was blocked. However, the block message lacks detail and is poorly formatted, which doesn't offer a lot of confidence about the software involved.
Note: This review is part of our best antivirus roundup. Go there for details about competing products and how we tested them.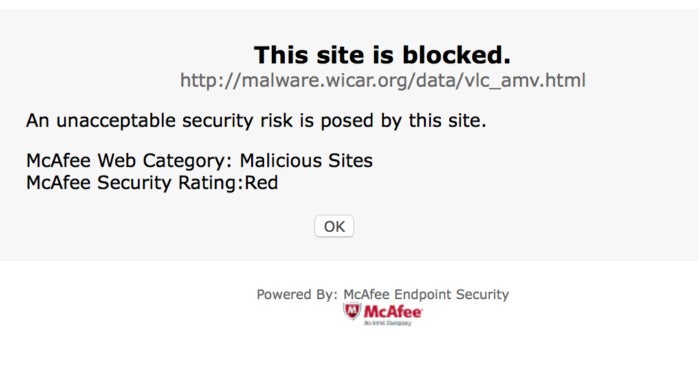 When I downloaded known macOS malware from Objective See's repository, McAfee failed to identify any that I decompressed from encrypted ZIP archives. Running a manual scan did find and delete them, but I was able to attempt launching the apps, including mounting a disk image with a malicious installer.
This circumstance is fixable, however—the settings default is that scanning only occurs if a file attempts to write something to disk. When I switched this to the "Read & Write" option, attempting to mount the disk image immediately caught the software's notice. Still, changing this setting doesn't completely address our concerns: McAfee is the only package we reviewed with no score from either AV-TEST or AV Comparables 2017 testing. It's thus impossible for us to validate our spot testing with a lab's results.
Adding to the software's interface issues is the firewall, which has obscure settings that will deter any regular user from fiddling with them further. (Disable the firewall, and the software's main console and system menu bar's dropdown will always say your system is at risk, too.) This interface obscurity is a common problem across the app. Even the Update preference opens to a tab full of arcane settings: For example, the schedule tab is third from left, and it's really what 99 percent of users need to configure.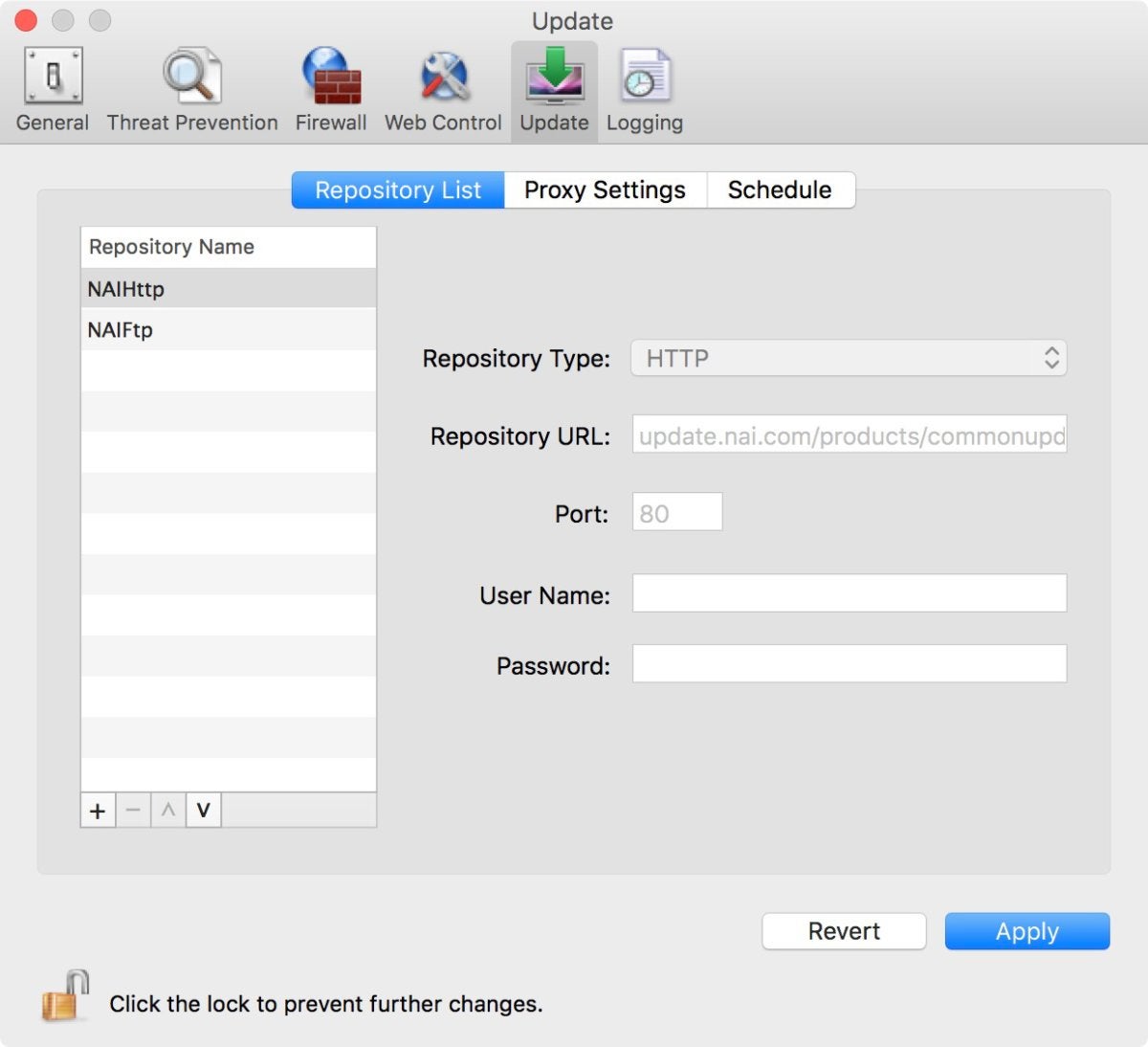 Total Protection also includes a subscription to the password-management software "True Key by Intel Security," which might be confusing if you didn't know that Intel owns McAfee. (The company is in the middle of rebranding True Security.) True Key isn't installed as part of Total Protection, though. Rather, you have to download it from your account page at McAfee after activating Total Protection, and use an activation code that you paste into the product separately after installing it. Confusingly, this is under Free Trials > Download Purchased Products.
The browser plug-in works extremely well, offering to remember passwords as you enter them, and offering an attractively designed and easy-to-use interface for managing and adding stored passwords. However, it didn't always capture logins for popular sites. For instance, I tried to use its automatic method to capture and store my Amazon login, and it failed. With other sites, like Dropbox, it worked as expected.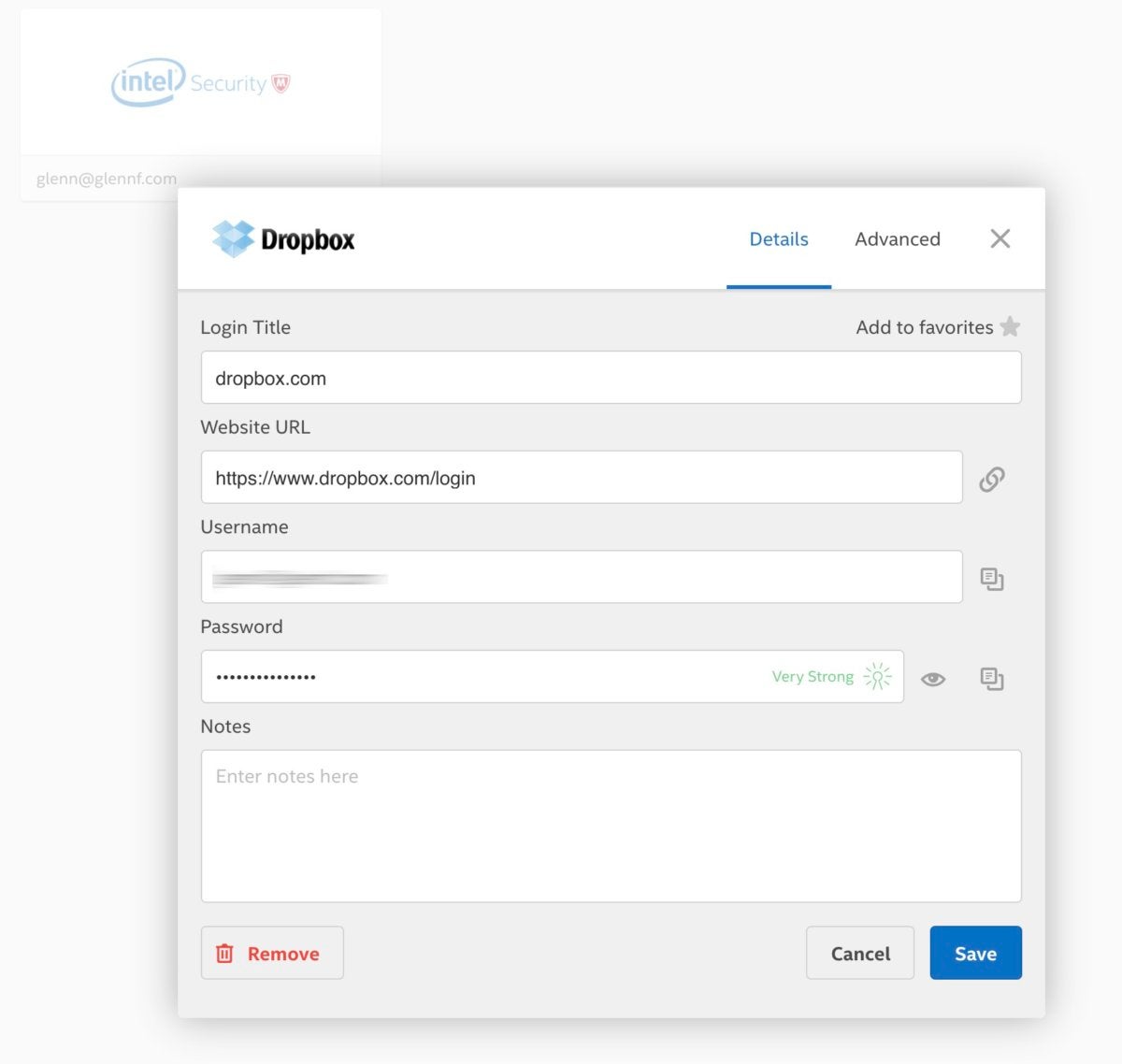 Total Protection comes with five device licenses, so you can install on multiple mobile and desktop systems and sync among them. However, Mac users are limited to browser plug-ins for Chrome and Firefox—no Safari support at all. If you're like the majority of Mac users, True Key is a non-starter, but it's an extra with Total Protection, rather than a core feature.
The True Key system stores your information centrally, and relies on a browser extension that uses in-browser encryption and decryption. The central storage only stores encrypted entries. That's also the case with popular password safes like LastPass, 1Password, and others, but some people avoid any system that relies on central storage. (1Password can be configured in such a way that nothing is stored on its servers, and everything is kept locally. That's the best option for Mac and iOS users who prefer no central sync and storage.)
Finally, McAfee has a checkbox in its settings to share information with McAfee GTI. There's no explanation of what this opt-out feature is in the program's help: It's the company's Global Threat Intelligence. I was unable to find details about what kinds of data would be sent if one remained opted in by default.
The bottom line
McAfee lacks active ransomware scanning, didn't perform well in our spot testing of real-time scanning for threats, and is burdened with a difficult interface. We can't recommend it.
Version tested: 10.2.3