Voice interactions with AI assistants are fast becoming commonplace at home. With Alexa for Business, Amazon hopes to make the same true in the office.
"Just like Alexa is making smart home experiences easier, the same is possible in the workplace with voice controls," said Collin Davies, Amazon's general manager for Alexa for Business.
Launched in November 2017, Alexa for Business is a managed service with three main components: a set of management tools, APIs to integrate with existing IT applications and infrastructure, and the Echo devices themselves. It is delivered by Amazon's cloud computing division, Amazon Web Services, which sells to large corporate customers.
Amazon's aim is to make it easier for businesses to deploy and operate Alexa in the workplace. Configuring and operating devices across an organization presents a different and more complex challenge than setting up multiple devices in the home, said Davis. "While the Alexa mobile application works great for configuring at-home or personal use, there's so much more that an enterprise needs," said Davis.
Device or room-specific profiles can be created with common configurations that only need to be set up once and are "easy to scale."
"Alexa for Business is an interesting concept," said Werner Goertz, a research director at Gartner. "There are still things to complete. But once it is complete, I think it is an excellent platform that brings voice interactions to the enterprise."
How to use Alexa for Business
There are two principal ways staff will use Alexa: as a shared device that multiple employees can interact with – in locations such as conference rooms, lobbies and kitchens – and as a personal assistant for individual productivity tasks.
"Our vision is to enable a world where Alexa is always available as you move throughout your day in order to be more productive," Davis said. That vision, not surprisingly, starts with the home, he said, where a person might ask Alexa what their schedule is for the day. From there, they can set up a meeting with a colleague, for example.
On the way into the office by car, Alexa will soon be more broadly available. Automakers have unveiled plans to add the functionality to some of their vehiclesover the next few years. That will allow commuters to continue using Alexa for work-related duties while fighting traffic. (Stuck in a traffic jam and going to be late? Just have Alexa notify your colleagues and re-schedule any meetings.)
In the office, Alexa clearly fits the bill as a meeting room assistant that lets employees kick off audio conferences with voice commands. "Imagine walking into a conference room to start a meeting with remote participants and not having to deal with bridge lines, passcodes, web presentation programs," said JP Gownder, a vice president and principal analyst at Forrester.
"Just say, 'Alexa, start the meeting,' and all of those things open up – saving people minutes at the beginning of many or most meetings that are wasted today."

There are wider smart office applications, too. Staffers could ask for directions around office spaces to locate meeting rooms, for instance, report a tech issue or order new equipment supplies.
"Alexa can help you streamline simple tasks and help you control your work environment by doing things like turning on and off the lights, starting a meeting, reporting issues to IT, and much more," said Davis.
Businesses can access tens of thousands of Alexa skills already available, or build their own skills, which can be made public or kept for internal use only.
Alexa can also be used as a personal assistant that lets users check their calendars, manage to-do lists and set reminders. Admins can link corporate calendars to Alexa for Business, integrating with Office 365, Microsoft Exchange,and Google G-Suite calendars.
In May, Amazon made it easier for business users to manage personal schedules via Alexa voice commands, adding the ability to move appointments and schedule meetings based on participants' availability.
In the future, Alexa may be able to actually move meetings on a user's behalf because it knows one task or topic is more important than another, according to Davis. "The goal is that Alexa becomes an always-available intelligent assistant to help you throughout your day wherever you are," he said.
Alexa skills business will use
There are already a large number of Alexa skills available to users – 40,000, according to Amazon, up from 25,000 in December - and many are focused toward workplace productivity.
Here's a sampling of those that would be useful in the office:
Since the launch of Alexa for Business, numerous tech vendors have created their own skills aimed at supporting their products. Salesforce has built a skill that allows access to its Einstein analytics via Alexa and a Tact skill that reads out Salesforce data. Finally, Concur's skill lets customers find itinerary details for upcoming travel plans.
Alexa's competition: Cortana, Google Assistant, Siri and others
From a consumer sales perspective, Amazon's Echo is quickly outpacing the competition. According to a report from Slice Intelligence, Amazon accounted for 72% of A.I. assistant speaker sales between January and March year – even as Apple was launching its HomePod speaker, which uses Siri to respond to voice commands.
Voice-activated virtual assistants are not as established in the workplace, however. "Alexa for Business today has a certain level of first mover advantage," said Goertz.
In other words, Amazon's early success at home gives it a strong foundation on which to build as it targets the enterprise. Users already know how to use Alexa around the house, meaning they're primed to continue doing so in the office.
Rival firms are eyeing the same market, and planning similar moves. Competition comes from two angles. One involves unified communications vendors such as Avaya or Cisco. Cisco, for example, has already unveiled its Webex Teams Assistant – formerly Cisco Spark Assistant – which is focused on the meeting room experience.
While that specific function is a first prime use case for Alexa for Business, it is as a general-purpose A.I. assistant that Alexa will likely draw competition from the likes of IBM, Microsoft and Google. "Especially in the IBM and Microsoft case, these guys all really have strong enterprise connections and will be wanting to leverage those," said Goertz.
Microsoft already has a strong presence in the enterprise with its Cortana voice assistant. Apple, too, has its own voice technology, Siri, which will be familiar to many business users.
However, Vaishno Devi Srinivasan, unified communications and collaboration industry analyst at Frost & Sullivan, said Amazon has already stolen a march on its competitors thanks to the launch of Alexa for Business and the popularity of its Echo speakers among consumers.
PC manufacturers are also starting to build Alexa into devices, offering another potential entry point into the workplace.
"Amazon is well positioned to grab the opportunity in enterprises much ahead of Microsoft Cortana, Google Assistant and Apple's Siri," Srinivasansaid.
What does Alexa for Business cost?
Alexa for Business is a 'pay as you go' service charged on a monthly basis, with a fixed contract length.
Businesses are charged $7 per month for each shared device they use, and a further $3 per month for every enrolled user.
Shared devices are accessible by anyone with physical access to the device and are not linked to a specific user. Each device, such as a Dot or Echo, is managed through the Alexa for Business console.
Enrolled users can join their personal Alexa account with Alexa for Business, meaning that they will have access to the same skills that they use at home, alongside private skills developed by the business. Enrolled users can access and use an unlimited number of shared devices.
There is also the cost of the Alexa hardware to take into account; on Amazon's website, the Echo Dot 2nd generation costs $49.99; the Echo Plus 2nd generation sells for $99.99; and the Echo Plus goes for $149.99.
Alexa for Business also supports Amazon's Echo Spot ($129.99) and Echo Show ($229.99). Both of these devices feature video screens and are aimed at individual use at a person's desk, rather than as a shared device.
An Alexa for Business starter kit (priced at $709.93) includes threeEcho devices, twoEcho Dots and two Echo Shows. Large businesses procuring more than 250 devices can contact Amazon directly for bulk pricing.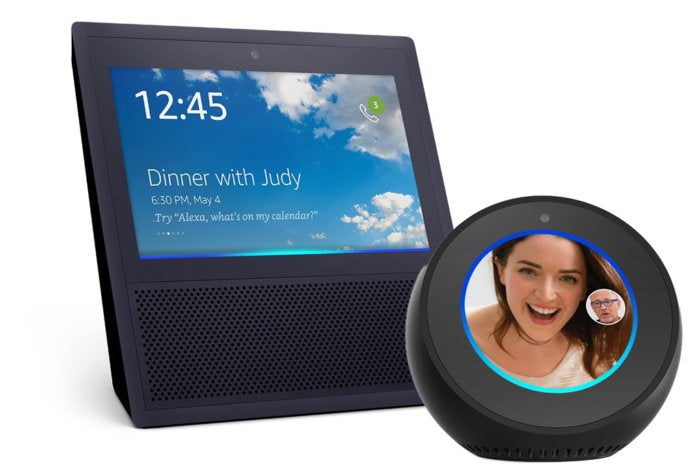 Security concerns with virtual assistants
Data privacy and security has been a concern for home users of Alexa. This was most recently highlighted by reports of an Alexa speaker recording a conversation between a husband and wife and sending it to their contacts without permission. (Amazon offered an explanation, claiming the incident was an "extremely rare" occurrence.)
Nonetheless, those kinds of concerns won't be any different when using Alexa in the enterprise. "That is the number one concern: privacy and security, especially when you access Alexa through far-field voice communication devices like the Amazon Echo," said Goertz. The same issue will, of course, apply equally to other companies selling voice assistants to businesses, he noted.
One of the issues is that conversation data will travel to the cloud, in this case Amazon Web Service servers, where the spoken word is converted to text – a factor businesses will have to consider before rolling out Echo devices across their properties. It is a particular issue for those in heavily regulated industries, such as healthcare, said Goertz, where privacy is important (and regulated), or legal environments, where client-attorney relationships are subject to strict privacy rules.
"So we still have to discuss and overcome privacy concerns as a primary barrier to adoption for services like Alexa for Business," Goertz said.
"As the Alexa [device] would have to capture the entire discussion, interpret in order to better predict and build more contextual response, companies may be concerned about sharing data on the cloud," said Srinivasan. "In particular, with the arrival of General Data Protection Regulation (GDPR), A.I.-driven services would find this as the biggest hurdle for large-scale penetration."
Davis said data privacy has been fundamental to the development of Alexa for Business from the start. "Privacy can't be bolted on as the last feature you'd put into this," he said.
He pointed to AWS's history of working with large customers to process significant volumes of business data. "At AWS, customer trust is of the utmost importance to our continued success. Getting privacy right takes careful attention, but our focus on the customer makes it easier to make good decisions."
Privacy must be thought of as a series of layers, as opposed to a single solution for every customer, he said. With this in mind, all of Amazon's Echo devices contain "multiple layers of security." They include:
An on/off button that physically disconnects the microphone and makes it "very easy for customers to control" when devices are switched on and waiting for the wake word - "Alexa."
On-device keyword spotting that won't send any audio to the cloud until it detects a customer speaking the wake word.
A blue light denoting that audio is being streamed to the Amazon cloud.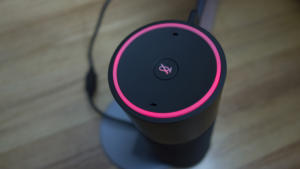 Davis added that voice recordings from shared devices managed by Alexa for Business can be deleted at any time using the Alexa for Business management console.
Employees that have enrolled their personal accounts can also view and delete individual voice recordings via the Alexa companion. But IT admins cannot access voice recordings associated with employees' personal devices, he said.
More detailed information on data privacy and security features is available on the Alexa for Business FAQ page.
How CIOs view virtual personal assistants like Alexa
Since the launch of Alexa for Business, senior IT leaders have expressed interest in the possibilities of voice activated virtual assistants alongside any potential data privacy concerns.
"We see virtual assistants as inevitable in the workplace," said Joel Jacobs, vice president, CIO and CSO at MITRE Corporation in Bedford, Mass. "Home experience will set the expectation for voice interaction, inquiry, and control of other [IoT] devices. I think that soon people will expect that if they can have these capabilities at home, why not the office?"
"Intelligent assistants have already proven they can be of good use today and [I] see potential for greater use tomorrow," said Jim Rinaldi, CIO and director for IT at NASA's Jet Propulsion Laboratory.
He said voice interfaces can save time compared with keyboard inputs and allow multitasking in a more convenient way. "I envision having intelligent assistants access the various dashboards I have to answer questions [rather than] having to access the dashboard every time I need information with a computer in front of me."
Tom Cullen, CIO at Driscoll's, the $3.5 billion supplier of fresh berries, envisioned an Alexa-type device handling user self-service requests – as opposed to logging a traditional help desk ticket for issues such as password changes – or being used to enable a workflow typically dependent on another staff member.
Virtual assistants could also be "leveraged for application support-type requests that a quick answer or direction on where to go for more info could be helpful," he said.
Tom Anfuso, senior vice president and CIO at National Life Group, said the company, based in Montpelier, Vt., prototyped a simple proof-of-concept Alexa skill for its insurance agents last year. "We will likely continue working with Alexa in the context of our innovation R&D program this year," he said.
Although there is no firm plan at the moment to go beyond the concept, Anfuso said National Life Group is "generally bullish on the growing Alexa ecosystem."
There are still challenges to overcome, however. Said Cullen: "The main drawback [for virtual assistants] is security.
"The reason I don't have one in my house is that it is always listening and you don't really know where all of the data is going and what is being done with it," he said.
How will Alexa for Business evolve?
Because it still is the early days for virtual assistants in the office, there are certain areas where Alexa for Business remains "underdeveloped," said Goertz.
One is biometric authentication to identify a speaker. "In the enterprise, this will be very useful because biometric authentication could then assign use rights or access rights to certain types of data, based on who the speaker is."
Another is potential for full integration into enterprise workflows and business apps. "Enterprises invest a lot of money in IaaS – identity as a service infrastructure. If Alexa for Business were able to tap into that, it would be very helpful because then Alexa could assign specific enterprise data, specific enterprise assets to the specific speaker."
Possibilities include Oracle database access rights or SAP integration, for instance, which is still being worked on and "not fully fledged," he said.
Davis said that integration with enterprise apps is very much an area of interest with more to come soon from Amazon on that front. "The next generation of corporate systems and applications will be built using conversational interfaces, and we're just getting started with customers using Alexa for Business in their workplace," he said.
Mingis on Tech: Coding new skills for Alexa