There are tons of Chrome extensions that enhance and add features to the Gmail interface. The extensions in this article are the ones we've come to like the best. They do everything from making handy little interface tweaks to adding sophisticated functions to Gmail. Some have been around for several years, while some were released a few months ago — but all can be useful additions to your Gmail experience.
To be clear: We don't recommend installing these extensions all at once — too many extensions installed on any browser can slow its performance. Instead, consider our list and choose the ones that give you the features you want most in Gmail.
Note: In April 2018, Google announced that it will be redesigning the Gmail web interface and adding new features in the coming weeks. We've seen screenshots of the new interface, and we believe the following extensions will still be useful after the update. Once the redesign has been launched, we'll re-test all the extensions and update this story as needed.
1. Actions for Gmail

Your time is precious, so why not save a bit of it by clicking fewer times? Actions for Gmail adds up to four action buttons to the left of each message heading on Gmail's main page. The buttons save you a step by letting you immediately archive, delete, mark as spam, or mark as read/unread an email in a single click: You don't need to open the email itself, or select it by clicking its checkbox, to apply one of these actions.
2. Checker Plus for Gmail or Notifier for Gmail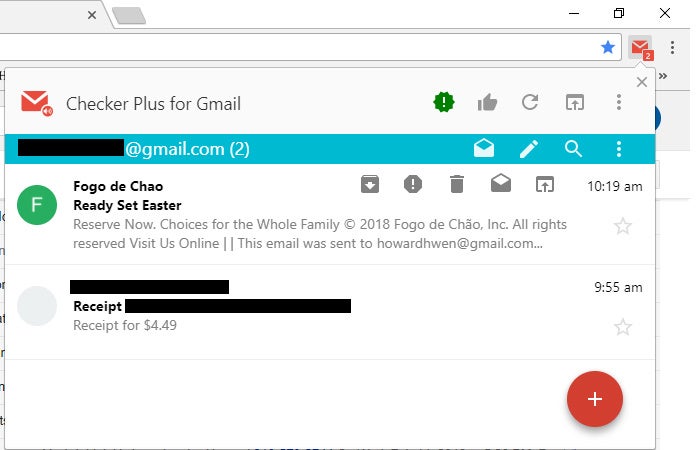 Checker Plus for Gmail notifies you of new emails with pop-up windows in the lower-right corner of your computer's desktop. Each pop-up shows a preview of the email's first few lines. Click the Checker Plus icon on the Chrome extensions toolbar to open a panel from the top of your Chrome window that lists your unread emails.
You can read them from this panel (or have Checker Plus read them aloud to you), delete them, or perform other actions on them without going to your Gmail main page. You can even compose a new email from the panel.
You can monitor multiple Gmail accounts using this extension. According to the developer, Checker Plus doesn't restrict the number of Google user accounts you can add to it, but the Gmail servers appear to allow only about 10 accounts to be simultaneously accessed by one computer.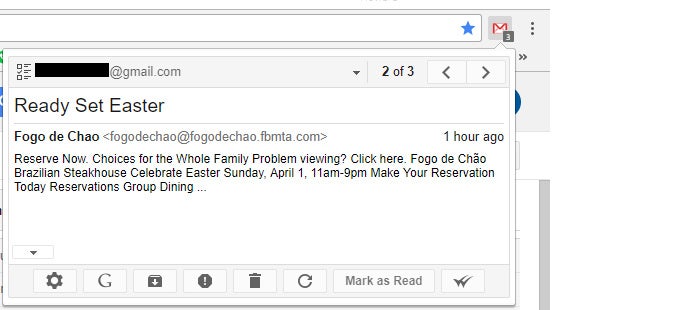 If you don't need all the features of Checker Plus for Gmail, then Notifier for Gmail, shown above, gets the job done. It uses a lot less of your computer's memory than Checker Plus, so it might run faster if you're using Chrome on an older, slower computer.
Like Checker Plus, Notifier for Gmail pops up a notification window in the lower-right corner of your desktop for every incoming email, showing the first snippet of text in it. And as with Checker Plus, you can click the Notifier for Gmail icon on the Chrome extension toolbar to open a panel where you can read an unread email. From the panel window, you can also delete the message, mark it as read/unread, or mark it as spam. You can add up to five Gmail accounts to this extension, and switch among them.
3. Gmelius

This feature-packed extension is like a steroid shot for Gmail. Gmelius lets you tweak many little things about the Gmail interface, such as forcing the Cc or Bcc field to always appear in the email compose window, or automatically sizing down large images embedded in emails, and it does what Attachment Icons for Gmail and Row Highlighter for Gmail do separately: changing the default paperclip icon for attachments to an icon that better represents the file type for the attached file, and highlighting an email heading on your Gmail main page when you hover over it.
Gmelius also includes a host of larger functions, including email templates, the ability to schedule emails to be sent later, reminders to follow up with recipients who haven't responded, and email tracking with read receipts so you'll know which emails have been read. Paid business plans start at $5 per user per month and include advanced features such as recurring emails and detailed activity reports.
4. Mailtrack

Speaking of email tracking, there are several extensions that can track the emails you send and confirm whenever one is opened by its recipient. Most charge for this service, but many also allow you to send a limited number of tracked emails for free.
Mailtrack is one of the most highly rated and popular extensions in the Chrome Web Store, likely because the free plan lets you send an unlimited number of tracked emails.  Gmelius offers unlimited email tracking under a free plan, but Mailtrack is a good option if you prefer an extension that doesn't have as many extra, unrelated features as Gmelius does.
Unlike Gmelius and other trackers, Mailtrack doesn't include a send-later feature that lets you set an email to be sent on a date or at a time that you pick. Advanced features such as daily activity reports, click tracking, and reminders if recipients haven't opened your email after a period of time are available only under Mailtrack's Pro plan, which costs $5 per month.
5. PixelBlock or Ugly Email

Not a fan of email tracking, at least on messages that are sent to you? If you get an email that has a tracker applied to it, PixelBlock or Ugly Email can stop it from reporting back to the sender that you've opened their email. Both extensions appear to be equally popular in the Chrome Web Store among users.
With PixelBlock (shown at left in the screenshot above), you can tell an email has a tracker only after you open it: If it is, an icon of a crossed-out red eye will be by the sender's name. Clicking this icon shows the name of the tracking service, if it can be identified.
Ugly Email (at right in the screenshot) shows which of your emails are being tracked on your Gmail main page, marking them with a black eye icon by their headings. So this extension shows you which emails are being tracked without you needing to open them. Hover the pointer over the black eye icon, and the name of the tracking service will appear over it.
Why use one over the other? Both do the job of stopping the tracker from reporting to the sender that you've opened the email, so it's really a matter of personal preference whether you'd rather see the icon alerting you to the tracker before or after you open the email.
6. Dittach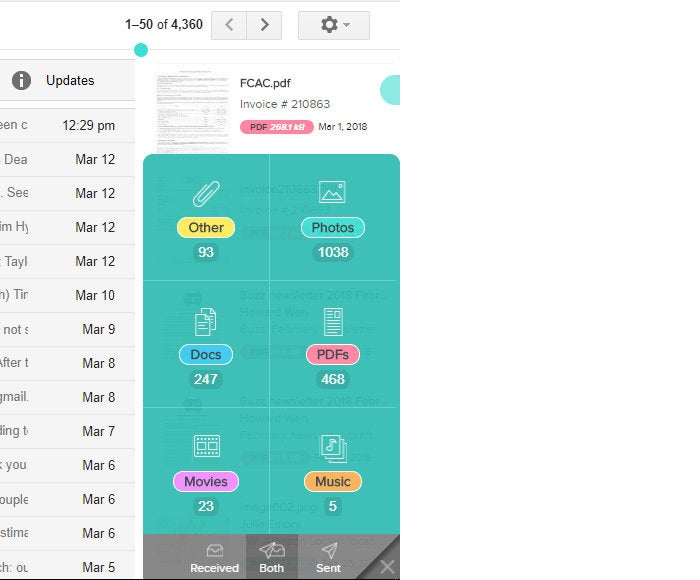 Ever lose track of a file that arrived as an email attachment at some point in the past? Of course you have. Dittach can help: It adds a column on the right side of your Gmail main page that shows thumbnails of all your email attachments, with the most recently dated at top. You can scroll through this column to see thumbnails for attachments in older emails, or use the search function to zero in on the right attachment. Dittach can also sort your stored attachments by category (docs, movies, music other, PDFs, photos) to make it easier for you to find what you want.
Clicking a thumbnail opens a larger preview of the attachment, and you can then delete, download or share the attachment, or open the email it's attached to. (If you delete the attachment, the original email it was attached to still remains.)  
7. Convert Google Docs to Gmail Drafts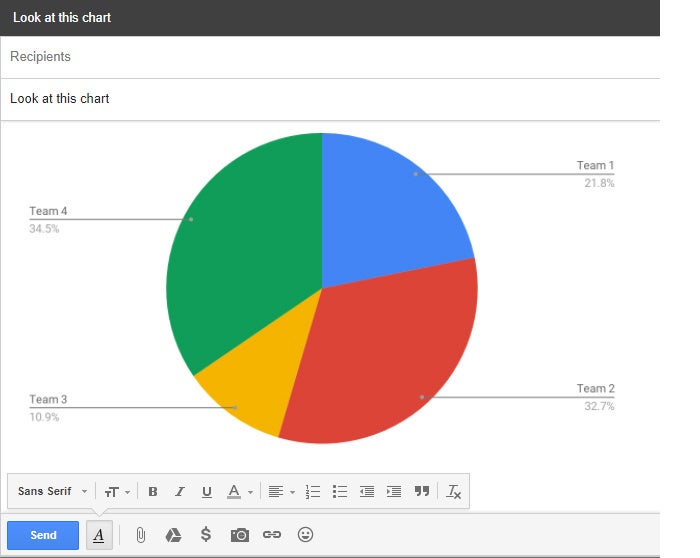 The name Convert Google Docs to Gmail Drafts says it all: the idea is that you can use Google Docs to compose a sophisticated-looking email. It could, for instance, include charts that are available in Google Docs. In the Google Docs window of the document you're working on, the extension adds a blue "Open in Gmail" button in the upper-right corner. Click it, and the document will be saved as an email draft in Gmail. Your advanced layout will be preserved when you send it out from Gmail.
8. Gmail Sender Icons

On your Gmail main page, Gmail Sender Icons labels each email heading with the domain of the sender's email address. It also adds the domain's favicon to the left of the sender's name. Being able to quickly see the sender's email domain without needing to open their email first can serve as a safety precaution. For example, a phishing email may claim in its subject line that it's an important email from Dropbox, but it won't be sent from dropbox.com. This extension highlights to you the domain it was really sent from.
9. Attachment Icons for Gmail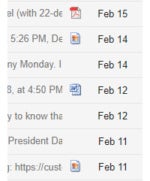 Don't need a do-it-all extension? Like Gmelius, Attachment Icons for Gmail determines what kind of file is attached to an email and changes Gmail's default paperclip icon to a more representative image. For example, if the attachment is a PDF, the icon becomes a PDF document symbol. Attachment Icons also assigns icons for media files (image, sound, video) and Microsoft Office documents (Excel, PowerPoint, Word). Unlike Gmelius, that's all Attachment Icons for Gmail does.
10. Row Highlighter for Gmail

Here's another extension with a single purpose: On your Gmail main page, Row Highlighter for Gmail highlights the heading of an email when you hover the pointer over it. Nothing earth-shattering here; it just provides a simple visual aid when you're going through your emails skimming headlines to find the one you need to open. You can customize the highlight color; two colors can be selected to differentiate between an email that has been marked as read or unread.