Intel published documentation about the Z390 motherboard chipset over the weekend, as AnandTech first noted, confirming suspicions of a new high-end chipset waiting in the wings. Z390's capabilities should finally bring the bizarre, drawn-out saga of Intel 300-series motherboards to a cohesive close.
When Intel launched its 8th-gen Core CPUs last October only a single motherboard type released with it: the enthusiast-class Z370 chipset. Luxurious hardware like that pairs well with enthusiast-class processors like Coffee Lake's flagship Core i7-8700K, but in a lot of cases, it didn't make sense to slap a cheaper Core i3 or Core i5 chip into a pricey Z370 board. In April, Intel finally released the full lineup of 300-series motherboards, but surprisingly, the cheaper H370, B360, and H310 chipsets included premium features that Z370 lacked.
The new motherboards integrate support for speedy 10Gbps USB 3.1 Gen.2 ports into the chipset, and also move a lot of the functions needed for wireless networking into the platform controller hub itself with Intel's CNVi wireless-AC technology. Those sorts of premium features were a glaring hole in premium Z370 motherboards and lead to rampant, yet reasonable speculation that another high-end chipset was on the way.
Indeed, Z390 is real, and as expected, the new chipset shares the same basic features as Z370, but with the new additions found in the cheaper motherboards now included. Z390 boards will include up to six USB 3.1 Gen. 2 ports, compared to four in the lesser-priced chipsets. Z390 motherboards can also include integrated 802.11ac wireless capabilities if the motherboard manufacturer chooses to do so.
Beyond that, Z390's specifications mirror Z370's, including support for CPU overclocking with compatible K-series chips, RAID setups, and Optane Memory. This chart from our comprehensive guide to Intel 8th-gen motherboards shows what you get from the Z370, H370, B360, and H310 chipsets.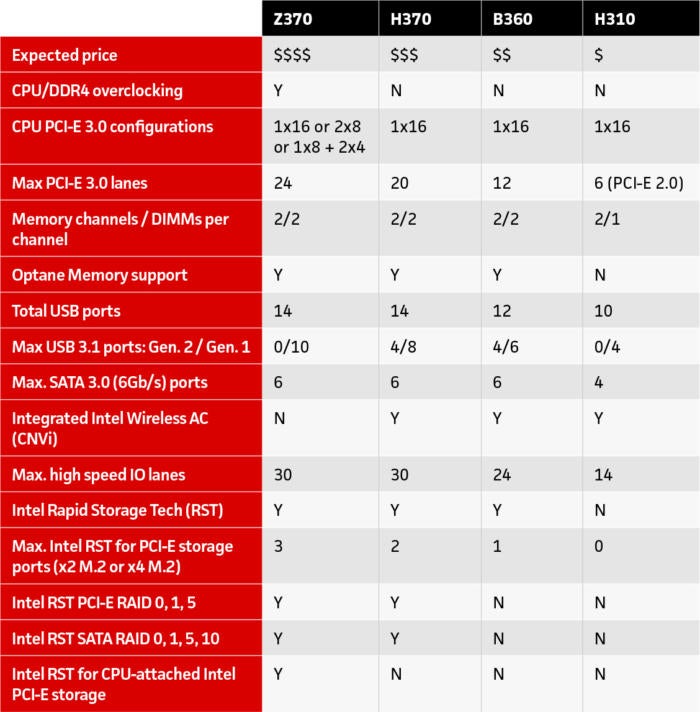 Why this matters: Z390 motherboards will usurp Z370 as the true high-end chipset for Intel 8th-gen CPUs when they launch, but when Z390 will launch is still up in the air. Intel's documentation didn't mention a launch date. But as part of a massive leak of Intel and AMD's CPU roadmap plans for 2018, German PC distributor Bluechip revealed that Z390 is scheduled to launch at Computex.
That annual PC-centric trade show kicks off the first week of June so expect to hear more about Z390 sooner rather than later. Interestingly, Bluechip also says AMD's rival X490 motherboards for 2nd-gen Ryzen CPUs are scheduled for a June launch. The CPU wars are heating up just in time for summer.