Fantastic Beasts: The Crimes of Grindelwald is coming, and we couldn't be more excited. It's the second in the Fantastic Beasts series, a Harry Potter spinoff set in J.K. Rowling's Wizarding World. Here, you'll find out when the Fantastic Beasts 2 is coming out, who's in it and what we know about the plot so far. You can also watch the first official trailer.
It's is set to be one of the biggest films of 2018, alongside the Han Solo Star Wars spin-off and Avengers: Infinity War. You can see all of the best films coming out in 2018 and watch their trailers here.
Release date
Fantastic Beasts: The Crimes of Grindelwald is out on 16 November 2018, two years after the first in the series, Fantastic Beasts and Where to Find Them.
If you're in the US, you can sign up to get alerts when tickets go on sale from Fandango.
In the UK, we'd recommend checking Cineworld, Vue and Empire.
This is just the second movie in what is set to be a five film series, and we expect the remaining three to be released on 2020, 2022 and 2024.
Cast Photo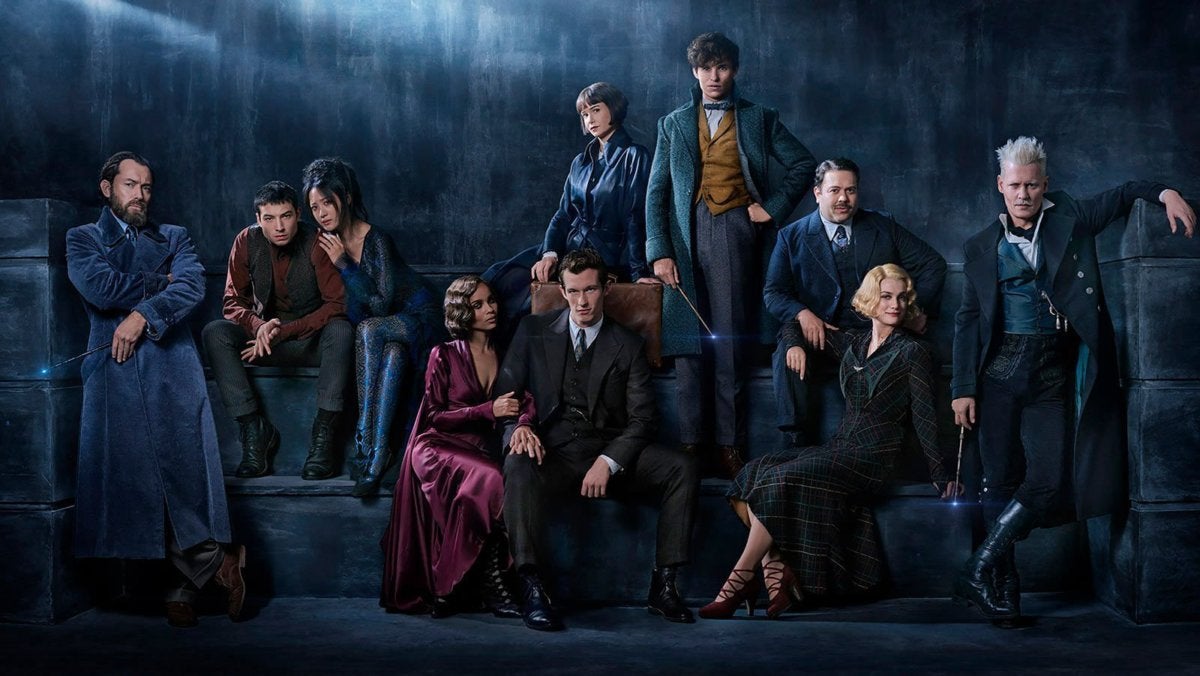 If you've yet to see the first movie in the series, you'll find it available to stream on Now TV or to buy from Amazon here.
Returning for the second movie are some of the actors and characters we got to know in the first. Main character Newt Scamander is played by Eddie Redmayne, and you'll Dan Fogler is Jacob Kowalski.
Katherine Waterston and Alison Sudol also return as Tina and Queenie Goldstein, while Ezra Miller plays Credence Barebone.
Right at the end of Fantastic Beasts and Where to Find Them, we got a glimpse as Johnny Depp in the role of Gellert Grindelwald, who, as you can tell by its title, is set to play a much bigger part in the new movie.
New to the cast is Jude Law as a young Albus Dumbledore, and further new faces include Zoe Kravitz as Leta Lestrange and Callum Turner as Theseus Scamander.
Watch the trailers
So far, there's only one trailer for The Crimes of Grindelwald. It was released on 13 March 2018, giving us our first glimpse at what's in store. We see Jude Law in his role as Dumbledore, and discover that we're set to return to Hogwarts.
Plot rumours
Unlike the Harry Potter movies themselves, the Fantastic Beasts series plot is a secret until the films land in cinemas. We knew and loved the Harry Potter books before the movies were released, but this time it's movie first, book second.
The series was inspired by the fictional book of the same name that Harry and his friends were required to read as part of the Hogwarts curriculum, written by Newt Scamander himself. Following its release in cinemas, the screenplay (written by J.K. Rowling) was published as a book, and we expect the same to be true with the second movie.
That hasn't stopped speculation about what's in store for fans. The trailer reveals we'll be returning to Hogwarts, and we already know that we're set to find out more about Albus Dumbledore and his battle with dark wizard Gellert Grindelwald. That very battle was first mentioned in the first Harry Potter book: Harry Potter and the Philosopher's Stone, so it won't come as a surprise to fans.
At the end of the first film, we see Grindelwald captured by MACUSA (Magical Congress of the United States of America), but two years on the powerful wizard has managed to escape custody and is gathering followers. Unlike Voldermort's followers, many of Grindelwald's aren't aware that his true agenda is to raise pure-blood wizards up to rule over the non-magical beings (Muggles, No-Majs).
In an attempt to stop him, Dumbledore (then a Transfiguration professor) enlists the help of Newt.
Back in 2016, IMDB seemed to leak plot details of the second Fantastic Beasts movie. It took the summary down when it realised its mistake, but not before The Leaky Cauldron caught it and published it on its blog.
If it's to be believed, the leak suggests it's been two years since the end of the last movie, and Newt is living back in the UK. He has published his book, and is finally over Leta Lestrange.
The first trailer gives us further clues about the plot of Crimes of Grindelwald. Jacob is back (and appears to have his memories back?), Newt's brother Theseus is set to make an appearance and we're going on a trip to Paris. Leta Lestrange will be introduced, and we already know she was a former love interest of Newt's that betrayed him.
Do you have any theories about Crimes of Grindelwald? Let us know in the comments section below or on Twitter.