Ten years ago, the tech world shifted dramatically with the arrival of the first pocket computer, better known as Apple's original iPhone. The combination of touchscreen hardware and a sophisticated, dynamically adjustable interface sparked a mobile revolution that re-ordered the landscape of many industries – and forever changed how people use technology.
Everything from mobile app stores to the Bring Your Own Device revolution at work to the creation of Android and a new tablet industry followed from that iPhone and the operating system it ran.
With that in mind, and with iOS 11 due out within weeks, here's a look at iOS highlights and how Apple's mobile OS has changed and evolved each year since 2007.
iPhone OS 1
The first iPhone relied on the slow EDGE network from AT&T for cellular internet access, had limited storage – it maxed out at 8GB – and lacked basic features such as MMS and cut/copy/paste…. And yet, it was the most remarkable piece of technology most people had ever held in the palm of their hand.
The iPhone represented a paradigm shift not only for devices, but for the entire mobile industry. It was enough to knock down then top-dogs Nokia and RIM (BlackBerry) while breathing new life into competitors who until then had stuck to aping RIM's designs.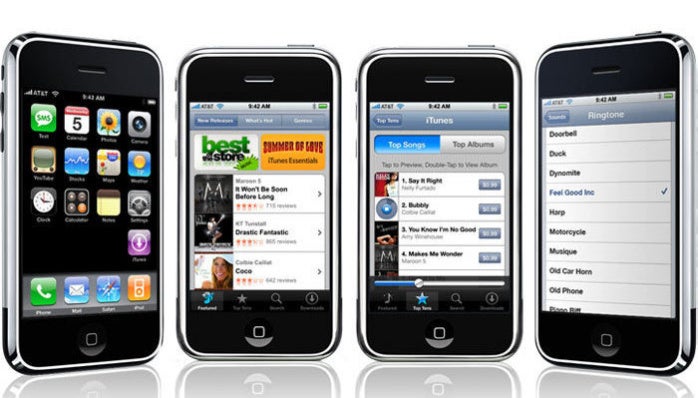 In a world full of buttons and keyboards, the iPhone was sleek and polished and it relied on a new software interface that used multitouch. In an instant, physical keyboards were out; swiping was in. The then-new dynamic UI changed based on context and function; it was sophisticated enough for long-time computer and smartphone users but simple enough to draw in tech newbies. The iPhone was a game-changer.
iPhone OS 2
If the opening combo of iOS and iPhone re-ordered the mobile landscape, the second version – first unveiled as a developer beta in March 2008 – solidified the iPhone's success. With iPhone OS 2's release on July 11, 2008, the iPhone gained an App Store, allowing third-party applications onto the iPhone platform. iPhone users could also view Microsoft Office documents in email attachments, and the iPhone software sported new enterprise-friendly features like push-email, -contacts and -calendars, as well as enforced security policies with device configuration and remote wipe.
This version bolstered business support and allowed the iPhone 3G to be used in work environments with access to 3G networks for faster data access via cellular networks,  support for Microsoft Exchange, Cisco IPsec VPN, WPA2/802.1x, parental controls, and additional languages – allowing the iPhone to appeal to a broader audience.
First-year iPhone users got the OS update for free, while iPod Touch owners had to fork over $9.95.
iPhone OS 3
iPhone OS 3 and the new iPhone 3GS supported GPS and had a built-in compass, with a Maps app that could navigate users to destinations using turn-by-turn directions (effectively crippling the third-party GPS market). The iPhone also, finally, included Cut/Copy/Paste support; and the Camera app not only captured better photos but could also record video (and introduced tap-to-focus) – effectively killing the low to mid-range digital camera market. Along with push notifications, the OS 3 update also finally delivered MMS – letting users send pictures with text messages.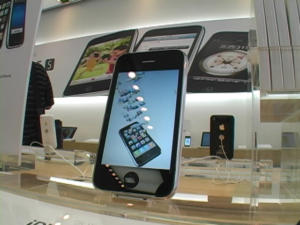 The iPhone software came equipped with additional hardware compatibility via bluetooth and the Dock connector, allowing for brand new hardware combinations such as blood pressure monitors, heart rate monitors and other health-related accessories. Safari gained support for HTML5, paving the way for the modern internet. Voice control made its appearance, too; this precursor to Siri allowed voice dialing and basic iPod control. iPhone OS 3 also supported tethering to share network connections with other devices over USB and Bluetooth (for carriers supporting this feature).  New Accessibility options were also available, but only on the iPhone 3GS, not earlier models.
iOS 4
On June 21, 2010, Apple released iOS 4. it introduced a multitasking interface that made it easy to quickly switch between apps with a double-click of the Home button. iOS 4 – Apple had changed the name of the OS – also offered enhanced support for background processes, which allowed more functionality for apps; FaceTime video calling, for Jetsons-like video chats; folders on the Home Screen that allowed you to group together apps; support for multiple Exchange accounts – a boon for the workplace; Spotlight searching for Wikipedia and Bing (which joined Google and Yahoo!); and it introduced the newly revised text messaging app, Messages.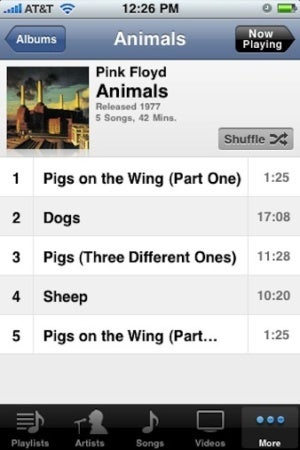 Mail became more powerful, too, with the inclusion of Unified Inboxes, organized Mail threads, Quick-Look attachment support and the ability to easily create Calendar events from emails. For IT departments, the iPhone finally supported basic mobile device management, SSL VPN for Juniper and Cisco, Exchange 2010 and better data protection.
Honorable mention: iOS 4.2.1
This version – iOS 4.2.1 – unified the different iOS releases. (Until now, iOS iterations had been developed separately for the iPhone/iPod Touch and the iPad.) Most importantly, it delivered AirPlay, which let iOS devices stream media like video, music and photos to an AppleTV; and AirPrint, which supported printing on specific third-party printers; and major improvements to Safari and Accessibility features.
iOS 5
The biggest update in 2011's iOS 5 was the revamped Notifications UI. Until iOS 5, Notifications were great for letting background apps alert you to new information, but they sat center screen, taking up space until dismissed. These new alerts slid down from the top of the screen and were stored in a Notification Center, until you wanted to read them. The revamped Lock Screen offered quick access to the new alerts system as well as the Camera and Notification Center. More important was the introduction of  Siri, which helped spark the voice assistant wars that are still going on.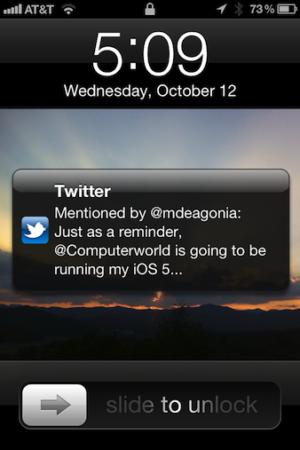 This was also the first release to cut the cord, as it were, from iTunes; you could finally  activate an iPhone without plugging it into a computer. The new Messages app bypassed SMS (and related carrier profits) by using the new iCloud, and provided end-to-end encryption for messages going to other Apple devices. AirPlay Mirroring also arrived, so you could display what was on your screen for presentations via any TV or display connected to an Apple TV.
iOS 5 brought Twitter integration, location-based Reminder alerts, face detection for the Camera app and basic editing for Photos – the latter two combining to make the iPhone a much more powerful device for photographers. Rich Text support was added to the built-in email client (along with the ability to flag individual emails), along with  two ill-fated bits: Game Center and Newsstand. (Our top 5 features in iOS 5 offers more details.)
iOS 5 also marked the beginning of the development cycle we're now familiar with, in which major iOS features are shown at Apple's Worldwide Developers Conference in June, followed by a release for developers with the final polished OS arriving in the autumn.
iOS 6
The release of iOS 6 on Sept. 19, 2012 was significant because it marked the first time iOS users could upgrade devices over-the-air. Not coincidentally, this was also the first time most people saw upgrade problems due to a lack of storage space on the device. Those that could update (or realized they could still update by plugging into an iTunes-equipped computer) found that that Siri had been overhauled to offer info such as player stats, team rosters and standings, and game schedules for many major sports; actor information, movie trailers, and show times at local cinemas; and Yelp reviews of restaurants, as well as access to OpenTable for reservations. Siri could also be used to launch apps, perform searches on the device and update your status for Twitter and Facebook.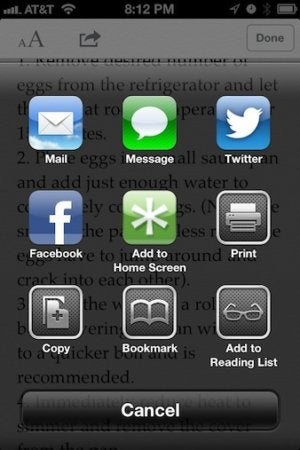 Facebook integration was a highlight, since iOS 6 included a system-wide Share button for content; syncing between Facebook and locally stored contacts; calendar syncing for Facebook Events and Birthdays; and a Like button on the App- and iTunes Stores. The mobile social media revolution was well under way.
iOS 6 also featured what would eventually become CarPlay, while Photos gained Shared Photo Streams that let you update a photo album on your iPhone and automatically alert your friends about it. Privacy controls become more granular, specifically requiring apps to get permission to access Photos, Calendars, Contacts, and Reminders; more importantly, this was the first release to feature a new Maps app backed by data acquired by Apple (shifting iOS away from Google and ending support for Google's Street View). The new Maps app, which had something of a rocky rollout, included Siri turn-by-turn navigation, Flyover for specific cities (with 3D satellite views), Yelp integration, and crowdsourced traffic info based on anonymized data from other iPhones.
Other news features included: the Camera app's new panorama mode; iCloud Tabs in Safari (a precursor to Handoff), allowing you to continue browsing as you moved from iPhone to Mac; Passbook, Apple's first effort at a digital wallet and one that would not gain Apple Pay support for several years; and iCloud syncing, which made it possible to create and edit a Pages doc on the iPhone and then switch to the Mac to continue work. This marked the beginning of what would eventually become Continuity and Hand Off.
iOS 7
In 2013, Apple rolled out iOS 7, the first version of iOS to be completely 64-bit – and the first to feature an overhauled user interface. The new design featured a flat, translucent look that did away with the heavy ornamental graphics of earlier versions. Content was meant to take center stage, as the minimal UI took a back seat. Buttons became borderless and the system font was changed to Helvetica Neue Regular for a cleaner look. The Control Center arrived, as did AirDrop – the ability to send files from one iOS device to another.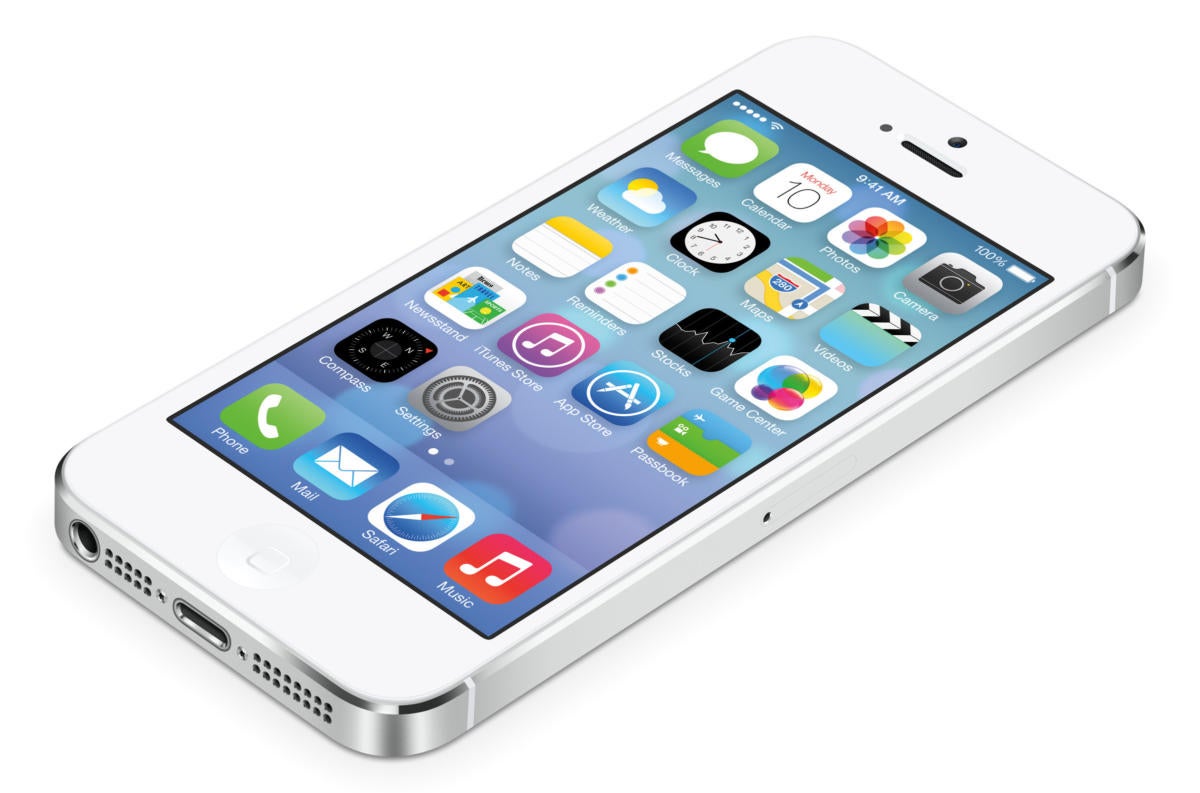 Highlighting Apple's increased developer push for mobile, iOS 7 included the app switcher still in use (swipe up to force-quit apps); the parallax wallpaper effect; FaceTime audio; iTunes Radio; photo streams so friends could contribute their own photos; updated voices in Siri; and the Find My iPhone activation lock.
Background processes were greatly expanded to cover more tasks, including intelligently grouping app behavior for more efficient use of computing resources. And Touch ID support debuted.
That said, iOS 7 had problems that indicated Apple had spread its developer resources too thin. It was buggy on its initial release in the fall and remained buggy well into 2014.
iOS 8
With iOS 8, the UI transition that began with iOS 7 continued, with optimized system animations that were faster, giving devices an overall snappier feel. Notably, iCloud became a bigger player in Apple's ecosystem as the backbone to Continuity. Continuity lets your Apple devices to "talk" to each other and know what the other is up to, so the same function can be picked up on any other Apple device at any point. If your iPhone rings, so does your iPad and your Mac – letting you pick whichever device was closest to answer. Or you could start writing an article on your iPhone, continue working on it on your Mac, then review and edit the same document  on your iPad.
iCloud Photo Library also debuted, allowing every photo and video you have to be accessed by each of your Apple devices. (iCloud Drive also added Dropbox-like storage to Apple's services.)
This release also introduced interactive notifications that let you perform certain functions from an alert without having to switch to the app. Audio support in Messages, for instance, let you send audio snippets instead of texts. And the Notification Center gained support for third party widgets.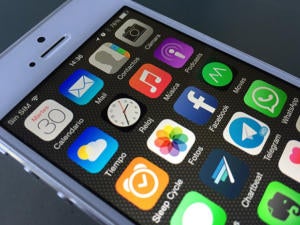 Passbook became especially useful for mobile commerce as the iPhone 6 and 6 Plus gained both NFC support and Apple Pay. Other useful features included: Family Sharing in iTunes; a smarter Spotlight for search; Time Lapse and Burst modes in Camera; and several dozen APIs to underpin apps, including Metal, CloudKit, SceneKit, SpriteKit, HealthKit, ApplePay, and CloudKit.
Safari on the iPhone picked up a few tricks from the iPad version, including the pinch gesture to enable tab view, and DuckDuckGo became a search option for the privacy minded. Maps began hosting Flyover city tours, and Siri learned how to recognize songs (using the Shazam engine).
Best of all, Siri also listened for your " Hey, Siri" call to trigger the listening mode.
iOS 9
The main selling point for 2015's iOS 9 was its ability to anticipate user needs. It  implemented background updating for commonly used apps based on past habits, and could proactively display relevant information with up-to-date data. The best part: iOS 9 was stable and offered better performance on its initial release than the previous two versions.
iOS 9, for instance, intelligently figured out how to avoid the out-of-space issues that plagued earlier OTA updates. It could delete larger apps without touching user data and replace the app after installation was done – or grab only the software assets needed for installation based on the device.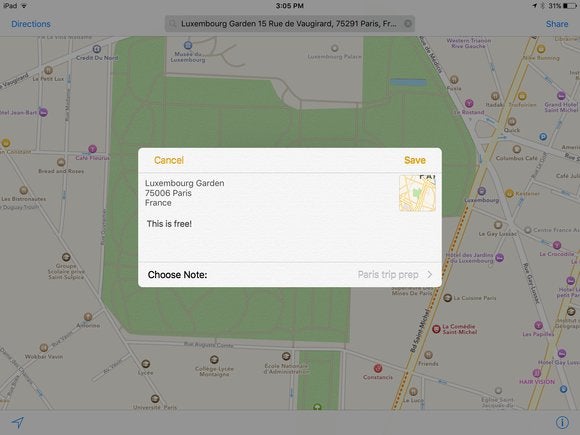 Other important changes included: enhancements to CarPlay (and a Wi-Fi version); new data types in the Health app; public transit data for select cities in Maps, which also picked up the ability to anticipate your destination and offer alternatives depending on traffic.
The Home Screen featured a revamped Search area, accessible by a left-to-right swipe. System-wide searches via Siri looked in both iOS 9 itself and within apps, and Siri could be used to control lights and appliances via HomeKit. And the year-old "Hey, Siri" feature no longer required the iPhone be plugged into power; once enabled, Siri would always listen.
Passbook evolved into Wallet; the Home Button could be used to launch Apple Pay from the Lock Screen (when pressed twice); and the iPad got several multitasking improvements, including split-screen, slide-over app support – for running more than one app at a time – and picture-in-picture videos.
iOS 10
Last year's iOS 10 was more of a refinement release that enabled functionality in certain apps that made them more like platforms developers could build on. For instance, in Messages, you can send money to a friend, call for an Uber ride, send files from DropBox, attach stickers to messages, play games, and share music – all without ever having to jump to another app. (An App Store specifically for Messages made that possible.)
Messages became more expressive than ever, letting you send animated texts and full-screen animations along with handwritten notes, Digital Touch-based events like taps and heartbeats, and the option to replace specific words with emojis.
Maps was also redesigned to proactively look into calendar events and past habits to anticipate where you might need directions. When you arrive somewhere, it marks your car's parked location for future reference and, like Messages, has extended functionality so reservations can be made right from the app and ride-sharing services summoned. Maps also supports better turn-by-turn directions and search results that find locations en route to your final destination.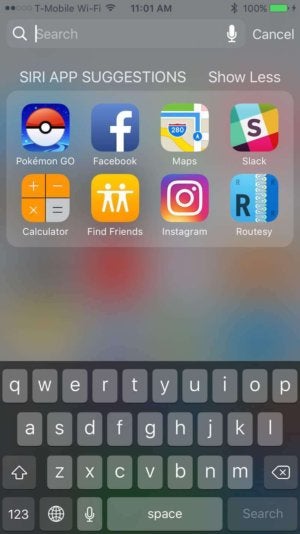 Machine Learning was a phrase that continuously came up with iOS 10, and Photos put the technology to good use. The app could pick faces out from photos and display them in groups under a "People" album; Photos scanned pics for object and scene recognition so you could ask Siri to search for "pictures by the beach" or "photos of me."
Other changes included: Redesigns for Apple Music (the streaming service) and Apple News (the Newsstand replacement); expanded access to 3D Touch features throughout the OS; iCloud support for syncing Documents and Desktop folders on all of your devices; and _ once iOS 10.1 rolled out _ support for the dual-lens iPhone 7 Plus camera that enabled Portrait mode. That last feature used both rear-facing cameras to produce a DSL-like Bokeh effect to your photos.
The future
Of course, Apple isn't done with the iPhone and iOS. The iPhone's rising prominence meant it quickly supplanted the Mac as Apple's cash cow; it is now the only device to receive regular, annual updates. Developer resources were re-allocated along the way to focus on the mobile OS and those predictable updates – sometimes even to the detriment of the latest version of OS X. That said, September is now routinely seen as the month when new iPhones and iOS updates arrive. (Apple has set Sept. 12 for this year's unveiling of new hardware.)
Ten years on, it's difficult to imagine a world in which the iPhone and iPhone OS never happened; both have been so consequential for the entire mobile industry. Apple moved the smartphone world forward in 2007, and continues to press on with new hardware and software designed to delight and entertain. And as it does so, it continues to showcase its ongoing efforts to iterate, evolve and stay ahead of the competition in big ways and small.