Happy Thanksgiving, dear readers! Some of us love watching A Charlie Brown Thanksgiving for the 30th time, or perhaps Planes, Trains and Automobiles—one of yesterday's picks—is on constant repeat. For those who are ready to throw tradition out the window, grab a drumstick and stream some of our—shall we say—unusual choices for kicking off the holiday season.
Each of these films has a Thanksgiving connection, but not all deliver the feel-good vibe you might expect this time of year. Some of them might even chase your least-favorite relatives from the room. However you like your holiday we hope it's a happy one.
The Last Waltz (1978)
(Vudu, free w/ ads; TubiTV, free w/ads; Fandor)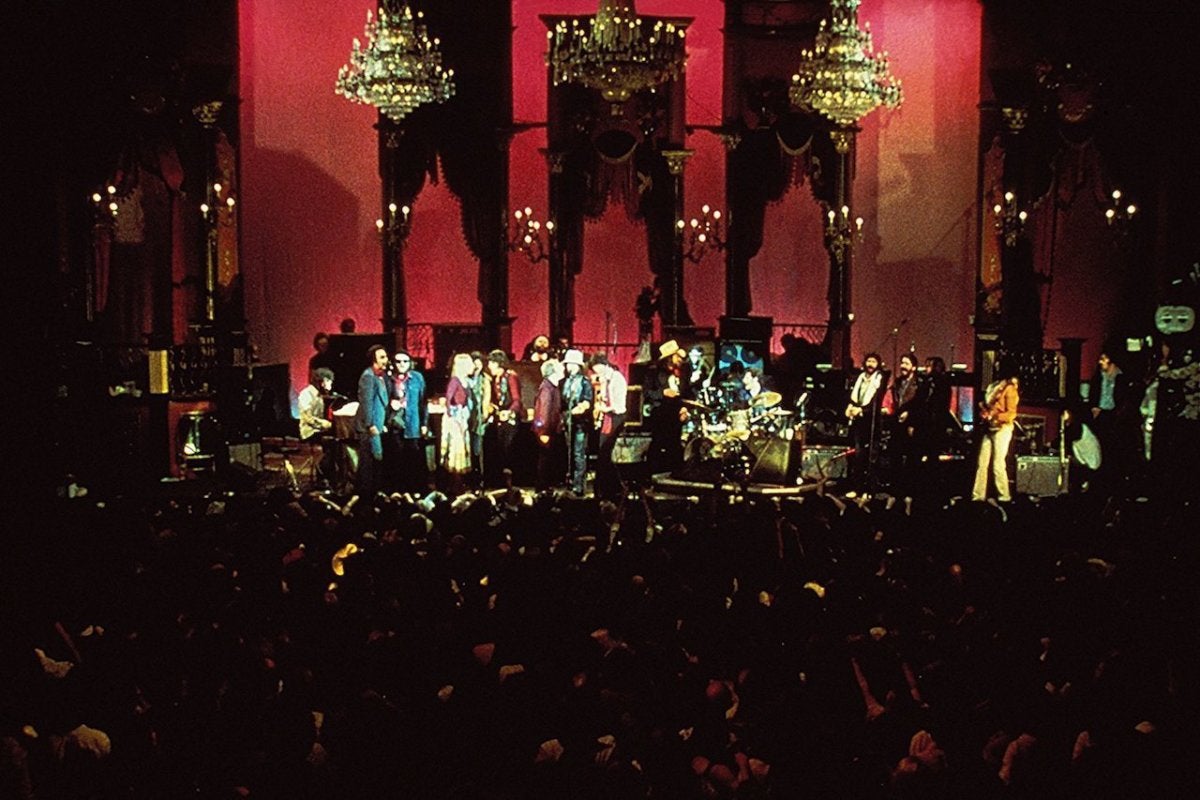 ★★★★★
Fresh from the success of Taxi Driver, Martin Scorsese set out to reinvent the concert film with The Last Waltz (1978), and he succeeded. It's a document of the Thanksgiving Day, 1976, farewell performance of The Band (Robbie Robertson, Levon Helm, Garth Hudson, Rick Danko, and Richard Manuel) at San Francisco's Winterland.
A stage full of guests included Paul Butterfield, Eric Clapton, Neil Diamond, Bob Dylan, Emmylou Harris, Ronnie Hawkins, Dr. John, Joni Mitchell, Van Morrison, The Staples, Ringo Starr, Muddy Waters, Ron Wood and Neil Young. (The $25 ticket apparently included a turkey dinner.) Scorsese reportedly developed a 300-page shooting script so that he could compose his shots and edit on the beats of the songs. But despite such rigorous preparation, the music itself soars, with so many breathtaking moments, including the bare-stage rendition of "The Weight," Young's performance of "Helpless" with Mitchell sneaking in to help, and the final, all-star "I Shall Be Released." 
Broadway Danny Rose
(Amazon Prime, Hulu)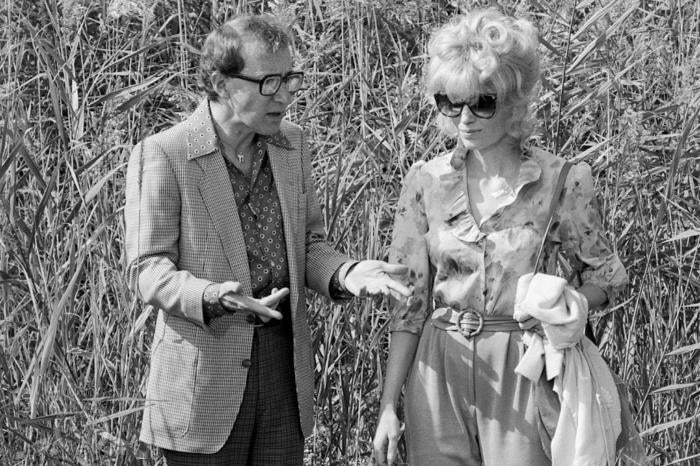 ★★★★★
Filmed in lovely black-and-white, Woody Allen's Broadway Danny Rose (1984) is only barely a Thanksgiving movie, but it makes a good double-bill with Allen's Hannah and Her Sisters (1986), which is centered around a family turkey dinner. Allen plays the title character, the third-rate, good-hearted talent agent Danny Rose, who firmly believes in his quasi-talented acts (like a "balloon folder").
When his star, singer Lou Canova (Nick Apollo Forte), becomes involved with a gangster's moll, Tina (Mia Farrow), Danny gets in the middle of all the trouble. In one striking scene, Danny and Tina are on the run from mobsters, and escape through a warehouse filled with dormant Macy's Thanksgiving Day Parade floats! In this context, these huge, lifeless characters have a strange new quality.
She's Gotta Have It
(Netflix)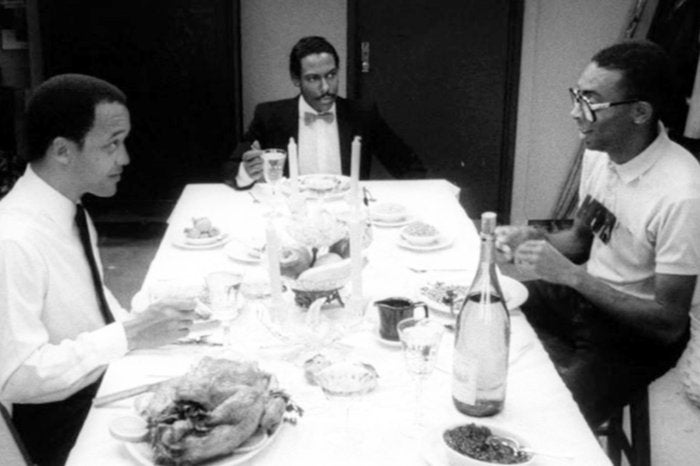 ★★★★☆
Spike Lee's audacious feature debut She's Gotta Have It (1986) managed to give voice not only to an African-American director, but also to a complex female character, one who was allowed to have desires and doubts. Nola Darling (Tracy Camilla Johns) juggles three potential boyfriends, the conceited Greer (John Canada Terrell), the sensitive Jamie (Tommy Redmond Hicks), and the goofy Mars Blackmon (Spike Lee).
Ro
She likes all three, and all three want to possess her, but she refuses to compromise her happiness. All four characters assemble for a wonderfully awkward Thanksgiving scene. Shot in black-and-white, the movie may seem dated or amateurish today, but it's still smart, funny, sexy, and entertaining, and makes good use of Brooklyn locations. And, as a moment in history, it cannot be undervalued. Lee continued to use the Mars Blackmon character ("Please, baby, please, baby, please, baby, please!") in ads over the following years.
Hudson Hawk
(Hulu, Crackle)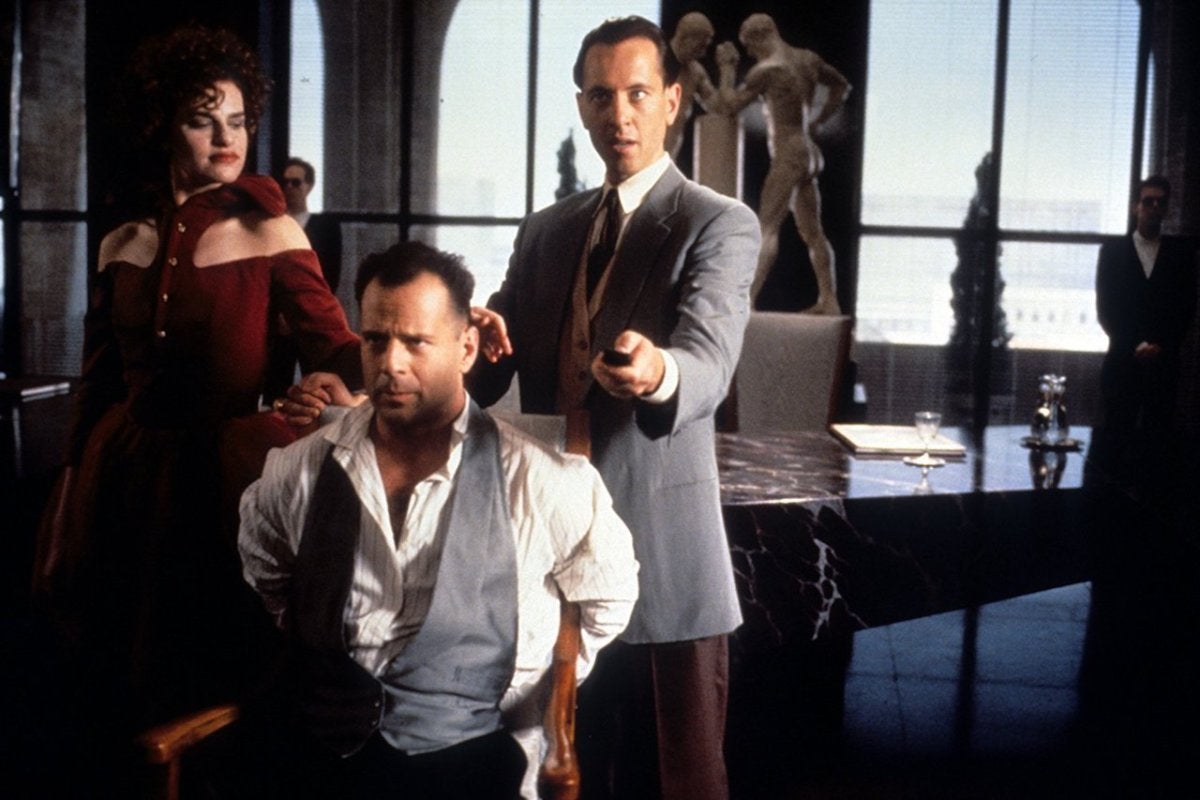 ★★★☆☆
Another Thanksgiving tradition is the turkey, which in this case means a film that's either astoundingly terrible or lost a ton of money, or both. Some major money losers, however, were simply the victims of bad timing, wrongheaded expectations, or a changing of public mood. Directed by Michael Lehmann and written by Daniel Waters on the heels of their cult classic Heathers, Hudson Hawk (1991) very simply made the mistake of being a Bruce Willis movie that wasn't Die Hard.
Willis plays the title character, a master burglar and safe-cracker who gets out of jail and immediately finds himself embroiled in a bizarre scheme; two nutty villains (Sandra Bernhard and Richard E. Grant) wish to build a Leonardo da Vinci gold-making machine, but they need Hawk to steal several pieces of da Vinci art to make it work. The movie is totally goofball and plenty of fun—one sequence contains a burglary committed to the tune of "Swingin' on a Star"—and viewers wanted nothing to do with it. It received terrible reviews and earned only about $17.5 million on its $65 budget (a high price tag for 1991).
Addams Family Values
(Amazon Prime, Hulu)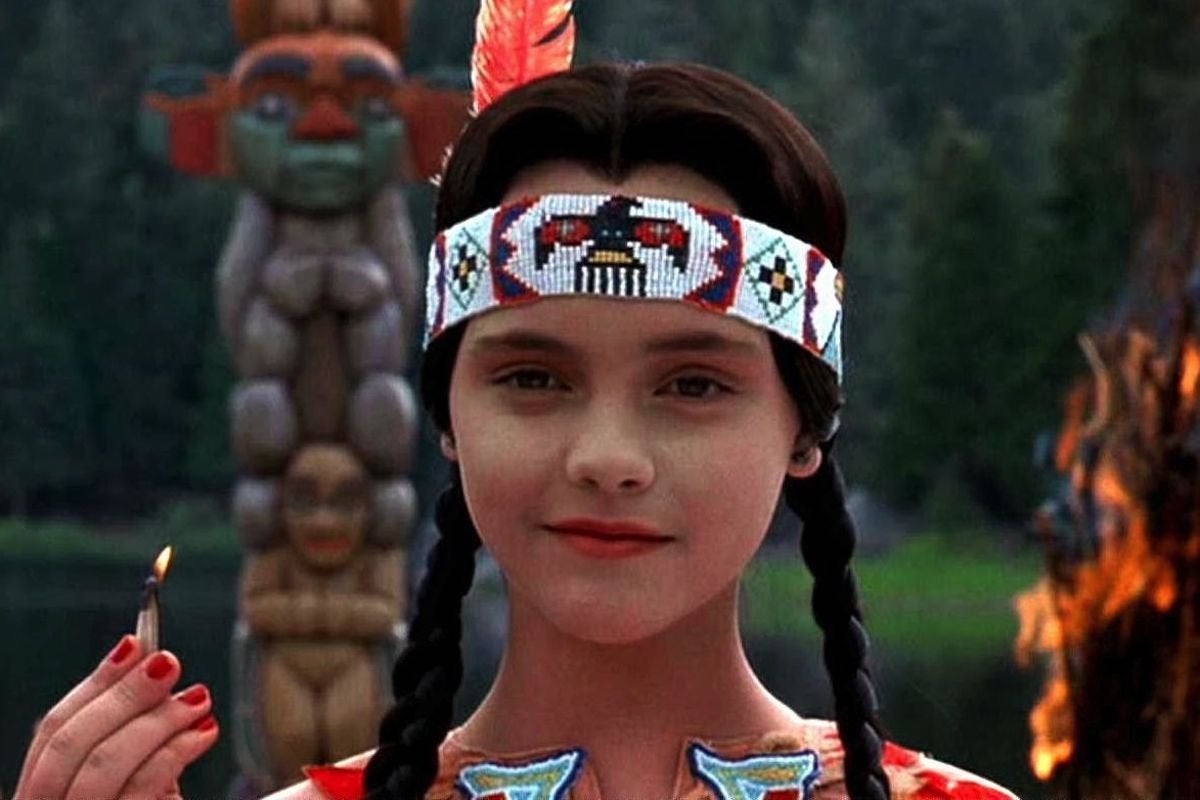 ★★★★☆
Yes, Addams Family Values (1993) takes place during summer, but it was released in November and it contains an essential Thanksgiving sequence: Wednesday (Christina Ricci) is forced to perform in a Pilgrim-themed play at her irritatingly upbeat summer camp, and she catapults the whole thing into chaos with a speech about what really happened at the first Thanksgiving. (She steals the movie.)
Raul Julia and Anjelica Huston appear once again as Gomez and Morticia Addams. Joan Cusack plays a murderous nanny who is hired to look after a new baby, and Uncle Fester (Christopher Lloyd) falls in love with her. The great playwright and columnist Paul Rudnick wrote the clever screenplay, much improving on the bland 1991 film, much funnier and closer to the spirit of the twisted Charles Addams cartoons. Directed by Barry Sonnenfeld with a fluid, lively touch, the movie is screwy, but also unafraid to go dark.
The House of Yes
(Amazon Prime, Vudu, etc., from $2.99)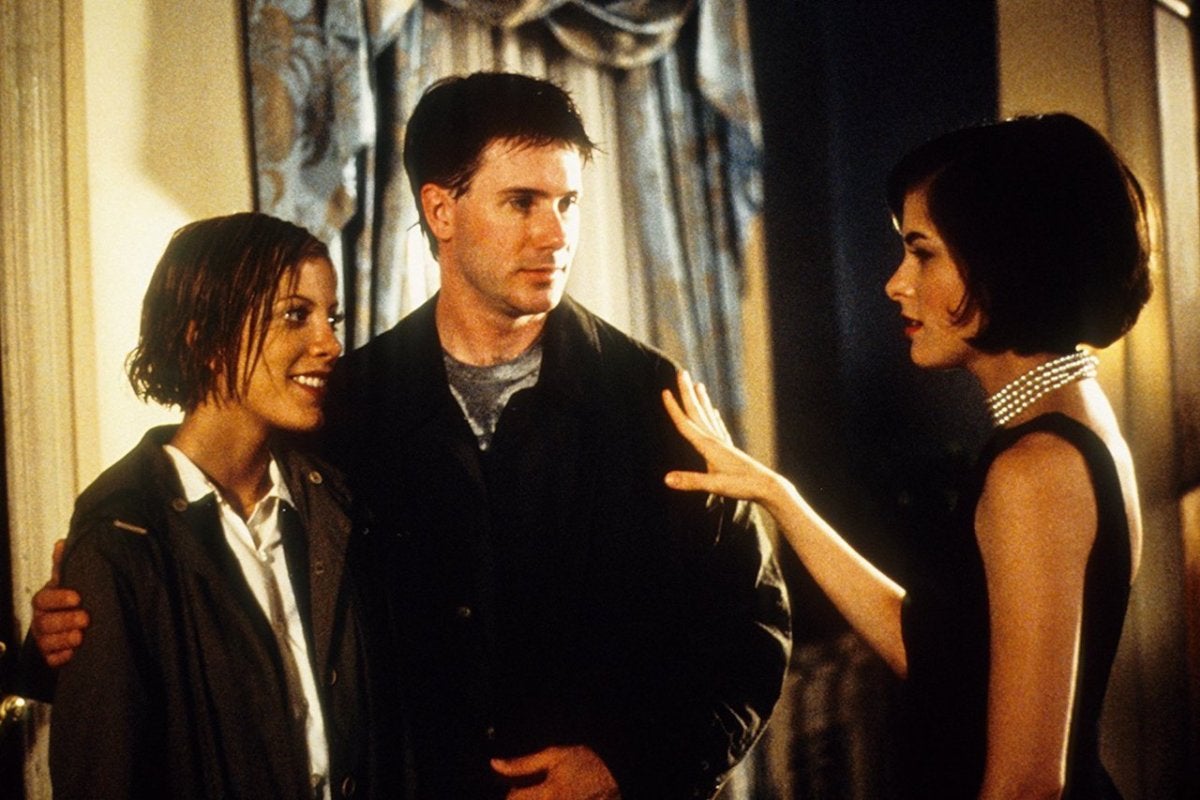 ★★★☆☆
Many Thanksgiving movies are about dysfunctional families, but it's hard to get more dysfunctional than The House of Yes (1997). Based on a play by Wendy MacLeod, the movie is set in 1983, when Jackie Pascal (Parker Posey) is as obsessed with Jackie Onasis as she is with her twin brother Marty (Josh Hamilton). Unfortunately, Marty is upsetting the balance by bringing his fiancée Lesly (Tori Spelling) home to meet their supremely messed-up family on Thanksgiving.
Genevieve Bujold plays their odd mother and Freddie Prinze Jr. plays their fresh-faced younger brother Anthony. Over the course of a night, a thunderstorm, and several bottles of rum, many old, dark, and twisted family secrets come out, as well as some new ones. There's not much Thanksgiving feasting here, unless you count Ms. Posey's amazing scenery chewing; she's irresistibly, dangerously kooky (she won an acting prize at Sundance). Rachael Leigh Cook plays the young Jackie in flashbacks. It was the debut feature of director Mark Waters (Mean Girls).
American Movie
(Amazon Prime, Vudu, etc., from $2.99)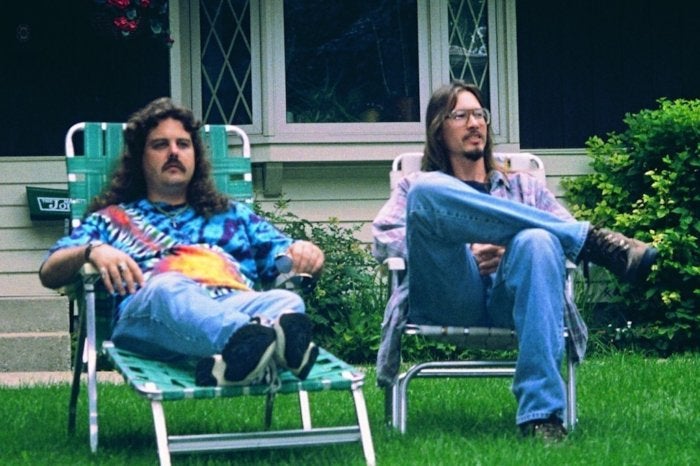 ★★★★☆
Chris Smith directed this memorable documentary about aspiring Wisconsin filmmaker Mark Borchardt, who dreams of making a short horror film called Coven (which he pronounces COE-ven, rather than CUH-ven), and then a subsequent feature. In American Movie (1999), Smith follows Borchardt and his half-alert pal Mike Schank as they try to procure money from his 82-year-old uncle Bill, who has only a few faculties left, but who becomes a producer on the movie anyway.
They hope to actually start shooting soon, but meanwhile there's a great deal of talking and drinking, and a memorably dysfunctional Thanksgiving scene. Smith's film is certainly amusing, but he also manages to capture Borchardt's suffering and humanity without ridiculing him. Finishing up as alternately funny, moving, and inspiring, it's still one of the most entertaining documentaries ever made. To this day, Borchardt has not given up on his dream.
Antwone Fisher
(Amazon Prime, Vudu, etc., from $2.99)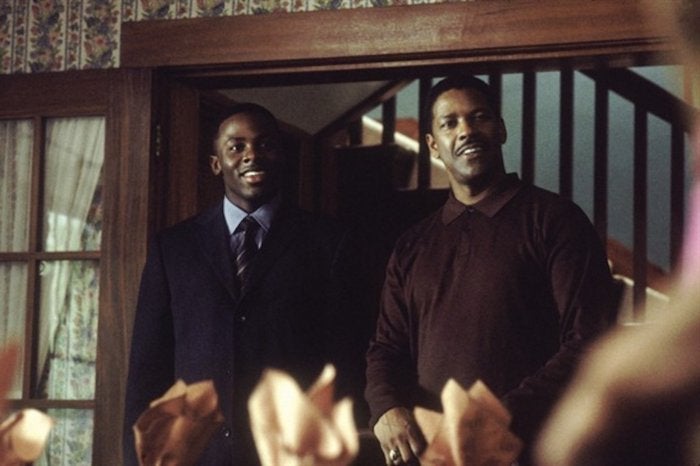 ★★★☆☆
The real-life Antwone Fisher had been working just a couple of months as a security guard at Sony Pictures. Trying to get the time off to spend Thanksgiving with his new family, he told his life story to his bosses, who in turn decided that the yarn would make a great movie. Fisher wrote the screenplay, and Denzel Washington makes his directorial debut with the gushy, old-fashioned Antwone Fisher (2002), complete with a tension-filled Thanksgiving scene.
Washington plays a Navy shrink who takes the angry young orphan Antwone (Derek Luke) under his wing and persuades him to track down his family. Nothing that happens is terribly original and some of it is just plain bland and mushy, but Washington demands and receives great performances from himself and from newcomer Luke. Their scenes together in the psychiatrist's office, with Washington using his forceful presence to outwit and undermine the lad, are powerful. It's a four-hankie weepie, but the emotional reality therein is unavoidably moving.
Tadpole
(TubiTV)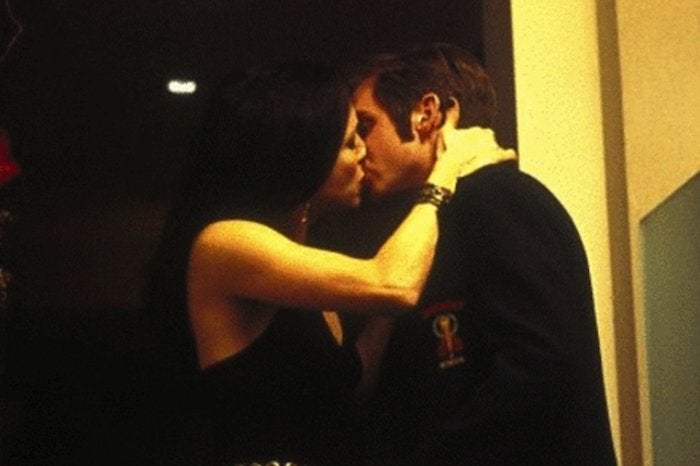 ★★☆☆☆
This extremely slight movie runs only 77 minutes and was shot on early, bleary digital video, but it was a hit at Sundance and received mostly warm reviews. I was not one of its supporters—I found it a bit shallow and unnecessarily awkward—but others might be, especially since it's a good example of an offbeat Thanksgiving tale.
In Tadpole (2002), the title character, Oscar Grubman (Aaron Stanford) is 15 years old, goes to prep school, speaks French, and reads and quotes Voltaire. He heads home for the holiday break with a crush on his stepmom (Sigourney Weaver), and plans to seduce her. Instead he ends up sleeping with family friend and chiropractor Diane (Bebe Neuwirth), who then, of course, shows up for dinner. John Ritter plays Oscar's father, and a young Kate Mara plays an admirer who is actually Oscar's own age. Gary Winick won the Directing award at Sundance, and the following year he was producer on a much better Thanksgiving movie, Pieces of April.
Gigli
(Amazon Prime, from $3.99)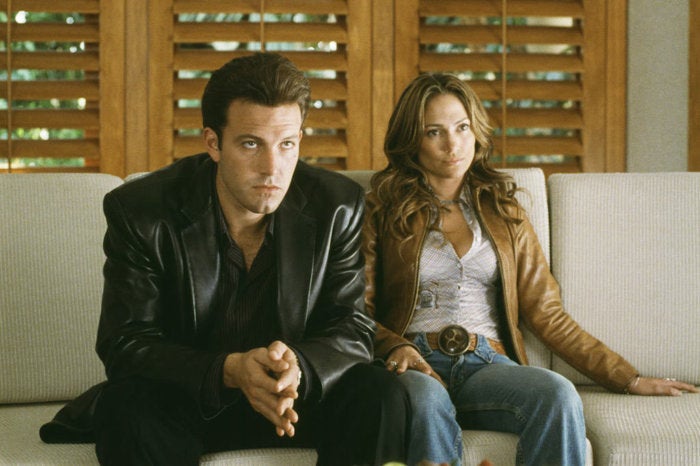 ★☆☆☆☆
At some point, Hollywood's giant, expensive flops came to be nicknamed "turkeys." And so what could be better to watch at Thanksgiving than Martin Brest's insanely misguided Gigli (2003)? It even contains the line "It's turkey time! gobble, gobble!" Costing $75 million and grossing about $7 million, the movie tells the story of Larry Gigli (pronounced "JEE-lee"), a gangster who is hired to kidnap the mentally challenged younger brother (Justin Bartha) of a powerful lawyer. Lesbian Ricki (Jennifer Lopez) is brought in to keep an eye on him, but it's not long before Gigli "converts" her to his "team." (Who can resist Ben?)
Al Pacino plays a mob boss (very different from Michael Corleone), and Christopher Walken plays a detective; in one scene, he delivers a monologue about pie that must be seen to be believed. The phrase "what were they thinking?" was practically invented for this movie.
Brokeback Mountain
(Amazon Prime, Vudu, etc., from $2.99)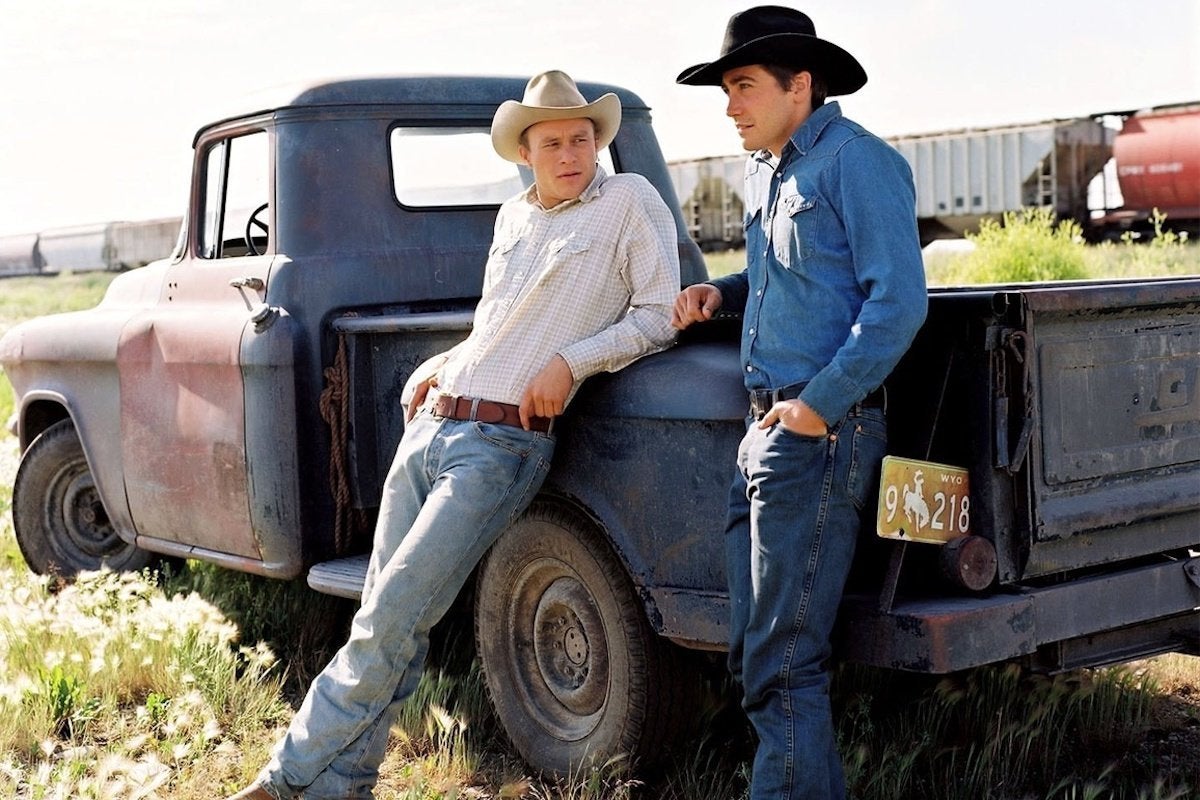 ★★★☆☆
Ang Lee's Oscar-winning "gay Western" Brokeback Mountain (2005) quickly stole the hearts of critics and viewers during its time, and it seems to have endured. Lee's simple, beautiful direction subtly illustrates the passionate beginnings, and tragic downfall, of a forbidden love affair. Heath Ledger's remarkable, tightly guarded performance rather overshadows Jake Gyllenhaal's more traditional one, and several subplots seem unnecessary and drag the movie on far too long, but the emotional impact is undeniable.
At Thanksgiving, Ennis (Ledger) awkwardly tells a rodeo story while an electric knife saws through the turkey meat, and Jack (Gyllenhaal) fights with his father-in-law over whether the television should be on during the meal. Both scenes nicely illustrate a feeling of both men feeling out-of-place and alone among their legitimate families.
Four Brothers
(Netflix)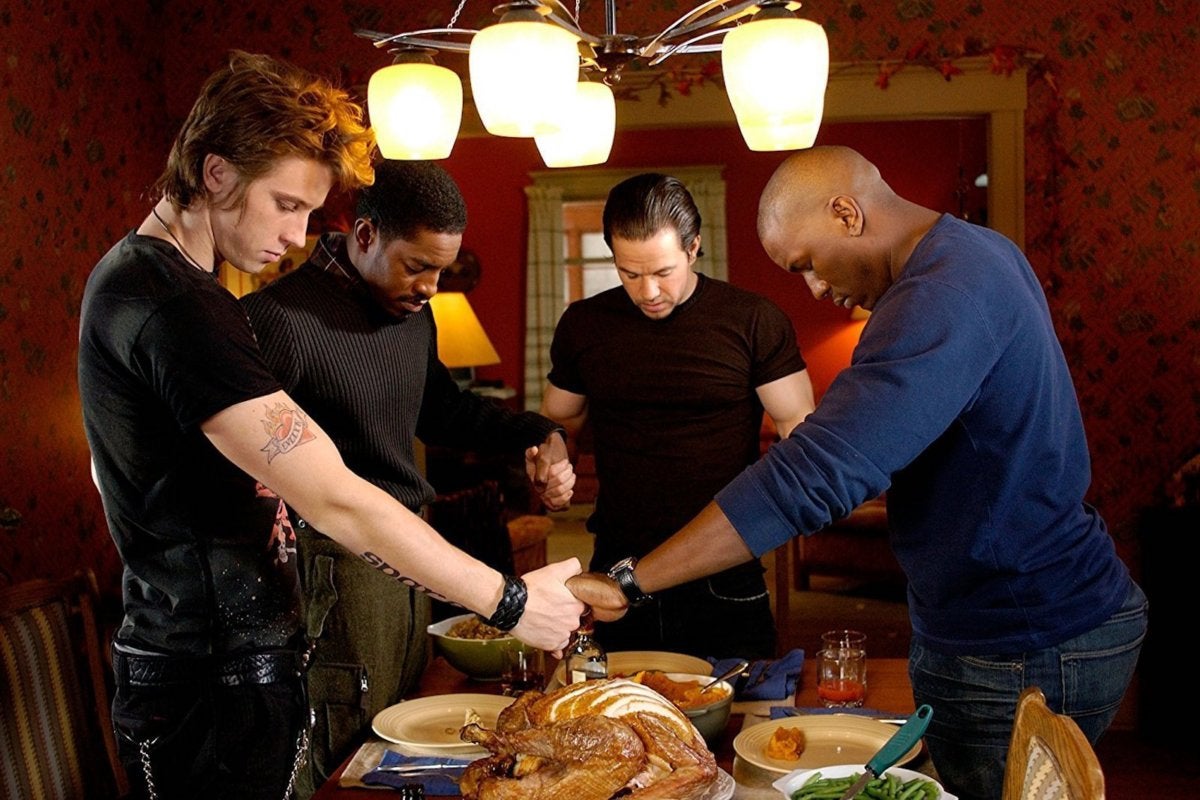 ★★★☆☆
John Singleton's Thanksgiving-set crime drama Four Brothers (2005) wobbles between realism and movie-ism, but ultimately the chemistry and performances win the day. Foster brothers Bobby (Mark Wahlberg), Angel (Tyrese Gibson), Jeremiah (Andre Benjamin) and Jack (Garrett Hedlund) return home to attend the funeral of their mother (Fionnula Flanagan), who was shot during a convenience store robbery. After eating turkey dinner, they figure out that her death was no accident and begin investigating.
Singleton's icy, snowy Detroit locations and soulful Motown soundtrack make this feel like a cool throwback to the 1970s. Show-stealer Chiwetel Ejiofor co-stars as a flashy gangster, with Sofia Vergara as Angel's feisty girlfriend, and Terrence Howard and Josh Charles as a pair of cops.
The New World
(Amazon Prime, Vudu, etc., from $2.99)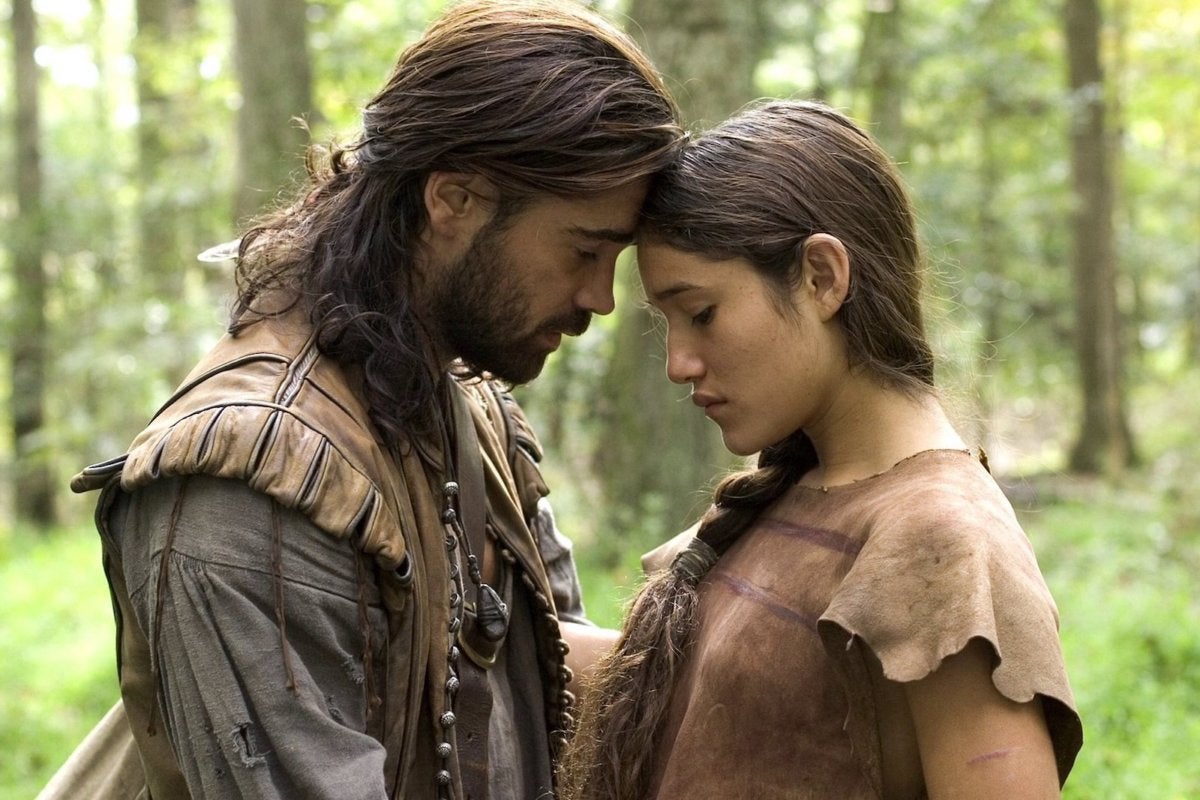 ★★★★★
Terrence Malick's meandering, poetic telling of the first white settlers in America is probably the best version of the story ever committed to film, although some may prefer Disney's animated Pocahontas. Set not long after English settlers arrive in Virginia in 1607, The New World (2005) uses its natural surroundings in a profound way, as John Smith (Colin Farrell) meets Pocahontas (Q'orianka Kilcher) and she saves his life. They form a bond and share wondrous little moments, wandering among the trees and grass, lost in each other, shyly touching and teaching each other things.
Then, as it must, civilization encroaches, and even nature seems to become more formed, less wild. Viewers may become impatient with the movie's murmured, free-verse narration, and certainly the movie was widely misunderstood upon its first release, but those with a little patience or courage will find something special here. Christian Bale and Christopher Plummer co-star.
Art School Confidential
(FilmStruck, Vudu free w/ ads, TubiTV)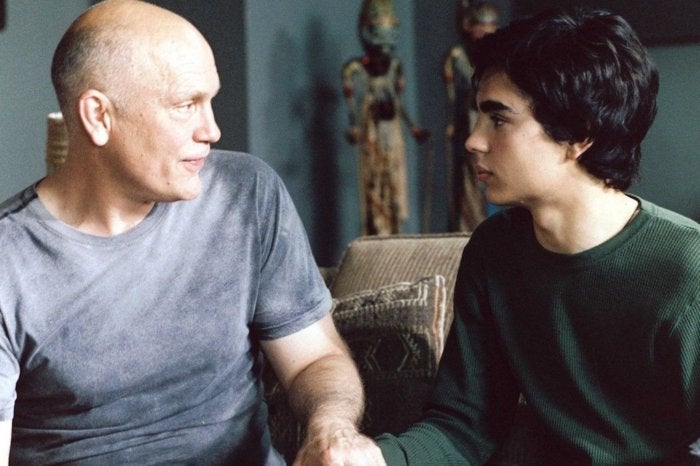 ★★★★☆
Terry Zwigoff followed his critically-acclaimed films Crumb, Ghost World, and Bad Santa with this widely under-appreciated dark comedy. Written by Ghost World's Daniel Clowes, Zwigoff's Art School Confidential (2006) tells the cynical story of Jerome (Max Minghella), an artist who longs for acceptance (and women) as much as he wants to be the next Picasso. He arrives at the Strathmore Institute, and falls for model Audrey (Sophia Myles), but finds his thunder being stolen by a handsome outsider (Matt Keeslar).
He tries to learn life lessons from teachers (John Malkovich) and ex-students (Jim Broadbent, who is astounding), while his film student roommate (Ethan Suplee) becomes increasingly obsessed with a local serial killer, the "Strathmore Strangler." In one brilliant, brief sequence, Jerome returns home for an uncomfortable Thanksgiving dinner. There's no question this is dark stuff, but it's quite bracing, and—reading between the lines—it's hilarious. Joel David Moore, Nick Swardson, Anjelica Huston, Steve Buscemi, Adam Scott, and Scoot McNairy also appear.
Funny People
(Amazon Prime, Vudu, etc., from $2.99)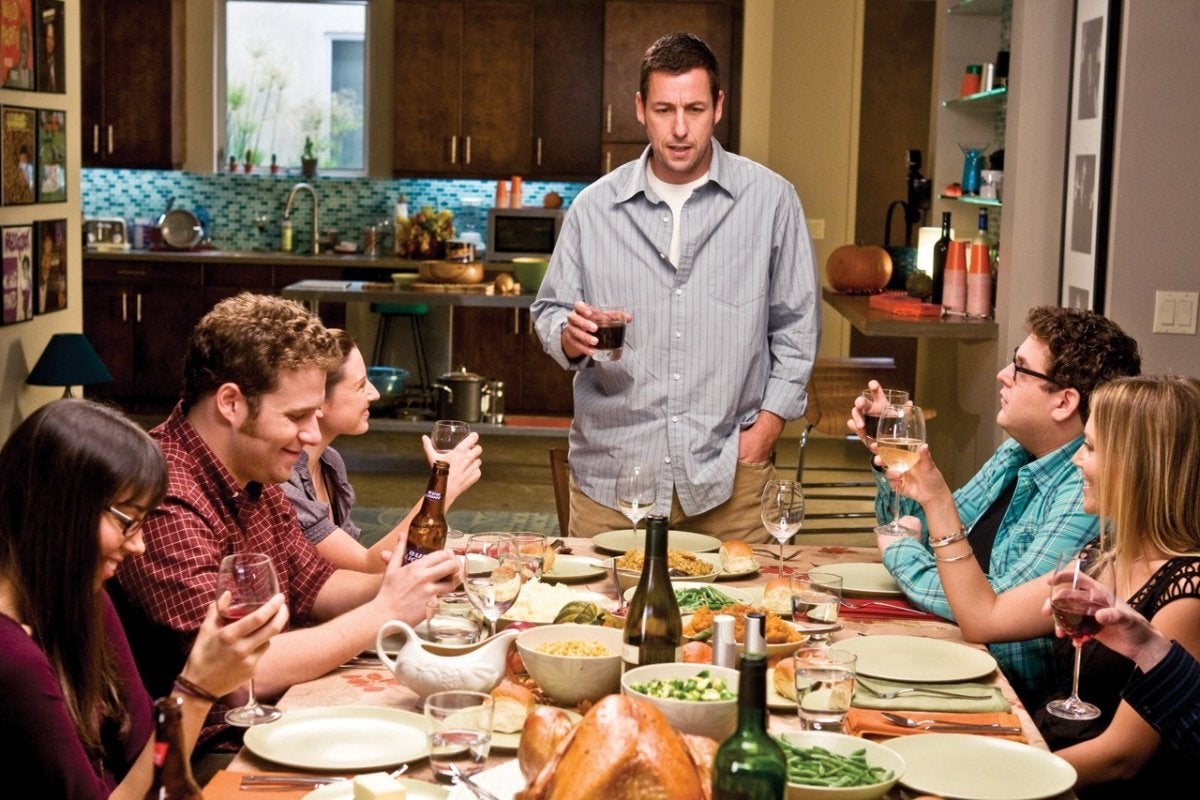 ★★★☆☆
Judd Apatow wrote and directed this, one of Adam Sandler's rare, welcome attempts at acting and playing a real character. In Funny People (2009), he plays George Simmons, a 40-something comic and movie star who has lost his way. When he is diagnosed with terminal leukemia he decides to return to the comedy circuit, and hires up-and-coming comic Ira Wright (Seth Rogen) to be his assistant and gag writer. The two form a meaningful relationship--or at least it might have been more meaningful if Apatow weren't so obsessed with overstuffing his movie with other characters and star cameos (Jason Schwartzman and Jonah Hill play Ira's best friends, each with their own storyline).
George also becomes obsessed with his lost love (Leslie Mann) who is now married (to Eric Bana). Regardless of the movie's extreme length, padding, and endless subplots, it does contain several genuinely touching moments, not least of which is its Thanksgiving scene, packed with talented people (Aubrey Plaza is among the guests).
ThanksKilling
(Amazon Prime, TubiTV)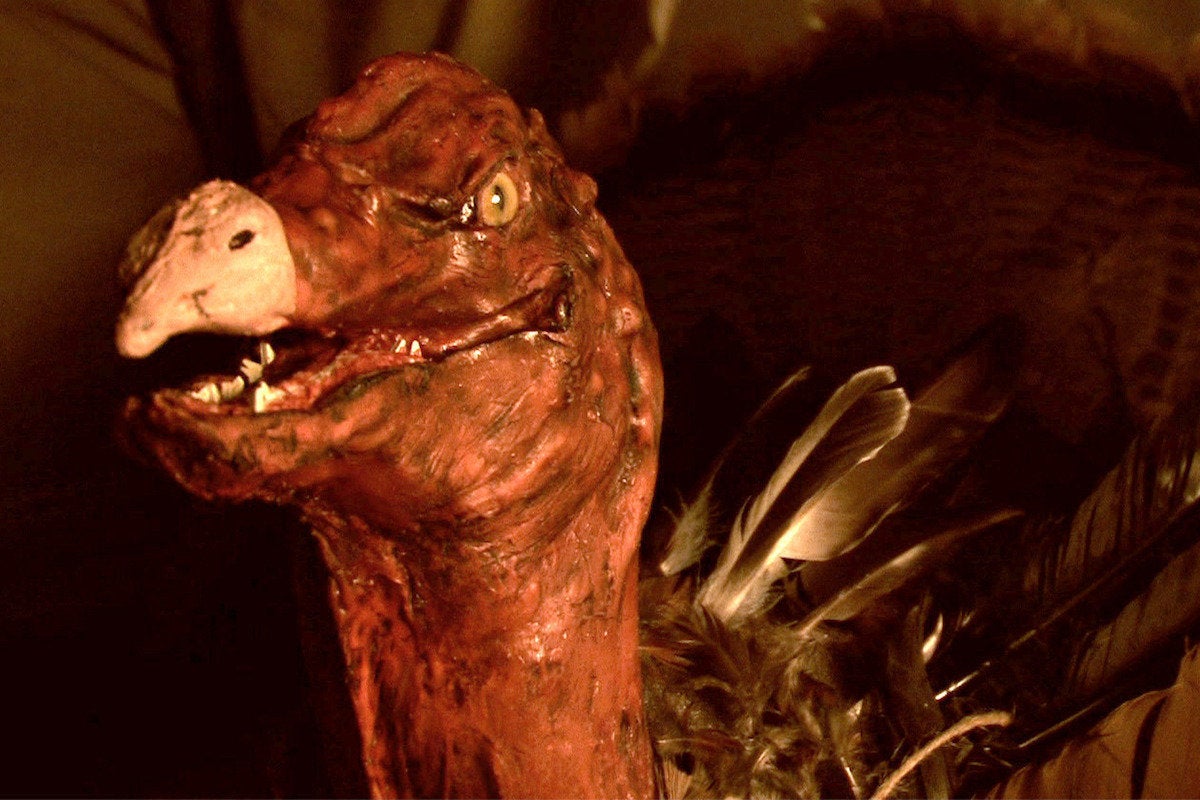 ★★★☆☆
Sometimes there are good-bad movies, and sometimes there are movies that are just fun to watch because they're so bad, but Jordan Downey's ThanksKilling (2009) is designed to look and feel like a bad movie. On purpose. But whether that makes it a good movie, and worth watching, is up to your own personal tastes, and perhaps your holiday alcohol consumption. (The movie's tagline is "Gobble, Gobble, motherf——r!")
Basically, there's a killer turkey (an obvious puppet, never seen in its entirely) that speaks with lots of four-letter words and kills people if they come too close to sacred Indian grounds. Or something. Four teens on the way home for Thanksgiving break anger the creature and spend the rest of the movie being hacked up into bloody pieces. A porn star called Wanda Lust appears as a topless pilgrim in a prologue. It runs only 70 minutes and might be good for a giggle or two. Downey followed it up with ThanksKilling 3 (no, there is no "Part 2").
Jack and Jill
(Amazon Prime, Vudu, etc., from $2.99)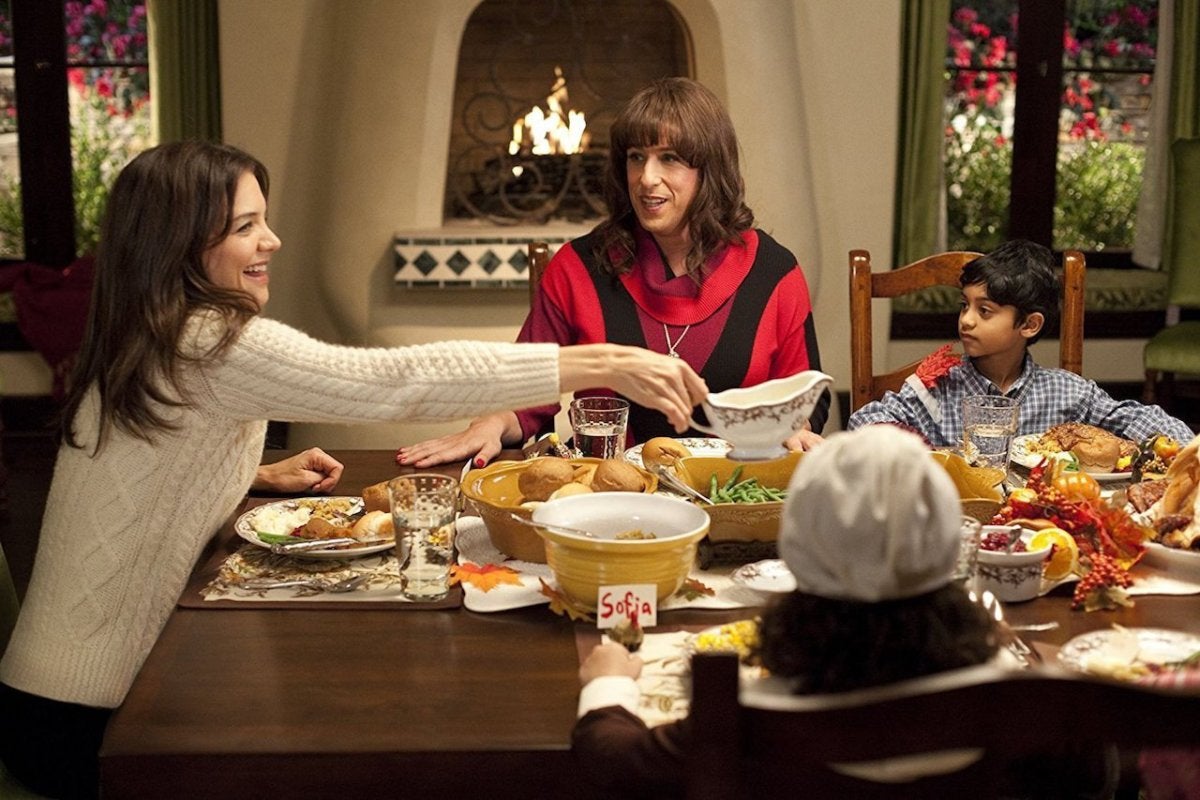 ★☆☆☆☆
Watching Adam Sandler in Funny People may provide some warm holiday fuzzies, but it's unlikely that this horror show will do the same. Jack and Jill (2011) is one of Sandler's most loathed comedies, sporting a whopping 3-percent approval rating on Rotten Tomatoes. Sandler turns in a fairly lazy performance in his role of Jack, a producer of commercials. But then he goes completely crazy (and borderline offensive), in drag, playing Jack's twin sister Jill, who visits for the holidays.
Jack decides that he can get Jill off his back if he can set her up with a man. He needs Al Pacino to star in a Dunkin' Donuts commercial, so he taps Al for the job. Curiously, Pacino agreed to play himself in this, and it's a head-scratchingly unfunny, embarrassing bit of work. For some reason, Katie Holmes plays Jack's wife. Sandler's pals David Spade, Tim Meadows, Nick Swardson, Norm MacDonald, Dana Carvey, and Rob Schneider appear in small roles. At least it's rated PG.
Tower Heist
(Amazon Prime, Vudu, etc., from $2.99)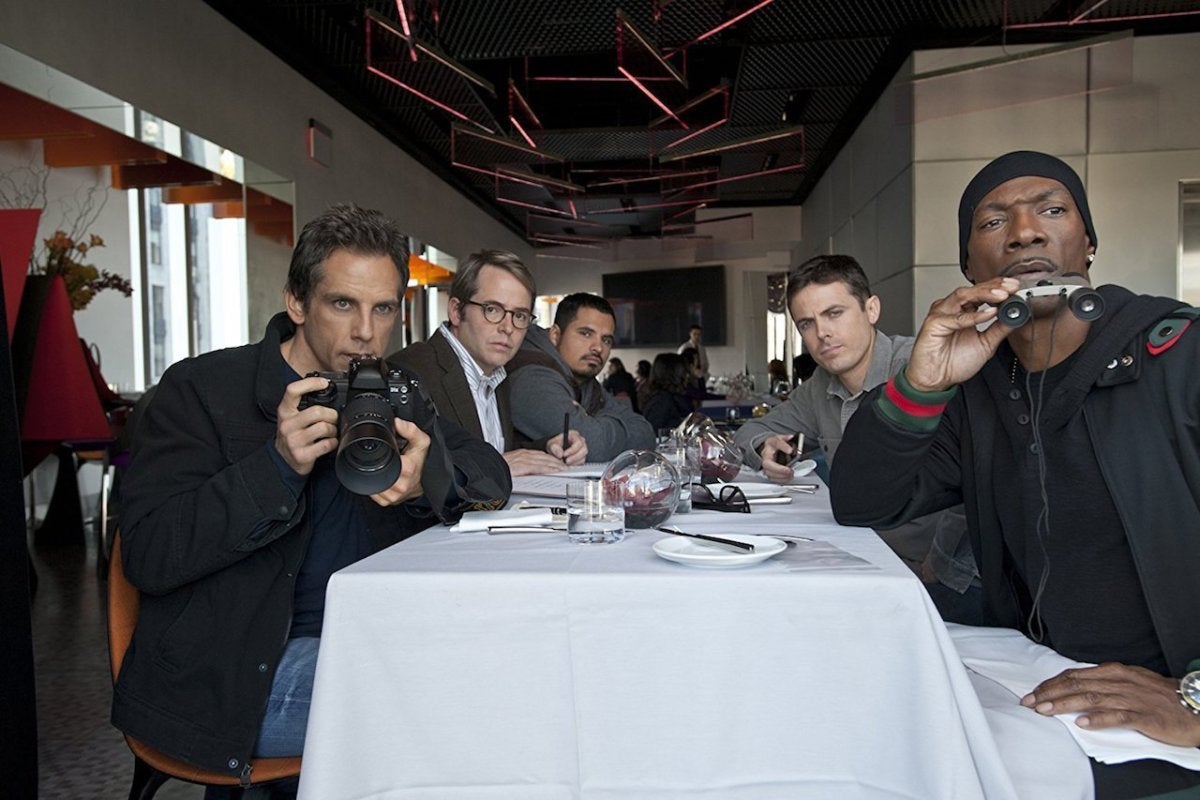 ★★★☆☆
Ben Stiller stars as the manager of a super-expensive New York tower, filled with the wealthiest people in the world. He loves his job, but he is unfortunately fired and decides to take revenge against an evil gazillionaire (Alan Alda), who has a pool with the image of a $100 bill at the bottom, by robbing him in an elaborate way. He teams up with two other recently sacked employees (Casey Affleck and Michael Peña), a fallen Wall Street player (Matthew Broderick), a career criminal (Eddie Murphy), a safe-cracker (Gabourey Sidibe), and a loyal old doorman (Stephen McKinley Henderson). Téa Leoni plays a pretty FBI agent who begins poking around.
It takes place, of course, on Thanksgiving Day with the Macy's parade (complete with floats and Matt Lauer) going on in the background. Tower Heist (2011) steals from just about every other heist movie ever made, but does it in good cheer; Eddie Murphy in particular is at his fast-talking best, and this is one of his funniest roles. Many good people put in good work on this movie, but it was directed by the soulless Brett Ratner (it's the only good movie of his career, to my eyes), who was recently accused of several cases of sexual harassment. This behavior is unacceptable, but it will be up to each viewer to decide whether to boycott his work.
Deadfall
(Netflix, Hulu, Hoopla Digital)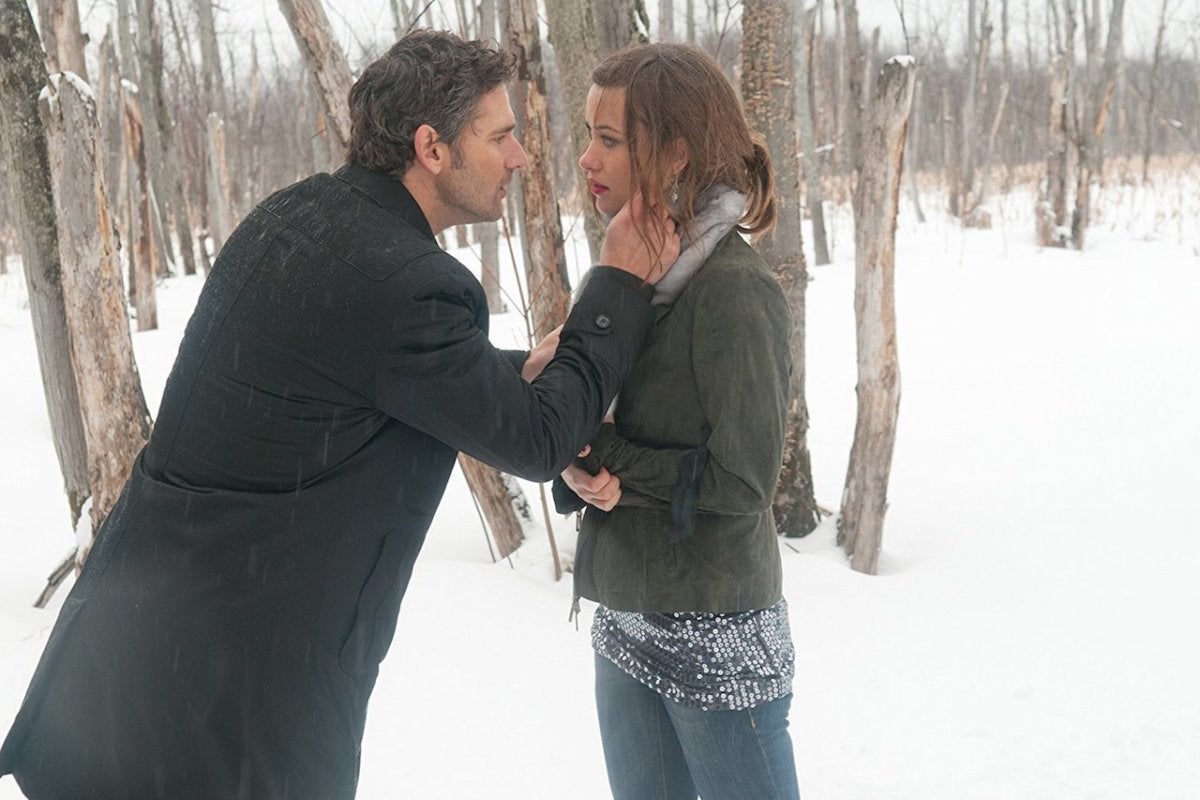 ★★★☆☆
Austrian director Stefan Ruzowitzky won an Oscar for his Holocaust drama The Counterfeiters, but Deadfall (2012) is nothing like it. It's a refreshingly effective pulp drama that relies on powerful family relationships, and uses the chilly, snowy terrain to both separate characters and bring them closer together. On Thanksgiving, a brother and sister team, Addison (Eric Bana) and Liza (Olivia Wilde), escape from a successful casino heist, but they accidentally crash their car in a brutal snowstorm.
After Addison is forced to kill a nosy cop, they separate and try to make a run for it through the freezing woods. Liza meets an ex-boxer, Jay (Charlie Hunnam), who has just served a prison sentence for killing a man in the ring, and tries to get herself invited to his parents' home for Thanksgiving. But more violence is in store. Sissy Spacek and Kris Kristofferson play Jay's parents, and Kate Mara is a scrappy cop tracking the villains.
Free Birds
(Amazon Prime, Vudu, etc., from $2.99)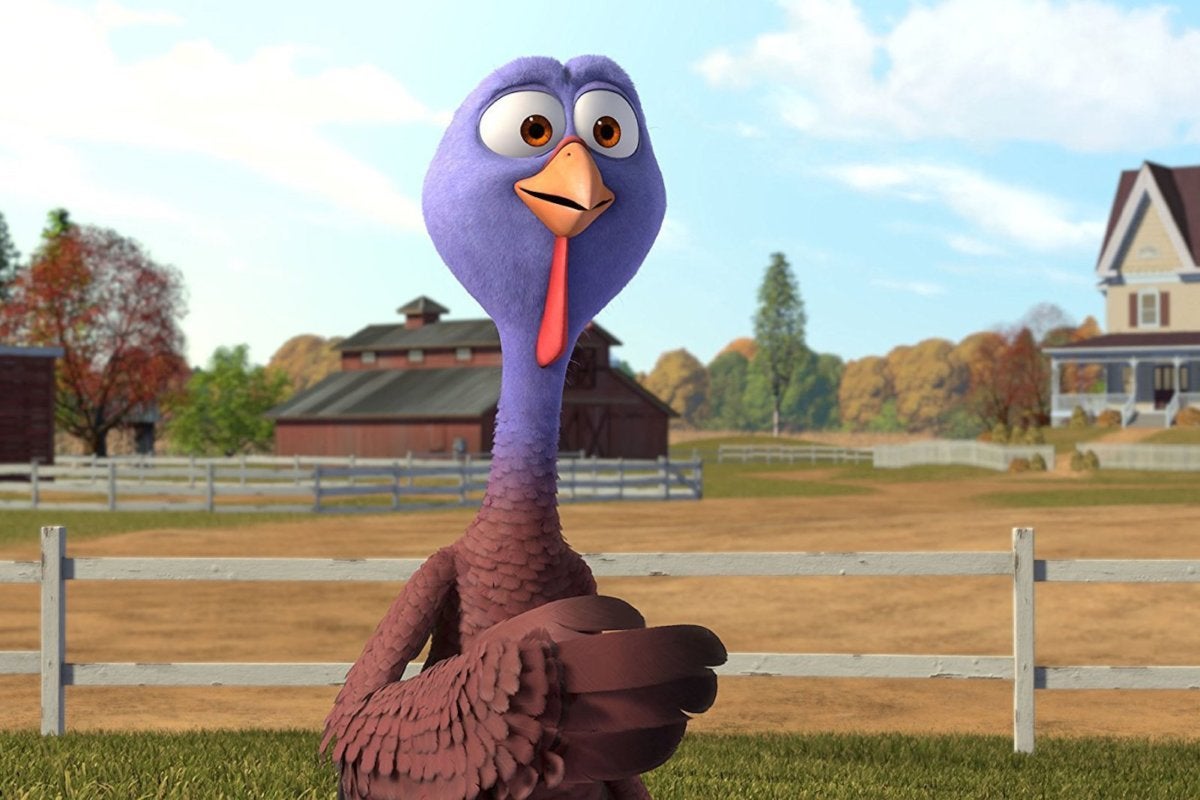 ★★★☆☆
Free Birds (2013) starts off with an interesting idea. Reggie (voiced by Owen Wilson) is a Thanksgiving turkey pardoned by the president who enjoys his newfound freedom, ordering pizzas and watching TV at Camp David. Suddenly, a "spy" turkey, Jake (voiced by Woody Harrelson), appears and coerces him into a crazy plan. They will steal a government time machine, go back in time to the days of the pilgrims, and prevent turkey from ever being on the Thanksgiving menu.
Directed by Jimmy Hayward (Horton Hears a Who!) the movie doesn't go much further with its idea, and it's really only about halfway there in terms of humor or excitement, but it could be a lot worse, and it is the only Thanksgiving-themed animated feature out there. Even if it's not a holiday feast, it still provides a decent amount of festive fun. In a clever touch, George Takei provides the computer voice of the time machine.