In some ways, Channels DVR is tough to recommend. The subscription cost is greater than other over-the-air DVR options, the hardware requirements are more stringent, and even some basic features--like conflict resolution--are absent.
Yet one feature manages to compensate for those weaknesses: With the press of a button, you can skip through entire commercial breaks in any recorded program. Only TiVo's Roamio OTA offers similar ad-skipping powers, and Channels is a much slicker solution that runs on Apple TV and iOS devices rather than a clunky set-top box.
Channels also excels at the little things, like loading live channels quickly, and preserving the full video and audio quality of broadcast TV. If the service could just fix some of its other shortcomings, it could be the undisputed DVR champ--at least for Apple device owners.
For Apple users only
Channels DVR runs on Apple TV (fourth-generation and higher) and iOS devices, with each app priced at $15. But those apps are only part of the equation.
To capture live TV, Channels requires one of SiliconDust's HDHomeRun networked tuners, which connect to a Wi-Fi router via ethernet cable for streaming video throughout the house. For antenna users, the HDHomeRun Connect costs $100, while the $180 Extend model adds built-in transcoding, which requires less bandwidth for streaming live TV. (Transcoding also shrinks the size of recorded video, but Channels' software can handle this for Connect users.) Either model can watch and record up to two programs at once, but Channels can also combine input from multiple tuners if you want to record more. For cable subscribers, Channels also works with HDHomeRun Prime, which uses a CableCARD to record unencrypted pay-TV channels.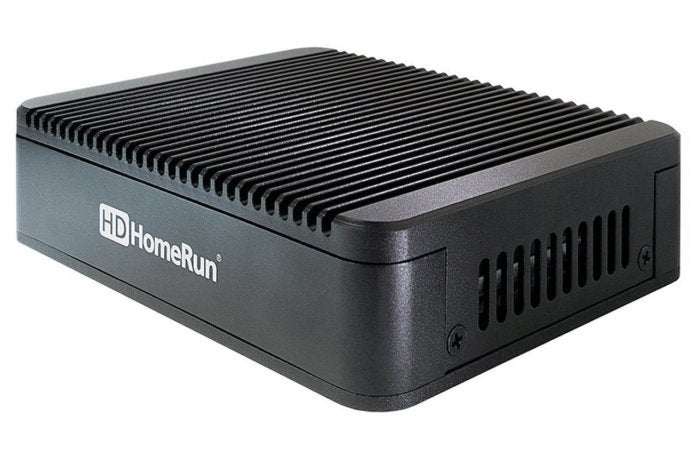 Beyond the tuner itself, you also need a device to record the videos, along with a hard drive that has ample storage. To that end, Channels offers server software for Windows, Mac, NAS boxes, and the Nvidia Shield TV. (Just bear in mind there is no client app for watching video directly on the Shield.)
Channels also requires a DVR subscription for $8 per month. That's $3 per month more than DVR service through Plex or Tablo, and there are no discounts for annual or lifetime service. All told, you could pay upwards of $500 for an HDHomerun tuner, server device, hard drive, and at least one Apple TV, and that's before the subscription fees. That's a tough sell if you have none of the requisite hardware, but it becomes more economical if you already own a desktop computer or NAS box.
Slick software (with a few missing features)
Channels does get much simpler once everything's in place. After installing the server software, a browser-based tool lets you scan for channels, specify a DVR storage location, and adjust advanced settings such as transcode quality and tuner priority. You can then manage recordings through iOS, Apple TV, or the web tool.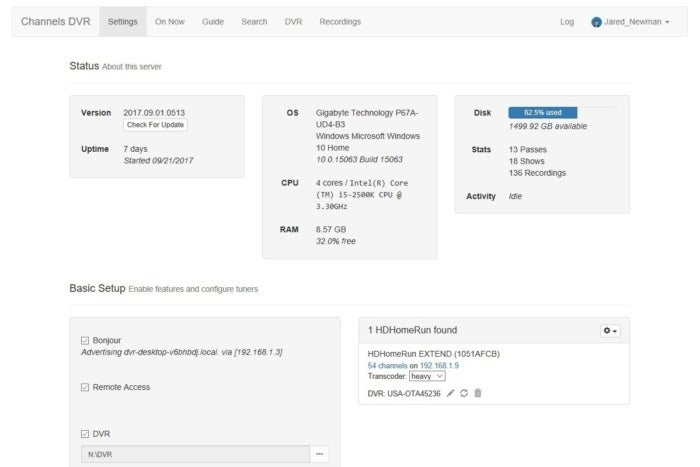 The app provides plenty of control over how those recordings behave. In the server app, you can set global settings for recording buffer times and how many recent episodes of a program to keep. Those same settings are available on a per-show basis in the Channels app. And beyond just TV shows and movies, you can set up series passes for sports teams, which Channels will record across any channel. That's handy for when your favorite football is playing on Sunday or Thursday night. The only thing that's absent is a way to filter out recordings by resolution or by channel.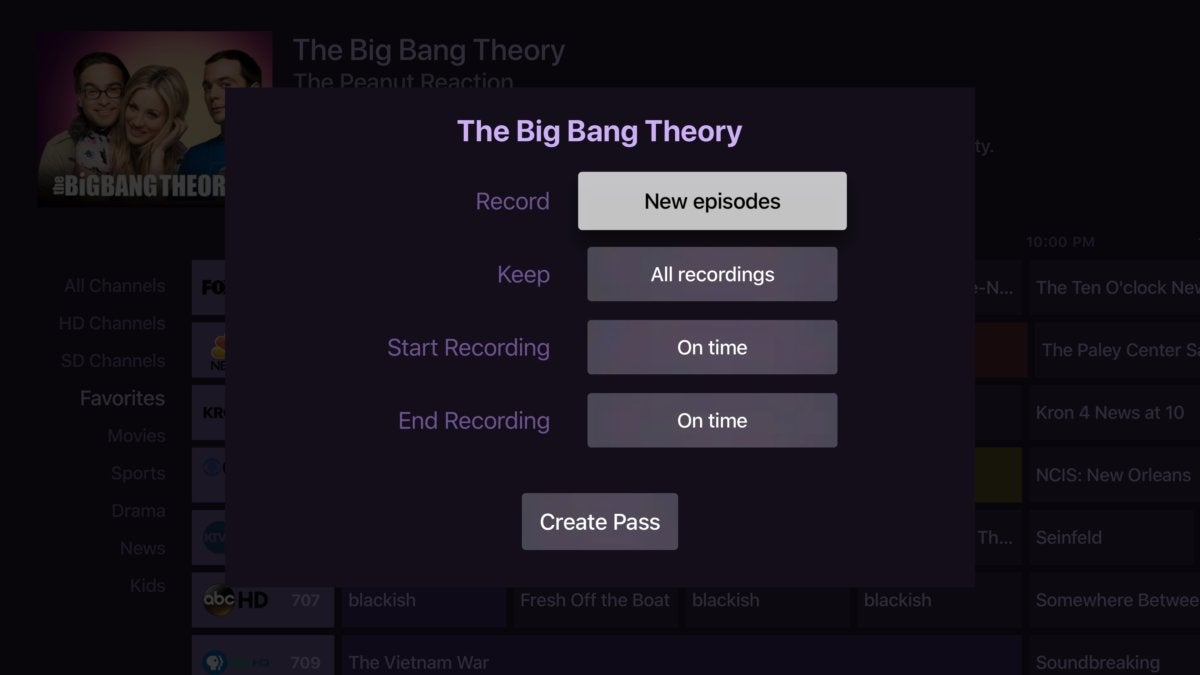 Still, Channels is missing a few options that would make recording easier. Although you can search for individual programs, or browse the grid guide to see what's coming up, you can't browse programs by genre or channel. And while Channels' web app offers suggestions on shows and movies to add, these don't appear in the iOS and Apple TV apps. One of the joys of over-the-air DVR is discovering all the great movies and shows that air on random channels, but Channels makes this trickier.
Conflict resolution is also lacking. Although you can prioritize programs so that your favorites don't get passed over, Channels provides no warnings when you've overbooked the DVR. To weed out conflicts, you must manually scroll through the recording schedule, looking for instances of overlap in each time slot.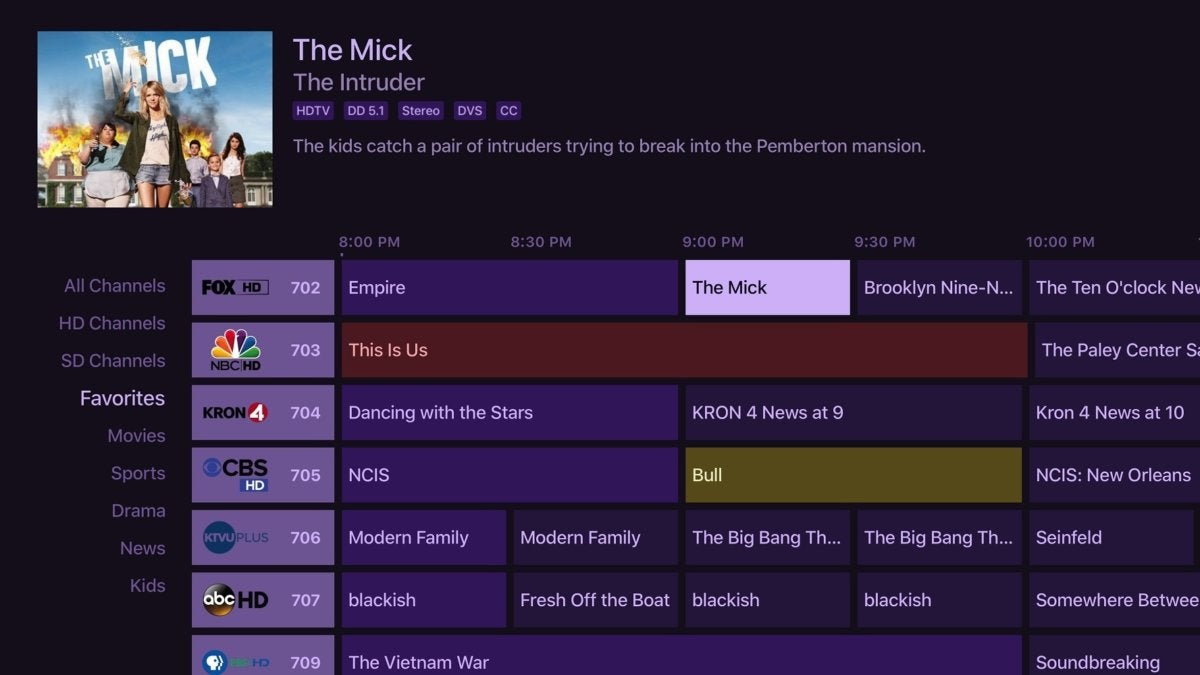 Out-of-home viewing is also supported for live and recorded programs after you've linked an account through the Channels app, and it works with both iOS and Apple TV. You can also access Channels remotely through a web browser at my.channelsdvr.net.
Ads begone
After completing a recording, Channels DVR analyzes the video for commercial breaks, which then appear as dark lines in the video progress bar. By double-clicking the Apple TV remote's fast forward button during a break, Channels jumps directly to the point where programming resumes. If you haven't used a TiVo or other ad-skipping DVR before, this will probably feel like magic. (It also illuminates how many ad breaks get stuffed into some broadcast programs.)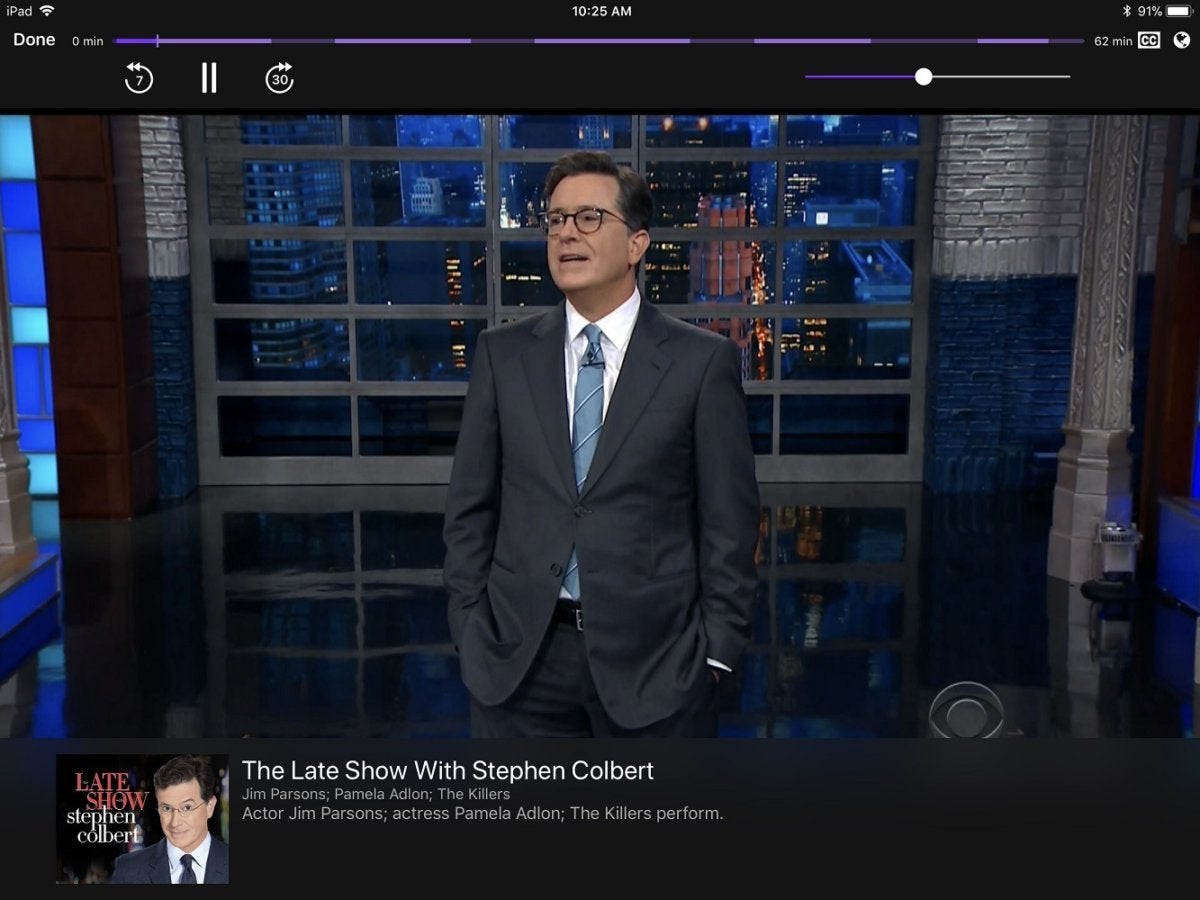 There are some caveats: Channels acknowledges that the detection isn't 100-percent accurate, so you might still have to fast forward through a block of ads on occasion, or click forward or backward to reach the right spot. And because the analysis doesn't happen until after the recording is over, you can't automatically skip ads partway through a live broadcast. Still, having an option to ad-skip is far more convenient than manually scrolling through ads in 30-second increments.
Ad-skipping aside, Channels offers some pleasant touches that other solutions lack. Unlike Tablo's networked DVR, Channels loads live broadcasts almost instantly, supports smooth motion interpolation on 1080i channels, and passes through 5.1-channel surround sound. It also has a grid-based channel guide, which Plex DVR lacks, and is easier to set up than Emby DVR.
But Channels is more expensive than all of those solutions, works on far fewer devices, and still lacks a few basic features. Ad-skipping isn't quite enough to forgive those issues, but it does lay a foundation for what could someday become a superior product. Apple users should have no qualms paying extra for that.