The Shortcuts app for iOS 12 is here at last, and if all goes well, it'll make up for a lot of the shortcomings of Apple's Siri service. That's the plan, anyway. Shortcuts can be fairly complicated, especially when you move beyond the simple actions for accessing popular apps. The whole idea is to trigger a lengthy sequence of actions with a single phrase or button. As a result, Shortcuts can be daunting for the uninitiated (and I fully admit I'm still wrapping my head around them), and that's one reason so many of the Shortcuts we've seen so far have been, well, dreadfully boring.
Thankfully, some brave, smart souls are figuring out better things to do with them. To that end, we've collected our favorite Siri Shortcuts we've seen lurking on Reddit, Twitter, Sharecuts, and other corners of the web and compiled them here. Think of this as a shortcut for learning great Shortcuts.
A few small caveats: Some of these require additional customization, which is generally easy enough to do through the Shortcuts app itself. Also, many work mainly through the Shortcuts app or through the "Share" button on most apps rather than through voice control. And finally, you'll have to make sure you use the *exact* phrase programmed into the Shortcut with the voice-controlled ones.
Search for items on Amazon with barcodes
For better or for worse, an increasingly large number of us do most of our household shopping on Amazon, and this shortcut from Redditor EthanV2 makes the process even easier. Once it's installed, you simply select the Shortcut from the app's library, use it scan a barcode with your iPhone's camera, and then it'll open the product page in the Amazon app. From there you can order as needed. (Note: EthanV2's Shortcut is set up for the UK, so I've modified it for American users here. You can download Ethan's UK version here.) 
You can download the "Search Amazon" Shortcut here.
Send texts to friends announcing your estimated arrival time
If you're heading over to a friend's place, it's polite to let them when you'll be arriving ahead of time. To simplify this process, Reddit user mentho-lyptus made shortcut that estimates the time needed to reach the house of a friend in your Contacts (provided, of course, that you've already filled out their address information). It then sends a text message to that friend saying, "I'll be there in XX minutes." It's great for when you don't really have time to calculate it on your own, but you still want to extend that small courtesy. 
You can download the "Send Travel Time" shortcut here.
Monitor police during traffic stops
Few Siri Shortcuts have earned more attention than this one. It's controversial, sure, but it's also potentially life-changing. Created by Redditor RobertAPetersen, the "Police" shortcut triggers a complex sequence of events when you say "Hey, Siri, I'm getting pulled over." You can customize it, but when fully activated, it pauses your music, activates your front-facing camera, starts recording video, turns down the phone's brightness, activates Do Not Disturb, and sends a video of the encounter a pre-programmed contact. Police overreach has been a big topic in the news lately, and documentation of abuses through smartphones has brought justice to cases that might otherwise have remained in the dark.
You can download the "Police" shortcut here.
Find nearby electric car charging stations
This Shortcut lets you easily find the closest electric vehicle charging stations. Unlike many of the people who've made Shortcuts, Redditor whiteb68 was kind enough to provide versions that use either Google Maps, Apple Maps, or Waze.
You can download the Google Maps version here, the Apple Maps version here, and the Waze version here.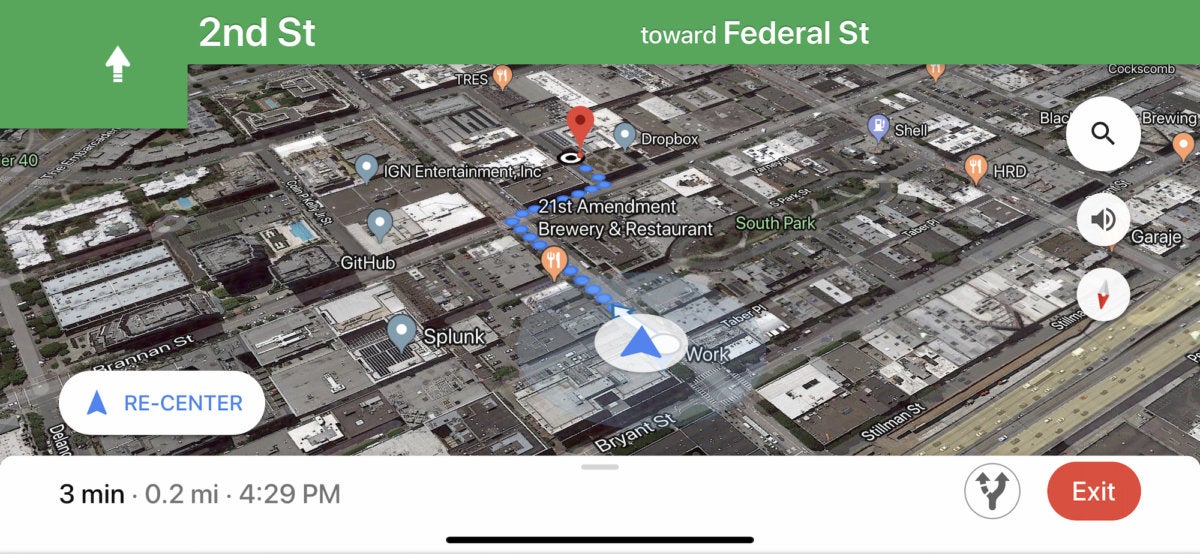 Resize images to Clipboard for pasting in social media
Those of us who frequently work with large images tend to get frustrated by the way iOS gives you few ways to resize an image (short of using a third-party app). Often, the images we receive are simply ridiculously big, which creates some awkwardness when we just want to email an image of share it on a social platform like Slack. Longtime Macworld contributor Jason Snell created a Shortcut that easily works around this. Simply select the "Resize image to clipboard" while looking at an image in the Photos app, and the Shortcut will chop it down to a more manageable size with a width of 1024 pixels. (You can change the dimensions as you wish in Shortcuts.) You can then paste the image into whatever app you wish.
You can download the "Resize Image to Clipboard" Shortcut here.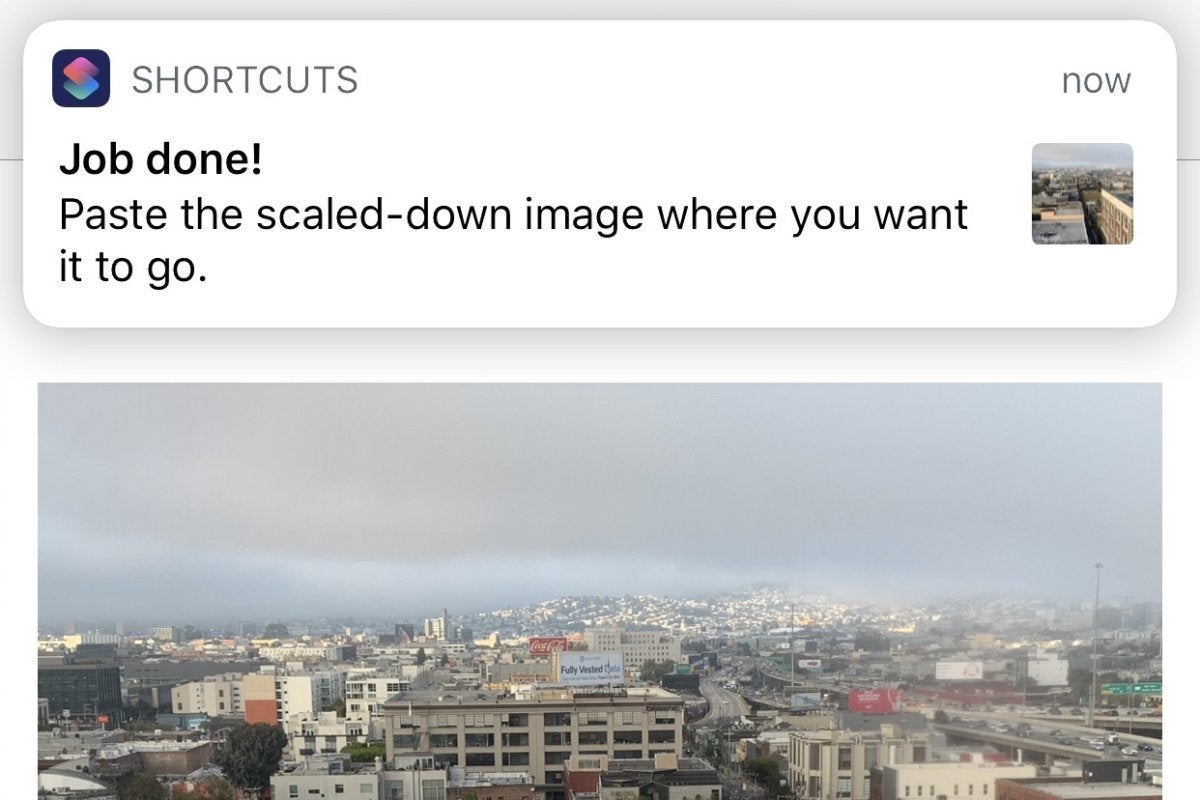 Split utility bills with roommates (and send them Apple Pay requests)
If you live with a roommate and you usually split the utilities with them, this Shortcut from Redditor repellingspider lets you evenly split the bill for each service and then send an itemized request for Apple Pay Cash to your roommate. You can customize the existing fields to make it reflect the specific bills you and your roommate pay, and you can easily add more slots for utilities as needed.
You can download the "Roommate Utility Bills Splitter 1.2" Shortcut here.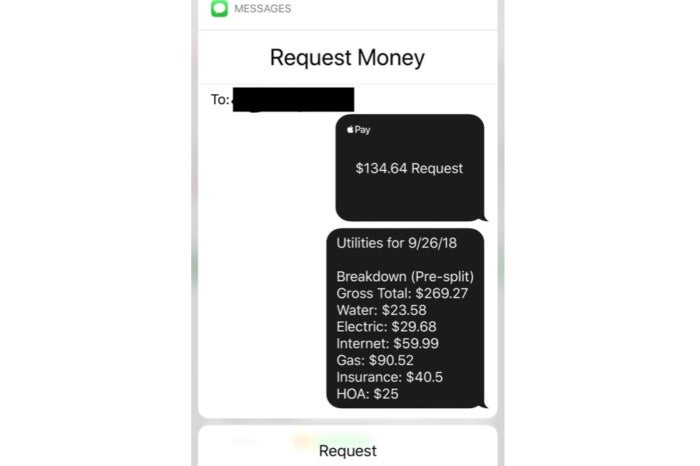 Send links from iPhone to PC
Not all of us are so lucky that we get to spend all of our time on both iOS and macOS. Sometimes, alas, we need to use the humble PC. And that's where the nifty "Send Link to PC" Shortcut from Redditor ImminentFate01 comes in handy, which lets you send a link that's open in a browser on your phone to a browser on your PC through either a notification or by opening it directly. A warning: This one requires some work. The "Basic" version, which automatically opens the link in a PC browser, is fairly simple, but you'll have to install Burnt Toast in order to get notifications work properly with Windows 10. Still, it's a good example of how useful Shortcuts can be beyond Apple's own ecosystem.
You can download "Send Link to PC" here. You can find the necessarily files for your PC here.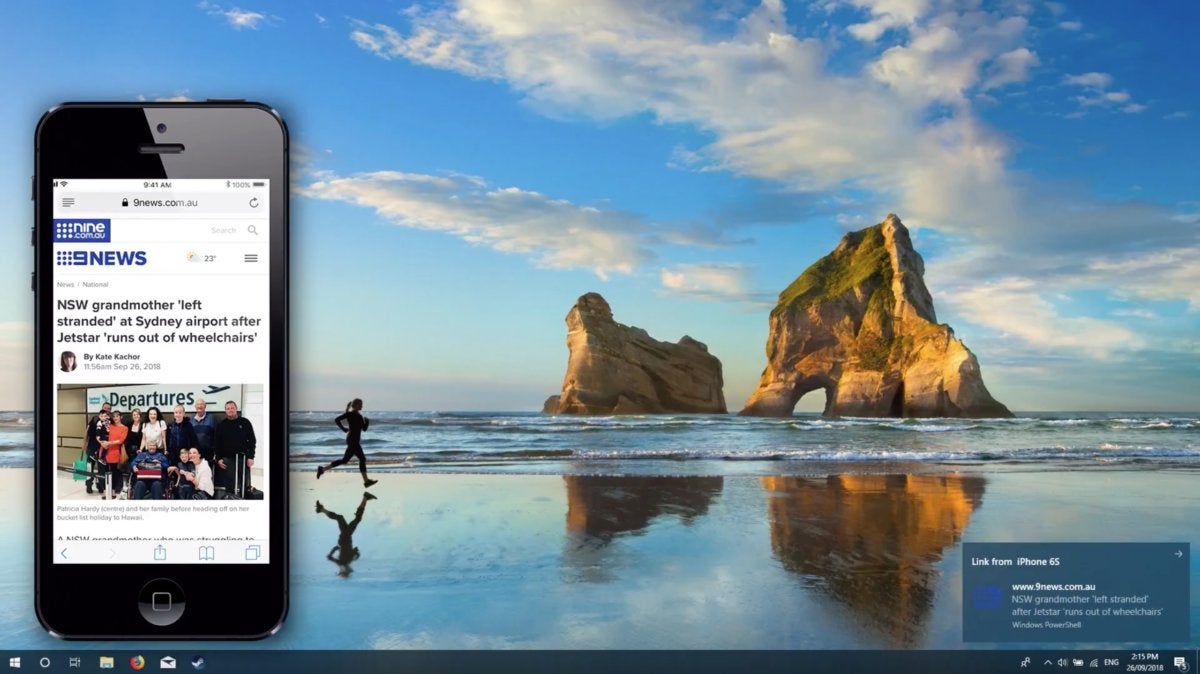 Turn on extreme Airplane Mode
Consider this a Shortcut for those times when regular Airplane Mode just isn't enough. This Shortcut from Rosemary Orchard doesn't just switch your phone to AirPlane Mode—it also turns off cellular data, switches your phone to Low Power Mode, and flips on Do Not Disturb. If all goes well (and you don't read digital books or watch movies on the flight), your phone should still have quite a bit of juice in it when you reach your destination.
You can download the "Flight Time" Shortcut here.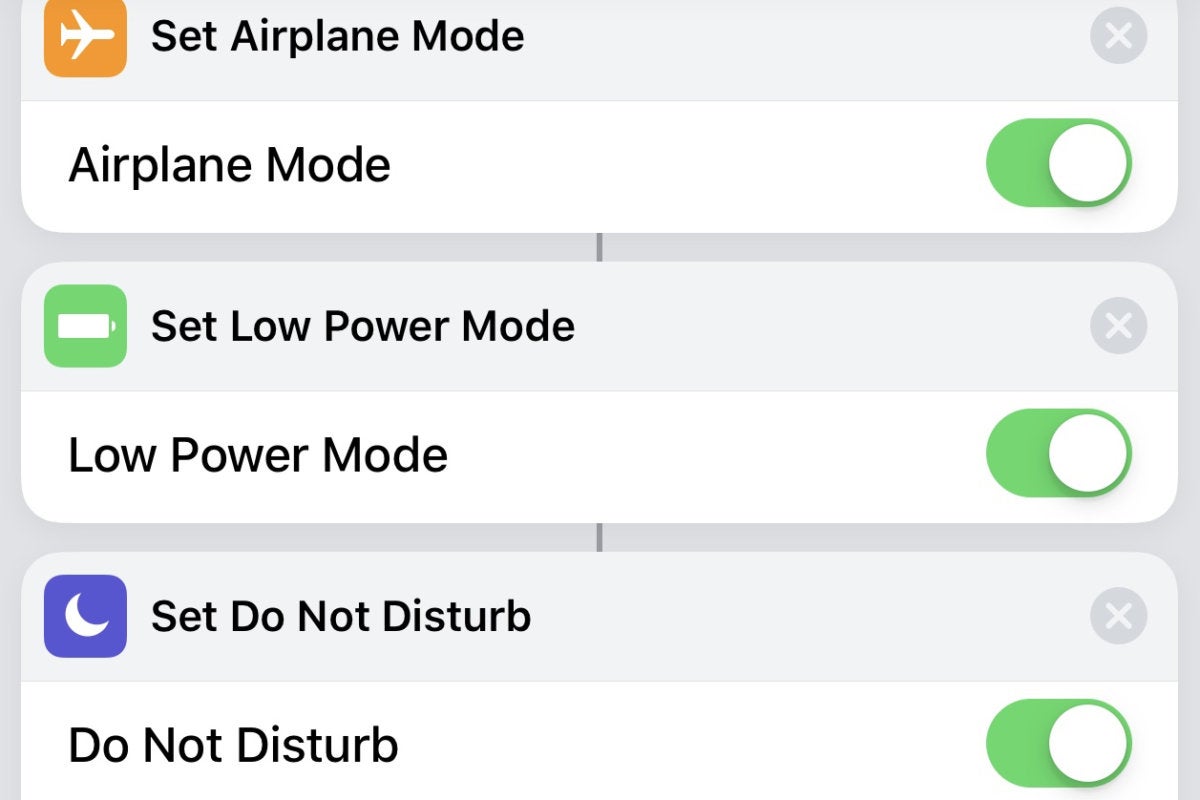 Ask your Apple Watch about your iPhone's battery
You used to be able to ask your Apple Watch about your iPhone's battery level through Siri, but Apple removed that command a while back. Fortunately, Reddit user faiznawawi made up for that by creating a Shortcut that (usually) resurrects it. Just say, "Hey, Siri, iPhone battery level" and she'll let you know. (Note: This is one of those cases where Siri will get puzzled if you ask, "Hey, Siri, what's my iPhone battery level?") It's great for times when you have your iPhone stowed in your backpack and you're using your Apple Watch for everything else. I can confirm that this Shortcut works, but beware: It doesn't appear to work with every device and there's no clear reason why.
You can download the "iPhone Battery Level" Shortcut here.