Business Management
Laurie Bowen (Global) - From BRICs to Mortar: Building on Emerging Market e-Trading Foundations Part 2
This two-part article discusses how more banks are looking to improve their e-trading infrastructures in emerging markets such as Brazil, Russia, India, China and South Africa (BRICS) to better tap investment funds from these markets and to provide easier access for inward investment. This second part sheds light on the challenges and opportunities for financial institutions when extending their global network capabilities to meet the needs of their e-trading systems.
Part 2
A recent study sponsored by Tata Communications and conducted by IDC Financial Insights amongst tier 1 and tier 2 financial institutions with significant trading interests in emerging markets, revealed that the extension of global network capabilities is the biggest challenge for institutions when trying to establish an electronic presence in developing countries (see Image
1).
Image 1: What are the critical network challenges faced when developing e-trading in emerging markets?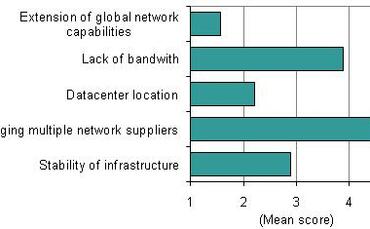 Note: Mean scores are based on a scale of 1-5, where 1 = most critical and 5 = least critical.
Source: IDC Financial Insights study, sponsored by Tata Communications

The financial institutions surveyed are confident in the infrastructure they have developed to support their regional hubs but struggle to find providers that can help them establish local low latency networks in second-generation emerging markets, reinforcing the current hub and spoke operating model where the network typically reaches the regional hub but not the local trading venue. They experience difficulty achieving a truly global network that is able to cater for low latency trading as there is no true global network offering in the market place at the moment and a lack of providers offering reliable connectivity in large parts of Africa and the Middle East. Therefore, banks are being forced to engage in multiple relationships with third-party providers to deliver the broadest possible global connectivity, undermining the ability to deliver low latency performance.

Horses for courses: routing traffic around the global network

Banks are focused on developing an appropriate global network strategy that is relevant to global advances in electronic trading. Seventy-five percent of those surveyed indicated that they are currently in the process of developing or revising their global network strategy - or corporate WAN strategy - to take expanding emerging markets trading requirements into consideration.
However, banks face major challenges in aligning their enterprise infrastructure strategy with the proliferation of electronic trading in emerging markets. International banks are defined by their global presence and the range of banking services that they are able to provide around the world which require appropriate network support to ensure local office/branch connectivity. The corporate focus on developing an overarching enterprise network strategy and infrastructure, while still providing for the demands of electronic trading, are often in conflict. As many as 55.5% of interviewees believe that their institutions are not sufficiently equipped to deal with the demands of routing different types of data traffic (see Image 2).
Image 2: How well equipped are you to intelligently differentiate between high-latency and low-latency data traffic in the network?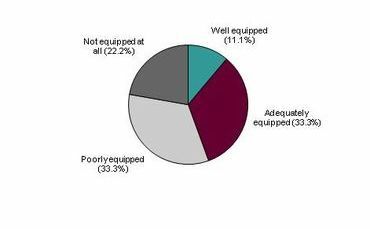 Source: IDC Financial Insights
It is crucial that banks leverage core infrastructure where possible to maximize banking efficiency. A network will have to be able to intelligently differentiate between types of network traffic as well as route that traffic to pipes that are fit for purpose. This will help with load balancing and capacity planning and delivering the global enterprise cohesion that banks are seeking in terms of network strategy. However, without a truly global network, banks will remain hindered in delivering a truly effective global business model.

Strategic partnerships are key
The electronic trading revolution that is taking hold across the globe as emerging market stock exchanges seek to transform themselves into providers of deep liquidity and efficient access, could reshape the future of global capital markets trading. With competition for clients and trading revenues at an all-time high, banks are already seeking to facilitate the increasing demand for market access.

The core challenge for banks, given the fragmentation of global network coverage, is how they might integrate the service provision of e-trading into a wider enterprise strategy of cost-efficient, high-performance global connectivity. Without a truly global network to support a rapidly evolving global business model, institutions have typically been forced to rely on a multitude of network providers to piece together connectivity. However, as many markets emerge from the financial crisis, there is now a clear emphasis to develop a more cohesive, integrated infrastructure. Banks are becoming increasingly proactive in their outlook and eschewing tactical relationships in individual markets in favour of strategic partnerships that are truly global in nature.

Third-party network providers are certainly mindful of this and are working hard to deliver better performance in remote markets in all corners of the globe. Those at the forefront, however, are the providers that have already established a broad footprint in the principal next-generation markets in the Middle East, Asia, and Africa and that are now working to enhance the performance of that network footprint to accommodate more sophisticated e-trading provision.

As emerging markets modernize in line with increasing demand, the development of deep infrastructure foundations will not only bring them into line with standards already expected elsewhere, but also should pave the way for the sustainable development of those markets long into the future.
By Laurie Bowen, President, Sales & Strategy, Global Data and Mobility, Tata Communications