Business Management
Tech IPOs & the Curse of Superman
The volume of IPOs is surging around the world. There have already been higher numbers this year than at any time since 2007… and Twitter has placed an increasing media emphasis on tech. Many people are now questioning whether this is just a bubble, whilst others are speculating which companies will pop next. In a week which sees our Editorial Director, Martin Veitch releases his "20 Red-Hot Pre-IPO Companies in 2014 B2B Tech", Kathryn Cave investigates the IPO craze sweeping the world markets... and whether or not some IPOs carry a curse.
In 1978, Margot Kidder shot to international fame for her portrayal of Lois Lane in the smash hit 'Superman' film, opposite Christopher Reeve. This saw her receive Best Actress at the Saturn Awards (Academy of Science Fiction, Fantasy & Horror Films, USA), marry Home Alone actor, John Heard for just six days, and star in the massive blockbuster The Amityville Horror… alleged to be as cursed as Superman. And sure sure enough, through the 80s and 90s Kidder's career gradually unravelled until in 1996 she was found mad and toothless, cowering behind some bushes in the residential area in Los Angeles suburb of Glendale…
These days, tech IPOs can also possess some of the spark and fizzle of Hollywood glamour… and some might even detect the curse of Superman. You only have to look back to the 90s, to the dim and distant land before Facebook when TheGlobe.com was in ascendency. Heralded as the first social media site, TheGlobe.com was like Facebook and allowed users to publish their own experiences and share them with online community.
Not surprisingly, the trajectory was rapid. And almost exactly 15 years ago, on 13th November 1998, the company made headlines by going public and posting the highest first day gain of any IPO in history (to date). The target price was $9 a share, but instead it closed on its first day of trading at an incredible $65 presenting a more than 600% increase, so far so successful. However, like many casualties of the dotcom crash, TheGlobe.com soon saw its share price slide right down to 10 cents. And in 2001 it was compelled to close its site down and lay-off half its employees.
Could this be a curse? This company is just one of the superstar behemoth tech brands that have gone from hot property to dust over the last two decades. And sadly much of this seems to hinge on the IPO. Take the Facebook debacle last year, sure, things have gradually picked up, but over the last week the media has been stuffed full of stories about how teens are abandoning the site in favour of WhatsApp. Or remember the case of Lantronix? In 2000 this company saw its stock price drop 20% on the first day of trading. Of course, the IPO is only one part of the company story… but as the name suggests, it is the "Public" part.
Over the last few weeks the Twitter IPO has been so big it has reverberated through the mainstream news. The fact that Twitter is not even profitable yet has added another little twist to the story of a social media site which has baffled many people since its inception. However, reports of success abound. The Salt Lake Tribune stated last week that the Twitter IPO has resulted in a clutch of 1,600 new millionaires in Silicon Valley. This estimate from financial analysis firm PrivCo saw CEO Sam Hamadeh tell the paper that the newfound wealth of its hundreds of rank-and-file engineers would create the widest ripples. "This one will have far implications for everything from real estate prices to new capital for other startups to California's budget."
This on-going hype, along with a general rise in the markets, has fuelled an increase in IPOs around the world. At the end of last month the Financial Times published a slew of articles about the renewed volume of public offerings in South Korea, Australia and New Zealand. The numbers are escalating to new found highs, leaving the press awash with speculation about whether it is all a bubble. And as Professor Stephen Bainbridge put it on his blog earlier in the year: "The reasons behind the IPO boom in fact make it look like an IPO bubble."
Bubble or not, these new public companies - especially the hopeful new stars of the tech universe -are destined to cause a fuss when they do IPO. Because some of these will be the big names of the future, some will flop disastrously… but all hold the potential of making someone a lot of money. The chart from Statista below has some great stats on just how much money you could have made if you had invested $1,000 in Amazon, eBay, Yahoo!, Google, LinkedIn and Facebook back in the day. Of course, the opportunity to invest in these Initial Public Offerings is not open to everyone…. but the figures do make for interesting reading.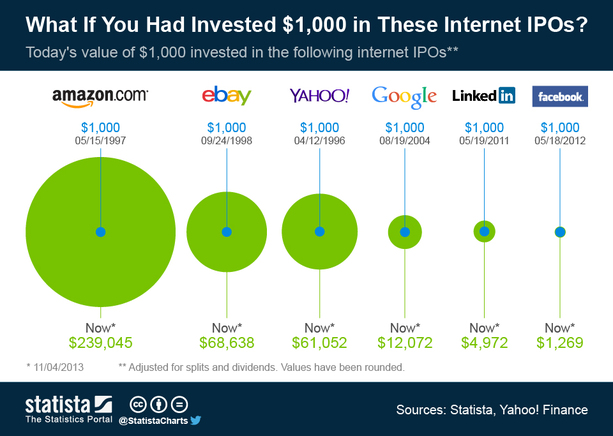 Today the change in the markets and case of Twitter has cast a giant spotlight on the next generation of companies that could be about to pop. Only time will tell where that early promise will lead…. maybe the hottest won't even be around next year, let alone in five years' time, but they all still hold massive potential. And whilst tech IPOs may feel a bit like gambling on the next Hollywood starlet... there will only be a handful, which are truly cursed.
Read IDG Connect's 20 Red-Hot Pre-IPO Companies in 2014 B2B Tech
Kathryn Cave is Editor at IDG Connect