Business Management
Michael Morein (Israel) - Israel: A Vibrant Centre for Product Development Software
Israel has been a consistent growth market for product lifecycle management (PLM) and engineering software. There is also strength in software development for these markets in Israel that makes it a hub of activity. Israel both buys and produces technical applications at a strong per-capita clip. At this year's Conference on the Future of Engineering Software (COFES), Israel Forum pointed out this strength - as did Cambashi research - which we presented there.

On the buying side, Israel is a center for R&D: attracting an array of high technology companies including IBM, Microsoft and Intel; who must leverage collaborative product development technology as fully as possible to compete. The electronics industry is a leader in collaborative product design due to the outsourced business model that extends beyond manufacturing and into design, as well as the critical and fast-changing nature of the components involved. Other Israeli stronghold industries such as aerospace and defense are amongst the largest adopters of advanced PLM and technical applications.

Cambashi's latest observations show that Israel as a market for technical applications, grew modestly (2.3%) during 2010 (in terms of end user expenditure in local currency), but is expected to show stronger growth of 4.4% during 2011. (See Figure 1).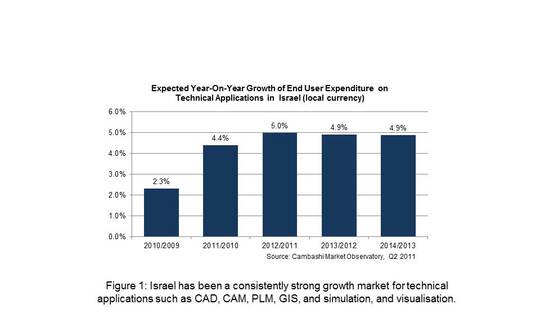 Israel is also home to at least 20 CAD/CAM/PLM/GIS software providers: such as Cimatron, GeoSim, SolidCAM and Valor. A partial list that includes some resellers and some software developers can be found here. Many other technical applications developers have been acquired by major players including: Baan/Infor, Dassault, IBM, SAP, and Siemens. Israel also hosts the R&D center where Autodesk developed WS, which runs on mobile devices. The COFES tour of this Autodesk R&D center sparked plenty of interest and discussion about the need for mobile access to product development systems.

So while Israel uses engineering software, it is also exporting. One of the hot markets for Israeli innovation is Asia Pacific. Asia is by far the fastest growing region for technical application purchases, at nearly 6%. (See Figure 2)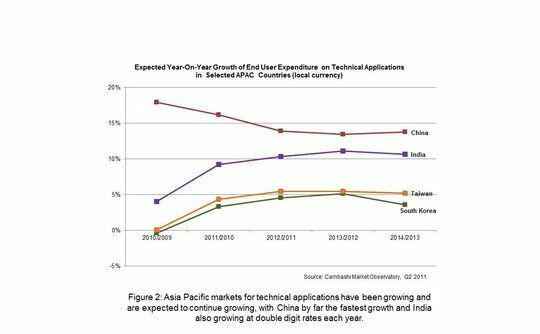 by comparison, the Americas and Europe are at or under 2%. In a more granular view, we forecast expenditures out of China on technical applications to grow by over 15% this year.

It's a good time to be in the PLM/CAD market in Israel as we expect PLM solution get better traction with small and medium businesses. The high tech and aerospace and defense markets are already strongholds, and both are expected to spend more on technical applications this year worldwide. The Israeli market itself is in the middle of growth ranges, but strong export markets are also available to the companies developing there.
By Michael Morein, Senior Consultant at Cambashi Ltd