Internet
News Roundup: Apple Neural Engine, Stratolaunch, and subtitle viruses
A roundup of the week's tech news including Tech vs Trump, AlphaGO's retirement, and robot priests.
Apple Neural Engine
Much to the chagrin of its suppliers, Apple has long been working towards making all its own chips. This goal now applies to its Artificial Intelligence hardware, too. According to Bloomberg, the Cupertino company is working on a processor specifically designed to improve the performance of AI-related tasks such as speech and image recognition within its devices. Apple has refused to comment, but Bloomberg claims the project will be called the Apple Neural Engine. Google has already made a similar move with the Tensor Processing Unit (TPU), which powers AI-related tasks in the search giant's datacentres.
Allen's Stratolaunch
For 70 years, the Hughes H-4 Hercules (AKA the Spruce Goose) held the record for the plane with the longest wingspan. However, that record is now broken with the launch of Paul Allen's Stratolaunch. The Microsoft co-founder's latest project has a wingspan of 385 feet and weighs around 500,000 lbs. The Stratoluanch is designed to carry objects such as satellites into low-orbit and then release them into space, saving huge amounts of fuel.
Allen isn't the only tech guru interested in the skies. In April, it was revealed Google co-founder Sergey Brin is developing a giant airship, thought to be 656 feet in length, for both personal and humanitarian purposes.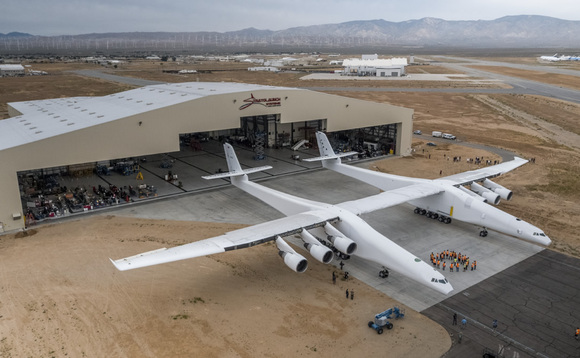 Despite Trump, Facebook is still green
President Trump might have pulled out of the Paris climate agreement, but that doesn't mean companies have to stop their green agendas.
"Withdrawing from the Paris climate agreement is bad for the environment, bad for the economy, and it puts our children's future at risk," said Facebook CEO Mark Zuckerberg in a FB post this week. "For our part, we've committed that every new data centre we build will be powered by 100% renewable energy."
Apple's Tim Cook reportedly told employees he was 'disappointed' with the decision, while executives at numerous other companies including Salesforce, Microsoft, Twitter, and Uber have made similar statements.
M&A
Waymo – Alpha-Google's self-driving car unit – is worth at least $70 billion, according to Morgan Stanley analysts. "We are encouraged by Waymo's new partnership with Lyft as it gives Waymo access to more miles driven, which is important to building/optimising the autonomous business and data set," Brian Nowak and Adam Jonas said in a research note. The partnership could give Waymo a platform to launch driverless taxis in the hundreds of cities Lyft operates in. That $70 billion valuation is more than rival ride-hailing/drivers' car startups Uber or Didi.
LinkedIn has bought sales startup Heighten, and Accenture has acquired LabAnswer.
Subtitles
Hackers are a resourceful lot who are always finding new ways to infect your stuff with malware. Security researchers at Check Point have discovered a way to inject malicious code into subtitles in videos thanks to vulnerabilities in streaming platforms such as VLC, Popcorn-Time, and Kodi. Check Point estimate there are approximately 200 million video players and streamers that currently run the vulnerable software.
AlphaGO-es into retirement
Like any great boxer, Google is retiring its victorious AlphaGo at the top of its game. Just a week after defeating Go's top-ranked player, Ke Jie, 3-0, the company announced in a blog that the focus will shift elsewhere.
"The Future of Go Summit is our final match event with AlphaGo," DeepMind CEO Demis Hassabis said in a blog. "The research team behind AlphaGo will now throw their energy into the next set of grand challenges, developing advanced general algorithms that could one day help scientists as they tackle some of our most complex problems, such as finding new cures for diseases, dramatically reducing energy consumption, or inventing revolutionary new materials."
Ethiopa's internet blackout
We've written about the growing number – and increasing cost – of internet shutdowns by governments, especially in Africa. This week saw Ethiopia block access to the internet in order to prevent cheating during exam season, according to a government spokesperson.
"We are being proactive, the shutdown is aimed at preventing a repeat of leaks that occurred last year," said Mohammed Seid at the Office for Government Communications Affairs. Access to social media was banned last year after exam papers were posted online.
"We want our students to concentrate and be free of the psychological pressure and distractions that this brings."
Open source
Another week, another digital assistant comes to market. Mycroft is an Open Source alternative to Alexa and its ilk, and is designed to run on whatever hardware you like. A physical version called the Mark-1 is available from the company if you want a super cute, British-accented helper in your home.
This week also saw Ocado Technology open source its Kubermesh cloud software technology, while Microsoft released a new application development tool called Draft. Both are centred around containers and Kubernetes, and both Kubermesh and Draft are available on GitHub.
Essential(?)
In an already over-crowded market largely devoid of meaningful innovation, do we need another entrant to the smartphone market? Andy Rubin, one of the co-founders of Android, seems to think so. His new company, Essential Products, launched the Essential phone and Home digital assistant device. The phone runs Android, looks nice, and has some decent specs. The company is also offering a 360-degree camera that connects magnetically to the phone and transfers data wirelessly.
The home device is a small, hockey-puck size speaker with a screen which promises to run Alexa, Google Assistant, or Siri. The device will run a new system called Ambient OS.
The patent-trawling rumour mill is already suggesting Essential may be working on augmented reality smartglasses.
How essential any potential customers will find these new devices in such busy markets remains to be seen.
Other new stuff
This week also saw the launch of Intel's modular Compute Card. The card-sized device would plug into docks or directly into devices, and enable users to carry around their computers in their pockets. Intel says Dell, HP and Lenovo are all working on devices that support the Computer Card.
HP also revealed a Cortana-enabled smart speaker. There are few details thus far, but there are suggestions it will be a standalone Dot-like device that can connect to your Windows 10 PC if you desire.
BTC
The Bitcoin boom has levelled off somewhat this week, with the price floating around the $2,400 mark. But how much higher can it go? Kay Van-Petersen, the Saxobank analyst who correctly predicted in December that the cryptocurrency would hit $2,000 a coin in 2017, is now suggesting it could reach a value of $100,000 within the next 10 years.
Robopriests
The latest research from the Future of Humanity Institute at the University of Oxford suggests all human tasks will be able to be performed by machines within the next 50 years. But it seems the priesthood is another is another industry that's about to be automated.
The BlessU-2 robot, based in the German town of Wittenberg, delivers blessings in five languages. The robot isn't actually designed to replace your local spiritual leader though; it's part of an exhibition celebrating 500 years since the Reformation and Martin Luther's calls for change within the church.