Predictions
Gloria Christie (US) - How the US Presidential Election will Impact Technology
This is the season of the win-at-any-cost maneuvers for the November 2012 U.S. Presidential election. Before these drills flood the media too deeply with partisan confetti, now is the time to examine how the victor would impact those doing technical business with this country. Or would that win make any difference?
A good starting point is with the two basic Republican and Democrat Party platforms before moving to more specific details about where each candidate holds variance with his party platform.
The Republicans purport reduced taxation and shifting more decision-making to the state level to substantially trim the national government size. The Democratic platform's mission is to offer individuals a better life by addressing change, innovation and major challenges at a national level.
Presidential candidate Mitt Romney has a record of being a right-of-center Republican. But he ran, as expected, against his Republican opponents on a far-right agenda. What is surprising is that he has not veered back to his former political plumb line. The question then becomes, would he govern as a more moderate or ultra-conservative Republican? Generally socially moderate Republicans are pro-corporations while the ultra-conservative candidates are quite socially conservative.
President Obama has a history of being more of a centrist Democrat, and his record has been a study in moderation much to the surprise of many in his base of voters. That background as a community organizer might have been an asset in bringing together a heavily partisan Congress had that group of politicians not been so committed to the President's failure in 2012.
A Romney presidency would likely be one of American exceptionalism and individual responsibility.Technological advances in education would be supported with private school vouchers. Although Republicans espouse fiscal responsibility, history has not supported them on this point. A Republican president would trend toward larger businesses with less regulation.
Where would the candidates focus? With an eye toward smaller government, a Romney administration would be less likely to invest in an aging infrastructure than President Obama. Both a Republican and a Democrat president would invest in the newer technologies of nanotechnology, robotics and genomics. Democrats would be more likely to encourage the creativity required to find the places where these technologies overlap and synchronize.
An Obama presidency would probably continue calling for government to provide for the individual what the individual alone cannot. Technology businesses could find fertile ground in healthcare and other social support systems. Any technological advances in education for him would come in a stronger more diversified public education system. Smaller and new businesses would see less regulation, and he supports more in-country manufacturing than Romney.
In an effort to provide more economic security for the individual with a more Keynesian approach toward governing, an Obama administration is far more likely to invest financial resources in the many jobs generated by repairing and replacing an aging infrastructure.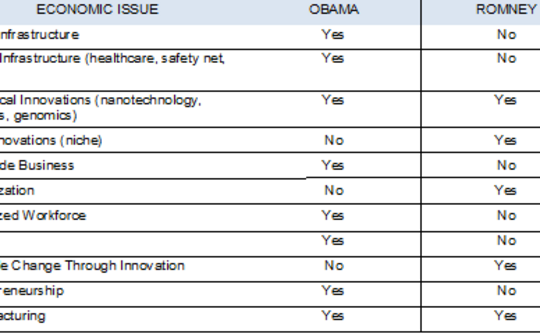 Clearly the results of the 2012 Presidential election will make a significant difference in how technology businesses approach the U.S. contracts. However what the candidates promise during the election cycle can be a far different thing than what they promote from the Oval Office.
By Gloria Christie, Partner, The Christie Group
IDG Connect publishes a range of IT thought and opinion, and this blog in no way reflects the views of the company. Kathryn Cave, Editor at IDG Connect.