IT Services
Our 10,000th post: 5 years of local IT stories
"Only last September [2009], Winston, an 11-month-old carrier pigeon proved quicker at transmitting data over a 60-mile distance than the internet in one African country. This wasn't Guinea, Burundi or Liberia – it was South Africa – the nation with the largest economy and the fourth highest web usage on the continent. The situation is plain: Kilimanjaro to Niger Basin; Sahara to Cape, the pace of IT development has been systematically slowed by the speed of the internet. That is - until now..."
Almost exactly five years ago, on May 18th 2010, I wrote and published the first in a seven-part series of articles on global IT. Over four weeks – every Tuesday and Thursday at 11am – this aimed to cover the panorama of global technology. And for alphabetically consistency, in began with Africa.
That was the launch of IDG Connect as an online publication. And since then, both the global IT landscape and this platform itself have developed dramatically. Today, we're proud to announce this is our 10,000th post.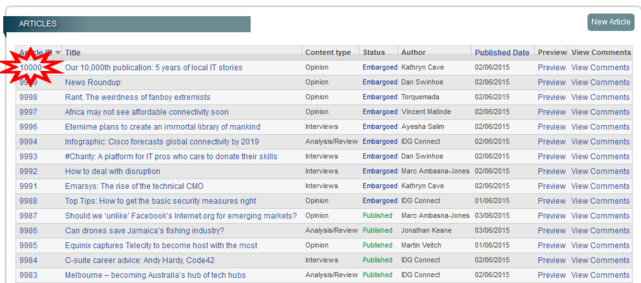 It has taken a long time to reach 10,000 and has represented a slow journey through local IT. In the very early days, from 2010 to mid-2011, we published twice weekly articles which simply rotated by continent. These came from a range of third party global contributors and were like pulling teeth to track down, edit and publish. By 2011 we managed to move up to daily articles. And today we publish around 25 pieces a week.
In that time we've moved from simple, regional topical overviews to the full gamut of CEO and industry interviews, statistical reports, series and serials, opinionated rants and in-depth analytical pieces. Our staff and pool of contributors have improved dramatically but some of our earliest regional contributors are still involved and supply articles, local expertise and excellent feedback.
These include Gabriel Cogo from Brazil (first contributed July 2010), Brandon Faber from South Africa (first contributed Jan 2011), Roel Castelein from Belgium (first contributed July 2011), and Adrian Schofield, also from South Africa, who we came across while conducting new research into IT skills in South Africa during the of Summer 2011.
Information dates quickly and it is hard to pull out meaningful highlights from five years. So instead, I've popped some bits we've been especially proud of below:
Regional insight
Personally, I'm especially proud of the extensive range of countries we've covered. This is close to 100 to date and includes full-scale reports on a raft of ignored countries [like Iraq in 2012] along with a full A- Z of tech in often forgotten parts of the globe [2014]. Today we publish weekly pieces on Africa, Asia and Latin America. And this year we're aiming to cover local tech stories in every single state across the US…
A focus on Africa
IDG Connect has always placed a particular emphasis on Africa and we been publishing weekly stories on tech across the continent since 2011. In the time period have covered 28 individual countries and produced four in-depth reports covering the role of the CIO in South Africa [2012], pan-African security [2012] and the state of the market in Morocco [2013] and Ethiopia [2013].
Statistical research
Our most successful report in terms of third-party interest was 2012 iPad for business survey. It sounds mad now, but this was a hot topic at the time and gained a lot of global press publicity. We also gained some decent external recognition for work on introversion in IT [2014] and bullying amongst IT professionals [2014]. While Dan Swinhoe has also just released an excellent new report on smartwatches (28th May) which investigates how the regular watch industry is responding to this new threat.
- Here is a list of the eight reports we produced in 2014
- Here is a list of the ten reports we produced in 2013
Industry expertise
Since 2013, Martin Veitch has been systematically interviewing all the important CEOs and industry figures in B2B tech. This has included recent figures such as Box's Aaron Levie [multiple times] and established luminaries such as Guy Kawasaki and Scott McNealy. It has culminated in two excellent pre-IPO reports [2014 and 2015].
Loads of off-kilter stories
Any list of favourite stories is extremely subjective but…
Personally I love an underdog and we've produced a range of features and interviews with people who get forgotten about. Tommy Flowers [who invented the first computer, Colossus] – why have so few people heard of him? And what about Dan Bricklin who devised the spreadsheet? And Richard Brodie who wrote Microsoft Word?
Then I was also deeply impressed by Gertjan van Stam who put his money where his mouth was and lived in the bush for 12 years with his HIV researcher wife and young children. In 2004 he facilitated the setup one of the biggest rural ICT networks in Zambia and is now heavily involved in the first proper African-driven IT conference (for Africans).
Over the last two years Dan Swinhoe has run an excellent weekly series on crowdsourcing projects [highlights 2013 and 2014] that might make it big in future. After two years he has just re-interviewed one of the early ones who, despite initial failure, has finally succeeded…
Everyone likes a moan. And each Friday we publish a rant on a different theme. These cover everything that could get you riled: from whether technology really means we're working harder to the travesty of 'track changes'… and that offensive Microsoft paperclip, 'Clippy'.
And what about Alex Cruickshank's excellent 10-part series? This covered his forays into being a tech teacher in small rural school in New Zealand and is outstanding stuff…
The list could go on and on… it would be very easy for me to boringly eulogise on the weird and wonderful stories we've published over the last five years. But is there anything you've particularly enjoyed?