Handheld Technology
Cool Business Tech (Google Glass, Today's Bri-Nylon?)
Picture a fun open plan office, plenty of distressed wood and a cute dog being cuddled in the kitchen. Everything, in fact, you would expect from a funky East London agency. Except downstairs, in the basement is the FLUX Innovation Lounge… which presents the dizzying world of new technology and all its potential for business.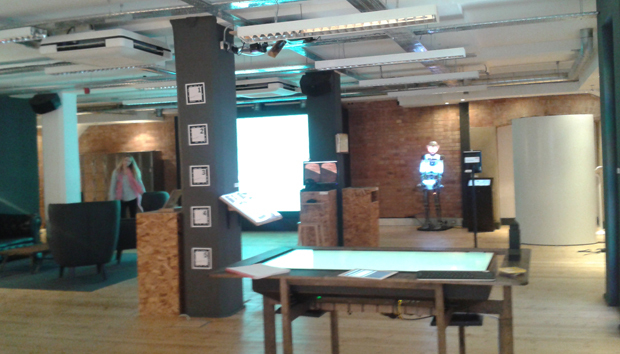 This might be an obvious next step for many digital agencies but it still seems a pretty nifty idea. Because this is a permanent showcase for the latest tech that can be utilised by in-house technologists… and other people who want to tip up and have a play.
It opened in March, boasts a range of commercial partners and the tech on display is regularly updated - the second round went up at an official launch event last week.
The trouble is we all know about the promise of this kind of kit. Holographic bosses you say? Flying cars? Yawn. Nothing comes as a surprise anymore. The real challenge is how this technology can be used in real-life and how quickly. Because for all Stephen Hawking's warnings about the apocalyptic threat of Artificial Intelligence, none of this seems likely to happen any time soon [our gated PDF report].
Well, that is what this space attempts to deliver. You can try Google Glass and Oculus Rift, watch the new-style 3D TV, do a spot of 3D printing, interact with the robot, Norris… and play with some vast touch screens. Basically you can see some ways these extra-cool pieces of tech are currently used by businesses and maybe get some inspiration for new ones.
Good old reliable for AR
Augmented reality is a nice easy sell. There are plenty of commercial uses for it already. This nifty Cimagine app scans the room and allows you to look at how furniture might look in situ. It is quite impressive - you can wander round and view a chair from all angles.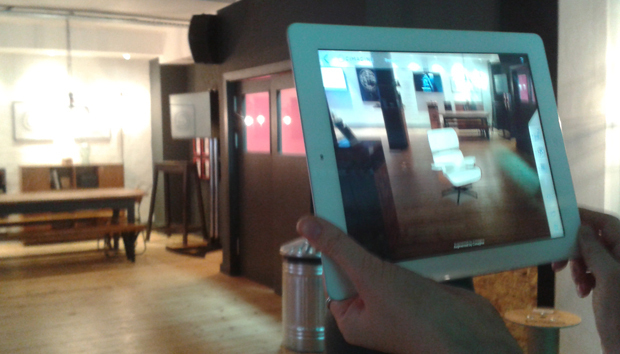 A perhaps less successful idea on display though is the Virtual Style Pod this is in use in shopping capital, Abu Dhabi and lets you try on a virtual costume. Trouble is, it isn't easy to use and doesn't really work properly. However, it does provide an interesting lesson in how things might work go future.
Norris the friendly singing robot
Robots sound so fun and people are always coming up with new ideas for them. But sometimes it is hard to imagine real-use cases. This little chap, Norris, can sing, quote films, mimic your arm movements and, more practically, can be pre-programmed to deliver speeches.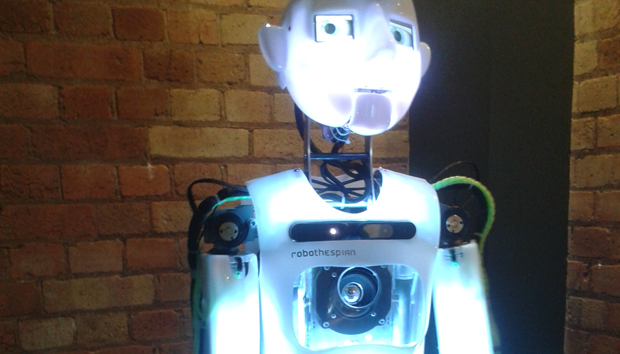 The trouble with wearable tech
I must admit I'm getting bored of wearable tech and the craze has barely begun. The trouble is all the properly decent ideas are related to serious vertical-led business. While the funky stuff is mostly quantified-self flim-flam. Of course, as this kit gets more sophisticated it is going to deliver more relevant medical insights into our lives. One prescient for this, on display, is Netatmo's fairly attractive bracelet that measures sun exposure.
And 3D printing
The same is true of 3D printing. People have been talking about this for years and like a lot of this kind of technology the uses fall into two distinct camps. Bespoke printed medical kit which is excellent and needs a bit of input from outside and well… paperclips.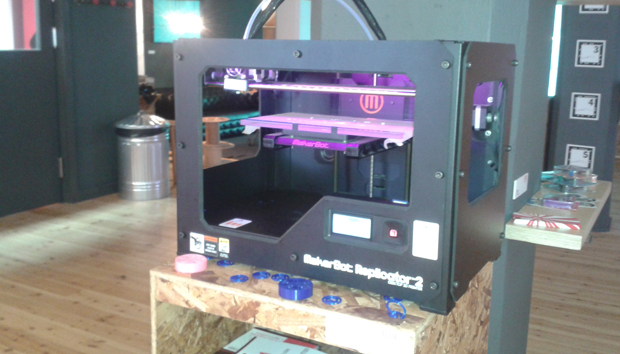 So many screens it makes your head ache (and my not very good photography go extra blurry)
Screens are the order of the day. Innovation Lounge has one huge LG touch screen to show-off presentations, a live infographic one (see blurry image on the left) which is used in Bloomberg's head office in New York and even a roving one (see blurry image on the left). Controlled via an iPad this allows your little trundley avatar to go and meet people at events, so you don't have to bother with the crowds. The looming head element does seem a bit weird mind.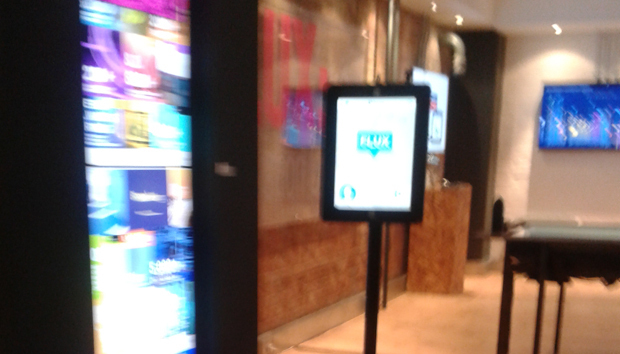 And then there is Google Glass…
There are so many innovative technologies around at the moment. And while few maximise their full potential, the potential is definitely there. I'm not sure this is true of Google Glass – the one true duffer on display.
Bless Google, its tried so hard, but for once it seems to have entirely missed the mark, and instead delivered the new Bri-Nylon… which, for those not au fait with the weird and wonderful world of British style history was "British Nylon" - fabric of the future. Set to revolutionise everything, it was actually pretty pointless, got used for a range of largely offensively patterned shirts… and after not so long, was entirely forgotten.
Kathryn Cave is Editor at IDG Connect