Business Management
What Leading Corporations Can Learn from Today's Startups
While we regularly see new technologies and data processes adopted from projects at mega-companies—such as Hadoop from Google's MapReduce or Six Sigma at General Electric—it's not nearly as common for large corporations to look for inspiration from startups. Perhaps that's no surprise as the challenges of an enterprise with 10,000+ employees can be wildly different from those of fast-growing tech companies.
However, these smaller, agile startups demonstrate successful practices that are certainly worthy of emulation - sense of ownership is more tangible, innovation comes more quickly, and employees have a broader, more cohesive perspective on the business as a whole.
Here are five practices that established organizations can learn from the startup world:
Encourage Bottom-Up Goal-Setting
All employees are experts in their own domain. It's common for startups to give employees the latitude to set their own goals (under a watchful eye, of course), turning specialized expertise into new opportunities. For example, a customer success team can transition from explicit churn goals to targeting actions that predict future churn—attacking the root of the problem. Similarly, rather than simply attempting to increase lead volumes, a marketing team can drive success by finding and targeting more- qualified leads.
Goals determine where your employees focus their energy, and carefully crafting these targets can have enormous impact on growth. Use your experts to design better goals.
Make Everyone Their Own Analyst
It's true that large enterprises have the advantage of drawing from hordes of data analysts—experts in statistical analysis and quantitative understanding that drive efficient, consistent, and impactful insights. But startups often approach data from the opposite direction. Every employee is expected to have deep knowledge of the data in their domain.
The result of decentralized data analysis is heightened self-awareness, an imperative to collaborate, and a more data-driven organization. Put data in the hands of employees at all levels to make informed decisions and drive business forward.
Unify Your Data Architecture
"Silo" is perhaps the most common term associated with established companies: There are decision-making silos, product silos and technical infrastructure silos. One major advantage of a startup's size is the inherent lack of silos. Young companies can easily unify their data—transactional, event, marketing, customer service—all of it, in one place.
This consolidated approach yields a wealth of benefits. Decisions are no longer made inside the vacuum of a single department's data. There isn't the risk that a home page redesign will result in a drop in referrals, or that a new product feature will swamp the customer success team. One universal dashboard can obviate these action-and-reactions.
Startups are taking the time and making the investment to unify event data, transactional data, and customer support data into data warehouse solutions like Amazon Redshift. The result: the ability to look at not only conversion rates, but the ability to evaluate all business data more completely. Are visitors more likely to call customer support with issues? Do customers back out of transactions due to misleading information? With data in one place, it can be used efficiently and to great benefit.
Speed Up Experimentation Cycles
Many don't fully appreciate the concept of compounded returns. Imagine for a moment two businesses: Each week, one of the businesses tests a change that generates 1% lift half the time, and the other business conducts four tests with the same effectiveness. Below is the chart of their conversion rates over one year. By iterating faster, the second business nearly tripled its conversions, while the first business saw conversions increase by a 35% bump in the same timeframe.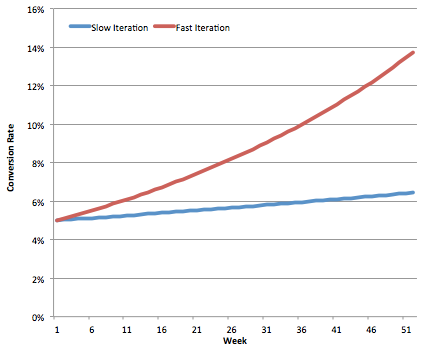 Though the example is trivial, the meaning is clear: Speeding up your decision-making and iterative process dramatically increases growth. This is not to say that every business needs to "move fast and break things," but it's important to identify the roadblocks to iteration—and to remove them.
Create a Sense of Ownership
Another significant difference between startups and established corporations is sense of ownership. Stock incentives, option grants, and profit-sharing are common ways employees of large corporations establish ownership. However, business success is distant from individual contribution, and employees are often out of touch with the purpose and the workings of the business as a whole.
Just as goal-setting can be more effective from the ground up and putting data in the hands of every employee can create new insights, there is no more important contributor to success than ownership. Having access to data gives employees a sense of ownership and the ability to make decisions that directly impact the success of the company. A sense of control has been linked to happiness, productivity, and even health. The new generation of businesspeople demands a sense of purpose in their work and greater control of their jobs. Established companies will need to adapt if they hope to compete with startups in recruiting today's top talent.
Colin Zima is Chief Analytics Officer at Looker