Trends
Franklin N. Nnebe (Africa) - Africa's Changing Internet Usage Patterns
Africa's journey to the internet - in the past - has been laborious and slow. Inept government-owned telecommunication monopolies bequeathed outdated and inadequate fixed-line infrastructure, which forced most African countries to rely heavily on expensive, limited bandwidth satellite for internet connectivity. As a result, internet service provision has generally followed a shared model, with cybercafés mainly providing internet access to the African masses. Cybercafés are now prevalent in most towns and cities in Africa with the largest cybercafé in the world, a 1000-seat facility called Chams City, located in Lagos, Nigeria.

However, the mobile telecommunications industry which has swept through the continent is now revolutionizing internet access. Today, mobile networks cover over 80% of the continent's population with around 500 million subscribers signed up. Over the past three years, mobile operators have expanded the capacity of international fibre submarine cables to Africa from just 2.68 Terabits per second (tbps) in 2008 to 18.74 Tbps in 2011. Submarine cables have been linked to terrestrial fibre infrastructure in 30 of Africa's 54 countries, with 3G sites deployed to deliver broadband-like speeds to about 75% of the continent's total urban population of around 400 million.

The proliferation of internet-enabled mobile devices has helped to jumpstart mobile internet access. Low cost 2G internet-capable phones which now comprise around half of all mobile handsets in Africa (250 million), have been a major driver, allowing the African masses to browse the internet straight from their phones, making for a more personal experience. Indeed, Nokia has built a 70% market share and significant brand recognition by making these type of mobile devices widely available and affordable in Africa.

The more expensive 3G smartphones which more fully embrace the mobile broadband experience have recently surfaced, appealing mostly to working professionals and business people. There are an estimated 7 million smartphone users in Africa with Nokia and Blackberry being the most popular brands. However, smartphone manufacturers are already tapping into the African mass market with newer models such as the IDEOS Android smartphone launched recently by Google and Huawei in Kenya priced at less than $100.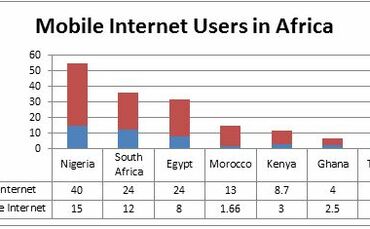 Source: Nnebe Business Research

It is estimated that across the continent, between 30-70% of those accessing the internet are using their mobile phones. According to Opera Software, four of the top 20 countries are using its popular Opera Mini Browser in May 2011 to access the mobile web are African (5. Nigeria, 8. South Africa, 14. Egypt, 18. Kenya).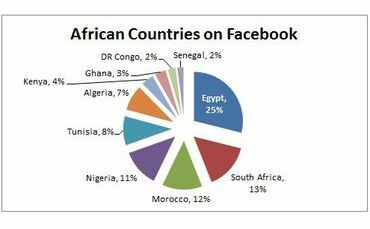 Source: Social Bakers
When Africans go online, their internet usage patterns reflect its youthful demographic (the average age is 18) and global trends. Search and social networking are extremely popular across the continent, as are online news sites which receive more viewership than actual newspaper sales. Notably, Facebook has 31 million users in Africa, concentrated mostly in 10 countries which account for 88% of all users. Mobile instant messaging has also proven to be popular in Africa as a cheaper alternative to SMS. MXIT which was founded in South Africa has around 23 million users in total in Sub-Saharan Africa with more users in South Africa than Facebook. 2Go, another South African mobile messaging company, has over 7 million users throughout Africa and is hugely popular in Nigeria.
With just 120 million internet users in Africa compared to its 500 million mobile user base the future for internet access in Africa is mobile. As smartphone prices fall, mobile broadband coverage will grow, and many more Africans will inevitably come online.
By Franklin N. Nnebe, managing director, Nnebe Business Services Ltd