Mobile Communications
Dr. P Prakash (India) - Mobile Phone Consumption in India - The Drivers of Purchase Decision Part 2
Indian Customer Segmentation
Stringent market research has identified four customer segments in urban India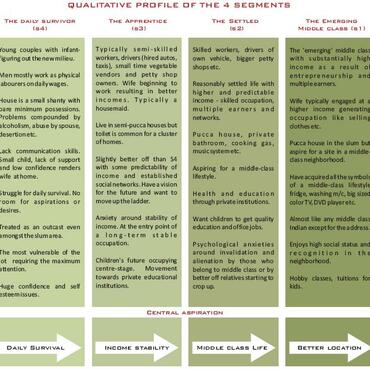 i) S4 - Daily Survivors
Young couples with infant figuring out the new milieu.

Men mostly work as physical laborers on daily wages.
ii) S3 - The Apprentice
Typically semi - skilled workers, drivers (hired autos, taxis), small time vegetable vendors and petty shop owners.

Wife beginning to work resulting in better incomes - typically a housemaid.
iii) S2 - The Settled
Skilled workers, drivers of own vehicle, bigger petty shops etc.

Reasonably settled life with higher and predictable income - skilled occupation, multiple earners and networks.
i) S1 - Emerging Middle Class
The 'emerging' middle class with substantially high income as a result of entrepreneurship and multiple earners.

Wife typically engaged at a higher income generating occupation like selling clothes etc.
The customers sample audience was segmented based on observation and responses during the interviews. These segments serve as a framework for a better understanding of the customer's income and motivation.
Studies conducted at the retail store have shown that customers or prospective buyers are of 4 types
a) Exploratory: keen to look around/browse at the shop but are not clear what they want. Buying or chances of buying was very low
b) Ambivalent: this category has made-up their minds to buy or replace their existing phone, but were not so sure about which product, brand, features they wanted. Decision making would take some time, but the people in this category will ultimately buy.
c) Price Dependant: this customer clearly stipulates the price range they are looking for and then requests the retailer to provide a phone which matches that price range. Probability of buying is very high in these customers.
d) Evolved and informed: this buyer has done enough research on the feature, brand, benefits etc. The buyer would negotiate for the price and what best services he can get at the outlet.
On the whole, all customers did not show any brand affiliation or see a mobile phone as a long term possession. Customers feel there will be better models soon to replace existing phones. Buyers see mobile phone durability lasting between 1 to 2 years at best.
There were more correlations on personality type, life-style of the buyers in the high-end phones. Personality type had little impact in low-income group, as it was seen a basic necessary to connect to people and feature matter to most not the holistic device.
Data service features played an important role in a miniscule section of mobile phone buyers, concentrated mainly in the urban buyer category. Despite the advantages of Web and communications access, users battle with literacy issues, small screen sizes, inconsistency across devices in terms of functionality and navigation, inability to use cookies or javascript, access speed, incompatible pages, restrictions on the size of messages and the cost levied on both voice calls, text messages and bandwidth charges.
The production of highly function, low cost devices poses a challenge for mobile phone companies in the Indian market. The service providers face similar challenge to customize plan to low-income and rural segments and apps market need to mature and provide solutions to the end-users.
For the first and final part click below:
Mobile Phone Consumption in India - part 1

Mobile Phone Consumption in India - part 3
By Dr. P Prakash, principal consumer researcher, Smart Sky Electronics & Research Pvt. Ltd.