Internet
Internet freedom in decline, again
FreedomHouse has released its latest Freedom on the Net report for 2015, measuring the level of internet and digital media freedom in 65 countries. And it's not looking good; 32 countries saw their score decline, including France (by 4 points), Australia (by 2 points), and Germany (by 1 point). Libya dropped by a worrying 6 points.
The 2015 Freedom on the Net report focused on developments between June 1, 2014 and May 31, 2015 and is based on a set of 21 methodology questions (and nearly 100 subquestions), divided into three categories: Obstacles to Access; Limits on Content; Violations of User. The index also measures access and openness of "other digital means of transmitting information, particularly mobile phones and text messaging services." Countries are then given an internet freedom rating based on their score:
Scores 0-30 = Free


Scores 31-60 = Partly Free

Scores 61-100 = Not Free
According to this year's report, globally, the number of countries' authorities that required private companies or internet users to restrict or delete "web content dealing with political, religious, or social issues" has increased by five to 42. The most censored topic, not surprisingly perhaps, was criticism of the authorities (over 61% of all internet users live in countries where criticism of authorities has been censored online). News about conflict, corruption allegations, opposition websites, and satire was also censored in over one third of countries. Censorship won't stop everyone though, despite over 58% living in countries where "bloggers or ICT users were jailed for sharing content on political, social, and religious issues."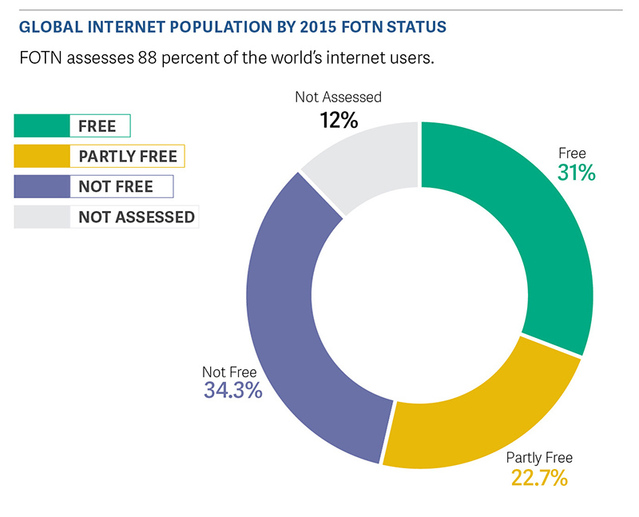 It seems if they can't censor, they'll spy; since June 2014, governments in 14 of 65 countries have passed new laws to increase surveillance while many more upgraded their surveillance equipment. And governments don't approve of attempts to stymie surveillance either; both democracies and authoritarian regimes have branded encryption "an instrument of terrorism", as well as trying to ban or limit privacy protection tools.
The world's worst abuser of internet freedom? China, followed by Syria and Iran. Russia came in at number 17 out of the 65 countries assessed.
It's not all doom and gloom though - Sri Lanka and Zambia saw big gains in their internet freedom, with both having experienced recent changes in government. Access to the internet has become more affordable in Cuba now that diplomatic relations have been restored with the United States, although it continues to be out of reach for the majority.
To view the summary of findings, click here.
To download the full report, including detailed chapters for the 65 countries covered, click here.
To download a map of internet freedom, view the report graphics.
Further reading:
Latin America: Analysis of Freedom House's Freedom of Internet Report, Part One
Latin America: Analysis of Freedom House's Freedom of Internet Report, Part Two