Internet
News Roundup: Supercomputing, NSA joins GitHub, and Robot sumo
A roundup of the week's technology news including Amazon's drone beehive, still preparing for Y2K, and EU-encryption.
NSA & Github
It's good to give back to the community. Even the NSA thinks so. That must be why the US intelligence agency launched its own GitHub page this week. The 32 projects on offer includes a framework for developing and deploying software radio applications, security monitoring, memory retrieval, and a framework for creating widgets. No word on how many backdoors come included as standard. There is a precedent for this: the UK's GCHQ joined GitHub back in 2015.
The NSA didn't learn from its mistakes in the wake of the Ed Snowden leaks according to an internal report released thanks to a FOI request by the NYT. According to the report, the NSA did not implement technology to oversee privileged users, reduce the number of privileged users, or reduced the number of data transfer agents.
John Edwards, the CIO of the CIA, is a brave man. He was recently quoted as saying; "I'm never going to say anything you do in the cyber world is totally invincible, but this [the CIA's Cloud] is pretty close." Let's hope hackers don't see it as a challenge.
Pavel Durov, former CEO of VKontakte, and founder/current CEO of messaging app Telegram, claims the FBI tried to buy their way into getting a backdoor.
"During our team's 1-week visit to the US last year we had two attempts to bribe our devs by US agencies + pressure on me from the FBI," he Tweeted. "And that was just 1 week. It would be naive to think you can run an independent/secure cryptoapp based in the US."
Amazon's latest ideas
A couple of interesting patents from Amazon have surfaced recently. One, titled "Physical Store Online Shopping Control," would work out if you're using the in-store Wi-FI to compare the price of an item in-store online (i.e., how a lot of people use Amazon itself). It could then show you cheaper alternatives, offer a discount, or outright block what you're trying to do.
The other is what can only be described as a drone-based bee hive. This multi-story UAV fulfilment centre would enable drones to pick up a package, deliver it, and return for another pickup, presumably in a completely automated process.
Walmart, possibly as a result of Amazon buying Whole Foods last week, has told its partners and developers not to use the AWS Cloud.
"It shouldn't be a big surprise that there are cases in which we'd prefer our most sensitive data isn't sitting on a competitor's platform," a spokesperson said.
Supercomputing not so super in the US
The latest edition of the top 500 supercomputers in the world was released this week, and it's bad news for the US. For the first time since 1996, the US doesn't have a spot in the top three (but does still have five entries in the top 10). The Department of Energy's Titan was edged out by the Swiss National Supercomputing Centre's (CSCS). Piz Daint system. China's Sunway TaihuLight and Tianhe-2 maintained their grip on the top two spots.
The Green500 list, which measures the most energy-efficient supercomputers, was also released this month. Japanese institutions and companies occupy all of the top four and six of the top 10 positions on that list. But CSCS's Piz Daint comes in sixth, showing it's possible to combine computing power with energy efficiency.
Y2K
Remember when the Millennium Bug, aka Y2K, was a thing everyone was scared of? Apparently up until now US government agencies have had to have paper documents on hand explaining how they plan to deal with it, even though it was A) a damp quib, and B) 17 years ago. Luckily, President Trump has wisely decreed that this will no longer be necessary.
The new directive removes the need for various paper processes, which, for some reason, still included seven(!) documents related to 'the Year 2000 Problem'. Possibly the wisest cyber policy we've seen in a while.
M&A
Say want you want about Oracle, but has it got this Cloud transformation thing right? According to the company's latest figures, this quarter marked the first time Oracle made more money from Cloud revenues than hardware. How much of that is driven by its acquisition of NetSuite is hard to say.
Snapchat has acquired Zenly, Adobe has bought Mettle's Skybox Tools, CSC is buying Xchanging, and Logicalis has snapped up Packet Systems Indonesia.
Toshiba has picked a Japanese government-backed investor as its preferred buyer, while Imagination Technologies has put the entire business up for sale after losing business from Apple.
Yahoo! has pulled the plug on News Digest, the app created by British teen Nick D'Aloisio and bought for £20 million.
Intel has discontinued its Galileo, Joule, and Edison boards, as well it the Recon Jet smart glasses.
EU-cryption
While most governments and agencies are working overtime to get rid of encryption and put backdoors into every system they can, the European Union is looking to go the other way. A new draft proposal from the Committee on Civil Liberties, Justice and Home Affairs would require end-to-end encryption as standard and prevent governments asking for backdoors into communication systems.
The EU is also looking to have established, region-wide rules and control procedures for drones – including an air traffic management system – in place by 2019.
Meanwhile in the UK, the Queen's Speech – which outlines the new government's future plans – included a new Data Protection bill. Details on the new bill are pretty vague but include some right to be forgotten provisions and data processing by law enforcement agencies.
A US court has ruled that social media is a constitutional right after it decided that a 2008 North Carolina law barring registered sex offenders from social media was unlawful.
While people have wised up to the notion that data on the Cloud still actually resides somewhere, the issue of data residency still poses something of a problem for companies dealing with strict compliance requirements. Estonia has overcome that issue to create the world's first "data embassy" in Luxembourg. Essentially the deal declares a server room in Luxembourg as Estonian soil, meaning it can back up government data and systems in a remote location but stay on legally solid ground.
Lenovo folding?
Are we in the age of foldable electronics? No, not really. We've been promised all kinds of cool stuff, but none of it has ever actually come to market. That hasn't stopped Lenovo showing off its new folding laptop concept, the Lenovo Transform. The Transform comes with 'new screen technologies' and 'advanced materials', according to the slide, but no actual details, or information on if/when this would ever come to market. The company also announced a big data centre portfolio refresh, but that's less exciting.
Owls
Last week we had smart speakers that looked like bears. This week, we bring you the conference camera that looks like an owl. The Owl, from Owl Labs, is a 360-degree video conferencing device which looks like an owl. Owl.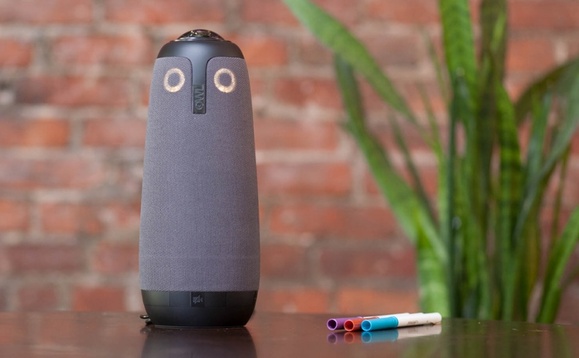 Root canals
In a weird game of 'would you rather', what sounds better; root canals, or explaining a data breach to the board? According to a survey from LastLine, 44% of IT pros would prefer the dental surgery.
Autonomous race cars
Roborace – the autonomous race car league – is edging closer to reality. One of its cars was filmed doing a flying autonomous lap around the Berlin ePrix. The little race car that could completed the lap in one minute and 40 seconds, just under 30 seconds off the pace that the human Formula E drivers generally set. Pretty impressive progress considering one of these cars crashed pretty impressively not too long ago.
Robo sumo
Japan is awesome. Want proof? Robot sumo. 'Nuff said.