Kathryn Cave (Ghana) - Accra: IBM's New Rome?
"The sick die here because they can't sleep - it costs a lot merely to sleep in this city! That's why everyone's sick: carts clattering through the winding streets, curses hurled at some herd standing still in the middle of the road." This could describe a modern African city, but in fact it comes from the satirist Juvenal in the early second century... and is about the city of Rome.
This is not how people picture Rome; the benchmark of a beautiful city. Yet the cliché that Rome was not built in a day holds true. The Coliseum was built about 30 years before Juvenal wrote his satire and the Pantheon around 20 years later. Chronic sleeplessness was caused by building supplies transported at night. But like many modern cities in Africa, Rome was in the necessary state of chaos it took to create all those monumental buildings, bath houses, sewage systems and aqueducts. Perhaps comparisons could be made with Ghana's capital Accra?
Recent research from MasterCard suggests Accra is the African city with the highest growth potential. This report takes into account GDP per capita growth, national urbanisation and middle income household growth, to conclude that this city has the highest investor appeal on the continent. Yet at present Accra is in a state of flux. Today 42% of the city lives in informal settlements or slums. The sanitation is extremely poor - an incredible 35% rely on public toilets, which lack the capacity to stop infectious disease. The gutters are choked with refuse, there are frequent power outages, the roads are gridlocked, and raw sewage is pumped directly into the sea.

IBM Reveals a Blueprint for the Ultimate City
Change is definitely needed. And it looks like IBM might have taken on that mantle of town and infrastructure planning visionary, with the promise of taking Accra to new dizzying heights of efficiency. IBM's recent report, "A Vision for Smarter Growth: an IBM SmarterCities Report on Accra, Ghana" explains how, with systematic planning and the right technology Accra can make the transition to true smart city. It almost feels like a bid for a Roman engineering award;an attempt to take on the best - because in Britain, even after 2,000 years, Roman roads are still the straightest. And Rome knew how to leverage cash - it even taxed urine.
Today, in the Western world, Roman structure - vigorous planning, solid organisation and measurable results - has set the benchmark for both good culture and good business. Maybe these are the heights that IBM is reaching for? It is quite a project to transform a city from the ground up, especially as it starts with generating money. Yet couple this vision with IBM's concerted focus on the African continent (look at the emphasis on Nairobi) and the whole thing makes perfect sense. In fact IBM was keen to stress in its 2011 report "IBM and Africa" that this region has been on the radar for the last 80 years.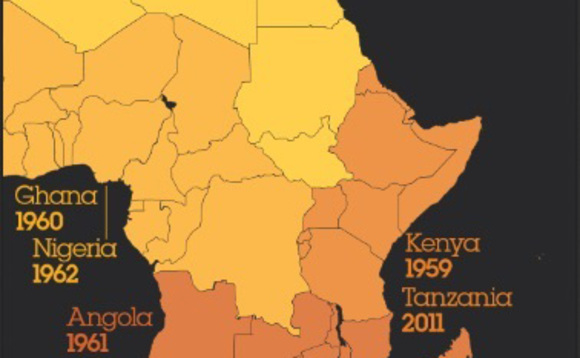 Accra is a very good candidate for development, as Ghana has the second largest economy in West Africa, but its infrastructure is massively flawed and many people don't pay taxes. "We estimate that Accra loses up to 50% of its current revenues to fraud or underpayment by residents," said Lydia Sackey, Metro Director of Budget, Accra Metropolitan Assembly. "Revenue generation is key to improving city services in Accra. Quite simply, if we don't raise enough revenue, we are not able to perform our functions and produce enough services for people in the city."
In 2012 Accra applied for and won a Smarter Cities Challenge Grant from IBM. This meant some of the organisation's top executives went to live and work in Accra for one month. After which the team delivered a workable blueprint to city authorities on the technology necessary to enable efficient revenue management, along with a raft of other measures to help regenerate the city. In short, IBM delivered a plan on how technology could transform Accra.
It all starts with money of course, and IBM advised the city to implement a multi-channel automated direct payment system. High mobile penetration rates mean people would be able to pay through their phones. To counteract the difficulty in locating where taxpayers live it suggested a Geographical Information System to map the city. This could track developments, see where people really live and therefore who is supposed to pay tax. The increased revenue generated from this could help improve the city in a wide variety of ways.

Technology Facilitates Better Living and Promotes Entrepreneurialism
"IBM's approach is to enter a dialogue with key stakeholders and experts on the ground to understand the challenges and explore where technology can be successfully applied to transform the systems on which our cities depend," said Joe Mensah, Country General Manager of IBM Ghana "The scale of Accra and its challenges creates a manageable environment for implementing smarter systems that could really improve lives and business." The IBM report follows on from the launch of the Ghana government's National Urban Policy Framework and Action Plan, which is aimed at improving infrastructure and raising revenue to reduce poverty and tackle growth challenges.
In truth, the potential for technology to transform the city of Accra does seem astonishing. Measures suggested include smart grids to help with the electricity problem, smarter traffic management to deal with the huge congestion problem, along with an on-going focus on technology to facilitate a better future for the country's youth. 56% of Ghana's population is under 24 years of age and technology has the potential to give an ambitious, entrepreneurial population a development focus. The proposed $40 million Ghana Cyber City for example, seeks to create 5,000 jobs in five years and will be located right in the centre of Accra. IBM believes it could become West Africa's first technology park.
Entrepreneurship is on the up across Africa. A recent survey from Omidyar Network developed in partnership with Monitor Group showed that although finance is problem in Ghana 64% of respondents felt local opportunities were good enough to support new firms. The report stressed that there is "evidence that a strong culture of entrepreneurship is emerging in Ghana. [And] entrepreneurs displayed positive attitudes towards income tax and bankruptcy-issues that typically deter people from starting new businesses. As such, indigenous entrepreneurs are making a significant contribution to the economy, with small, medium and micro-enterprises employing approximately 70% of labour."
The new Accra will not be built in a day, but any systematic, properly planned change should help drive progress. And at the very least, second century problems such as "fish from the [river], covered with grey-green blotches, fed from the flowing sewer" might diminish. In fact who knows what the future could hold in store for Accra with IBM's help...
By Kathryn Cave Editor at IDG Connect