Mobile Communications
Will Mutua Mworia (Africa) - The State of e-Governance/e-Government in Africa
The Kenyan government is all set to unveil its Open Data initiative; its aim at opening up the repositories of varied datasets to the public for public consumption.
This got us thinking of the current state of e-governance/e-government across Africa. There are two different terms used, e-Governance and e-Government, and without getting into the technical details of what each is, it's suffice to say that both have to do with the use of ICT to promote more efficient and effective government; facilitating accessibility of government services, and allowing greater public access to information and make governments more accountable to citizens.
e-Gov has seen to be of particular interest in ICT4D, especially in Africa. However, the uniqueness of the challenge facing such efforts in various countries are not to be ignored.
The United Nations, through its Public Administration Program, has a comprehensive database on this subject. We can use this data to draw some interesting highlights: According to the results from a 2010 survey, Tunisia, Mauritius and Egypt represent the top three ranked countries for e-government in Africa. Putting this in a global context; the top ranked African country, Tunisia, ranks 66th out of 184. Mauritius ranks 77th, and Egypt ranks 86th.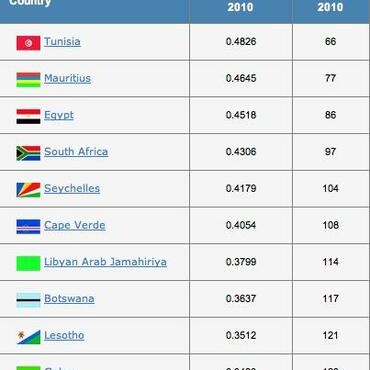 Within the different regions the top three (in order) of each region are as followed:
Eastern Africa: Mauritius, Seychelles, Kenya

Central Africa: Gabon, Sao Tome and Principe, Angola

Northern Africa: Tunisia, Egypt, Libyan Arab Jamahiriya

Southern Africa: South Africa, Botswana, Lesotho

Western Africa: Cape Verde, Ivory Coast, Ghana.
According to a study by Yayehyirad Kitaw back in 2006, the three biggest challenges to the successful application of e-governance in Africa are:
The improvement of overall literacy

The development of telecommunications infrastructure

The commitment of governments to genuine transformation towards more transparent and citizen-centered governance.
In his study, Mr. Yayehyirad looks particularly at telecoms infrastructure, particularly in the light of telephone line, PC and Internet penetration, and draws a startling contrast between Africa and other regions in the world: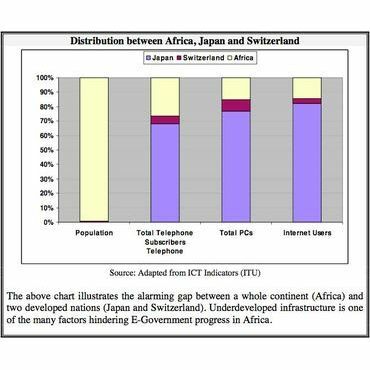 However, in the past few years, since the time of this study, the telecommunications infrastructure situation in Africa has drastically changed, with multiple fiber links being installed, providing high speed links to the rest of the world and potentially better internet reach within countries.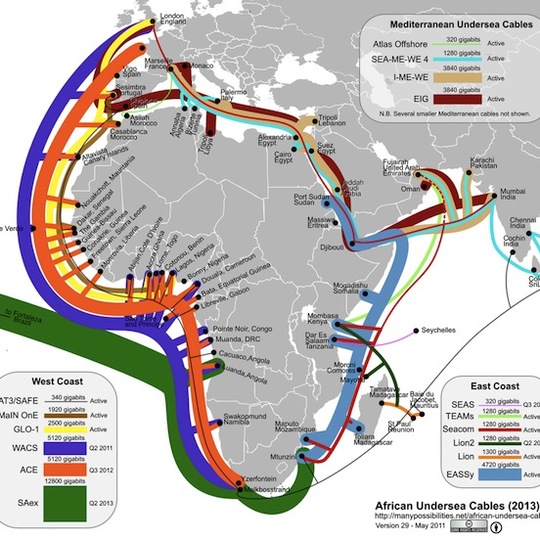 In addition, the growth of mobile in Africa has been phenomenal. By and large, the mobile is considered the technology of choice for long-distant communication in Africa. According to a blog post on Semacraft's blog:
PC penetration in Africa is better than it used to be but pales in comparison to mobile phone penetration. In countries like Kenya, Ghana and Nigeria, mobile penetration currently stands at between 50% and 80% while PC penetration is less than 10%. For instance, Kenya's last population census indicates 63% of households have at least one mobile phone but only 3.6% have a computer. Some reports put South Africa's PC penetration at approximately 16%, probably the highest on the continent. Mobile penetration on the other hand stands at more than 100%. With the vast majority on the continent experiencing the Internet for the first time via mobile and a large percentage using mobile only and not pc, building mobile apps to suit the market's requirements is almost a no-brainer.
[In addition]
Internet penetration has improved exponentially over the last 5 years across the continent with the largest improvement being found in the countries where undersea cables make their landing. In many of those countries, mobile Internet access has more than 50% market share and as high as 90% in Kenya leaving regular broadband Internet service providers with a minority share. This makes it easier to distribute mobile applications as the medium is already in the hands of the African customer.
Furthermore, the problem of Internet penetration can be circumvented by use of alternative technologies (though not as sophisticated) such as SMS and USSD to reach even the remotest citizen.
As far as the Kenya Open Data initiative is concerned, let's see how it comes out and what innovative applications can be made of the availability of the data in easily human and machine-readable formats. The promise of an API to the data opens up great possibilities. And seeing as Kenyan , Athman Ali, won an award in the recently concluded World Bank developer challenge.
For a detailed look at specific e-gov initiatives in different African countries, check out "e-Governance in Africa" from iConnecT Online.
By Will M Mworia, founder of Afrinnovator