Internet
Rant: The crazy life-wasting pointlessness of physical badges
It was such a boring Saturday dash across London. I'd been told to go to BFI on the South Bank over the phone the previous day. Yet once I arrived – after an annoyingly slow walk through crowds of dawdling pedestrians – I was shooed off towards an office miles away. When I got there, the only person around, was on his way out the door and had no idea what I was on about…
I sat on a wall outside huffing with frustration. It was 3pm, three wasted hours since I left home and still no joy. Pulling out the phone, I spotted an email:
"You can pick up your badge from our offices off Tottenham Court Road before 5pm…"
Had I been less mild mannered and British I would have howled. The sound would have reverberated along the Tottenham Court Road and shattered glass in its wake. I rocked slightly – like a lunatic – then composed myself for the chirpiest response I could muster.
"I'm at the office – nobody can help. Would it not be possible to use this email as proof of accreditation?"
This whole fruitless and tedious journey was to pick up a badge. A physical badge! I had reams of print outs, virtual evidence aplenty, but all the endless text stipulated that there was absolutely no admittance to the London Film Festival without that physical entity.
Where was the virtual alternative?
Some kind of e-pass?
A lovely smartphone barcode with snap attached? Double verify it via social media if you must. I mean, there was a film shot on an iPhone shown at the festival, for goodness sake. It was madness.
I had been accredited as press – via a whole bunch of massively irksome forms – weeks before. And once you were in you had access to reams of online content to be viewed at your leisure. The trouble was you needed your physical badge to see any of it.
For me, there was only one thing I really wanted to see: the Steve Jobs film on the final Sunday. And I had missed the usual two week pick-up window.
Yes, of course, it was my fault. I should have picked up the stupid badge during the duration of the festival. But I don't live or work near the pick-up points. I was even out the country for a bit.
Excuses. Excuses.
I definitely should have picked the badge up sooner. But surely a virtual smartphone version would have made it simply for everyone?
In the end someone brought that bane-of-my-life badge to the Steve Jobs press screening. I'm very tempted to get the damn thing framed…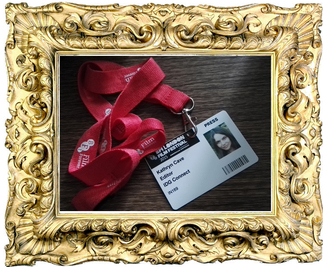 Further reading: