Internet
News Roundup: Facebook woes, Apple Echos and AI Pi
A roundup of the week's tech news including driverless cars, brands who say "Ni", and robo-taxes.
Facebook unable to buy positive headlines
Despite strong financials, Facebook has had a mare this week.
The social network was accused this week of trying to monetise adolescents' insecurities. According to a report by The Australian, FB has shown advertisers it is able to identify when teenagers feel "insecure", "worthless" and "need a confidence boost", as well as a host of other negative feelings. FB has called the report "misleading" and doesn't "offer tools to target people based on their emotional state". Former Facebook exec and author of Chaos Monkeys Antonio Garcia-Martinez said he hasn't heard of targeting ads at emotions, but wouldn't be surprised if they had.
A report in the WSJ suggested female engineers' code was rejected 35% more often than male engineers'. Facebook's own study into the report suggested less senior engineers have their code rejected more often, implying the company has far fewer female engineers in senior positions.
To combat a recent spike in violence, Mark Zuckerberg announced 3,000 extra moderators to try and take videos down quicker. "Over the last few weeks, we've seen people hurting themselves and others on Facebook -- either live or in video posted later," he said in a FB post. "It's heartbreaking, and I've been reflecting on how we can do better for our community."
Apple Echos
WWDC is just around the corner, which inevitably means the Apple rumour mill has to go into overdrive. The headline grabbing one this is year is the prospect of Apple releasing an Amazon Echo-like device powered by Siri. Analyst Ming-Chi Kuo expects Apple to debut its first "home AI product", and could ship 10-12 million units in its first iteration.
Is Apple looking to keep President Trump sweet? The Cupertino Company just announced a $1billion fund – borrowed, obviously, since moving cash back would be too expensive – to promote US manufacturing.
"We asked ourselves, 'How can we get more people to do advanced manufacturing in the United States?'" CEO Tim Cook said in an interview this week. "And I'm proud to tell you that we're creating an advanced manufacturing fund. We're initially putting $1 billion in the fund."
Everyone is doing cars
Following on from Apple and Amazon, Samsung has become the latest tech giant to gain permission to test driverless cars on public roads. The Korean giant has been given permission by the government to test cars on roads in South Korea.
Leavers
Why do people leave tech companies? Because you're not treating them right. The Kapor Center for Social Impact's Tech Leaver's study found that unfairness is the most common reason to leave a job, driven mainly by poor management. Being passed over for promotions, given work below their station, and having other people take credit were also common types of unfair treatment.
M&A
Cisco has made a double swoop for Viptela and Saggezza, Aurea has bought Jive, Centrica now owns data discovery startup Rokitt Astra, and IBM has acquired Verizon's Cloud and managed hosting.
Imagination Technologies is looking to sell its MIPS and Ensigma businesses, while Nokia is rumoured to be selling its undersea cable business.
Bitcoin
Bitcoin has been on a surge in 2017. The cryptocurrency surpassed the value of gold per ounce in February, and has now reached a new record high of $1570 per BTC. That boom has also had a positive effect on other cryptos, with the likes of Ethereum and Litcoin all increasing in value substantially.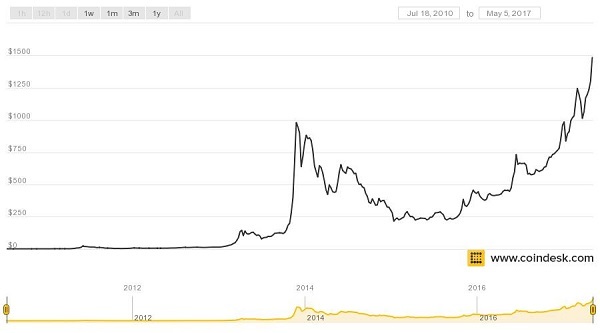 Robo-tax
Earlier this year, Bill Gates suggested robots should be taxed in order offset the impact of the jobs machines replace. The idea was put to the EU parliament, but was rejected.
However, the sunny state of California could implement something similar in the near future. San Francisco County Supervisor Jane Kim is currently setting up a working group to consider how an automation tax might work.
"Wealth will accumulate among a very few due to automation," she told Business Insider. "[So the question is,] what do we do with that accumulated wealth that's being distributed to fewer people?"
New Stuff
John McAfee is launching a smartphone. The John McAfee Privacy Phone will be the "world's first truly private smartphone," and hack-proof, according to Mr. McAfee. Possibly not the wisest promise; such claims didn't do the Black phone any favours.
Windows this week announced Windows 10 S; its rival to the Google Chromebook. Aimed primarily at education, yet could the locked-down nature of the S OS make it attractive to enterprises? Analysts that spoke to IDG certainly think so.
Given the propensity of smartphones to be getting bigger there was bound to be a backlash at some point. Enter Jelly; a super-tiny smartphone project on Kickstarter. The Jelly promises Android 7.0, 4G, decent performance, and three day's battery all crammed into a phone that's 3.6 inch x 1.7 inch device. We'll see if they can deliver on that. Also, why would anyone want a device that small?
You've been able to port Alexa to the Raspberry Pi for a while now, but the form factor has largely been left up to DIY-ers. Google has gone one step further and created a Google Cardboard-like housing to turn your Raspberry Pi into a DIY Google Home virtual assistant. As well as some carboard housing and a speaker, the kit comes with the Google Voice Hardware Attached on Top (HAT) accessory board to enable voice commands on your Raspberry projects.
Drone safety
What's the best way to test drone safety regulations? By dropping drones on crash test dummies, obviously. The FAA And ASSURE conducted various tests to see what the main dangers of having a drone fall on your head could be. They identify Blunt force, Lacerations, and Penetration injuries as the three main potential injuries. Fairly obvious outcomes, but the testing must have been fun.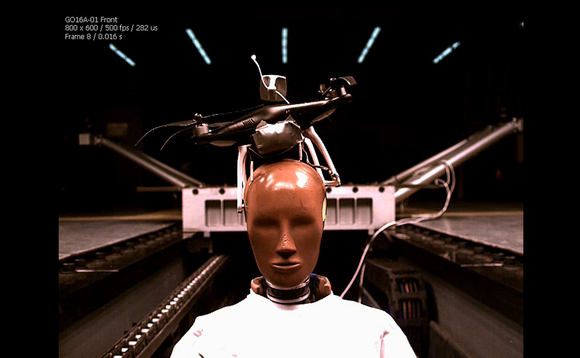 We are the brands who say "Ni"
Tech is full of Monty Python nerds. And that's fine. But maybe marketing should steer clear of Eric Idle & Co. Dell EMC recently released a cringe-worthy video mocking HP/HPE through the medium of Monty Python parodies. Based on the Holy Grail's "Tis but a scratch" scene, the skit portrays HPE as the 'Green Knight', continuously self-inflicting wounds, while Dell EMC is set up as a King Arthur-like Knight of the Dell.