Internet
Dan Swinhoe (Middle East) - The Gulf's Web Habits & Why We Need More Arabic Content
The Middle East is one of the most connected regions in the world. Internet World Stats put total internet penetration at just over 40%, or 90 million people. In terms of percentages, that's more than Africa and Asia, and only just behind South America. Obviously the numbers vary greatly from country to country; figures go as high as 86% in Qatar and as low as 7% in Iraq. But how do all these people engage with the web?
Habits
Access to the web by desktop or laptop is the most popular choice; 98% compared to 24% by phone. Home is the most popular place for netizens to access the web, followed by work; while mobile data is slightly favoured over internet cafes. According to figures from Bayt, people are busy online. Over 70% of people connect with friends & family by email or social network regularly (once a week or more), while 70% watch video and 60% listen to music (40% download music). Job hunting is particularly popular, even though most people in the survey were working full-time. Online shopping is yet to take off to the same level, as only 32% of MENA internet users buy online - half the figure of the UK. Booking holidays through the web is dominated by the UAE; online travel bookings in the Emirates represented $4.7bn in 2011 (60% of the ME) and are expected to double to $9.4bn by 2014.
Social
Just like the rest of the world, social networking sites have become the defacto homepage for many. A study by Omnicom found 40% of people in Saudi Arabia and 50% in UAE would find Facebook the hardest thing to live without; more than instant messaging, voice services such as Skype and other social networks (all of these figures ranged from around 20-35%, still very high), and there's no reason to assume these figures vary much across other countries in the Gulf. Though in the UK more people would rather go without a toilet than Facebook, they'd also rather have painkillers than vegetables and rate mobile phones above clean clothes, so might not have their priorities right.
There's a definite link between social and commerce; 50% of MENA Twitter users have made a purchase as a result of something they've seen on the site. But in spite of this, almost 50% of companies in the region feel social media is not being used effectively by their company (and nine out of ten would have a go if given the chance).
News and politics are a major part of the Middle East's internet use. Twitter, though proportionately still one of the smaller social networking sites, is still an important part of the online fabric - a study by Portland found almost 80% of Twitter users discuss politics, while almost 70% use the microblogging site for news. Bayt's study into internet use also found politics and business news was accessed online by over 50% of its users. Meanwhile LinkedIn use has exploded. In the past year numbers have soared by over 120%, and in most ME countries LinkedIn is actually more popular than Twitter.
Percentage penetration of social media users in selected Arab countries by social network (June 2012) [Source: E-Consultancy]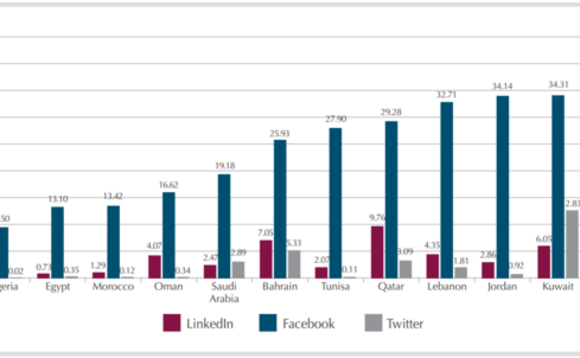 Sharing Is Caring
Despite the growing popularity of social networks, people don't seem to be bringing much to the table. According to Discover Digital Arabia, the vast majority of people don't share content on social networks; over three quarters of users on Pinterest, Tumbler, LinkedIn and MySpace; 69% of Twitter, and half of Google+. Only Youtube and Facebook have a majority that do share, but even then, Youtube still has a 38% who don't.
How often do you share content? [Source: DDArabia]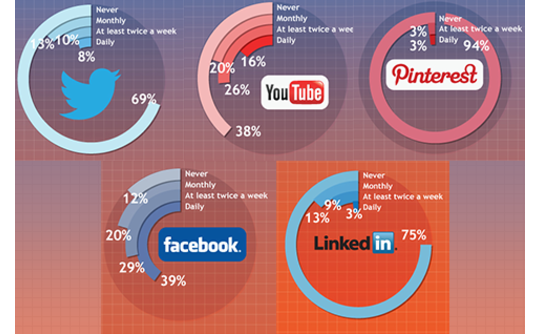 Why the lack of sharing? Well it might be down to the lack of relevant content. There are around 350 million Arabic speakers in the world, and around 24% of them are online. That equates to roughly 4% of the online population. Despite this, less than 2% of online content is in Arabic. Saudi Arabia is currently leading the Arabic content revolution, claiming 40% of all Arabic tweets, half of Wikipedia's Arabic content and 35% of all Arabic content on the web. Since "Arab users prefer to use Arabic keywords to find relevant search results when looking for local products and services" according to E-Consultancy, it should be an imperative to increase this kind of content.

Clearly MENA are catching up quickly with the potential of the web. But to really tap into what people want, companies need to follow the likes of Facebook and offer substantial content in Arabic, instead of expecting them to use English.
By Dan Swinhoe, Editorial, Assistant, IDG Connect