Technology Planning and Analysis
Lotus F1 factory: Renault deal and pit stop try-out
In November last year, I was invited to tour the Mercedes AMG Petronas Formula One factory in Brackley, Northamptonshire. The tour was not as secretive as I thought it would be as we were allowed to see parts being inspected and even got a go on the queasy simulator. So it is interesting to be invited to the Lotus Formula One factory in the Oxfordshire countryside a few months later to see how the two compare. This is my take on the each aspect of the tour.
What will the Renault deal mean for Lotus?
It's been a challenging few years for the Lotus F1 team. Autosport reported that Lotus, in 2013, made a loss of £64.914 [$95.74] million which cast doubts over the future of the team in F1. Now, Renault will be taking over the Lotus team but after such turbulence, will it be able to get the team 'back on track'? Compared to Mercedes and Ferrari, the Renault engine is less good. According to a BBC article, Mercedes' power output is about 890 to 900 bhp, while Renault's is 830 to 840 bhp.
"We've been working with Renault for six months now to get this deal done so it's a big transitional period for us and it means that next year we go in to the season with a Renault engine rather than Mercedes engine. The target for Renault is to become world champions over the next eight years," Matthew Carter, CEO of Lotus F1 tells us in his presentation.
Carter admits that it won't be an easy fix when Renault officially takes over.
"Formula one is very engine oriented and clearly Mercedes has the best engine so Renault realises that and will have to focus on developing and changing the structure of the engine to make sure it becomes competitive for next year. So they are putting a considerable amount of money into the team over a number of years."
Is there really an IT skills shortage at Formula One?
"It's really hard to find good mobile developers, who [prefer] to work on cool games like Angry Birds and not uncool stuff like optimising work processes," Russell Acton, VP International at Capriza explains in the group presentation.
I catch up with Acton later and he explains the cultural mind-set challenges in attracting good UX talent.
"Good UX skills are thin on the ground at the moment so everybody is having trouble recruiting them. There's lots of research which suggests that millennials don't just go to work for a job, they consider what they are doing important and want to do something interesting and valuable. For a large organisation it's hard to attract that talent when they have fickle needs and wants," Acton tells me.
Acton also talks about the shortage of data scientists in Formula One.
"Maybe some of the regulations make it very difficult to get the best out of real-time machine learning and having true data scientists. I think that's something Formula One can look to exploit over the coming years."
Why bad timing means more secrecy for my Lotus tour
At the start of the factory tour we are warned that Lotus is in the middle of developing the car for next year so pictures are not allowed in most areas. There is definitely more secrecy here in comparison to the Mercedes factory tour as we are not allowed in a lot of rooms.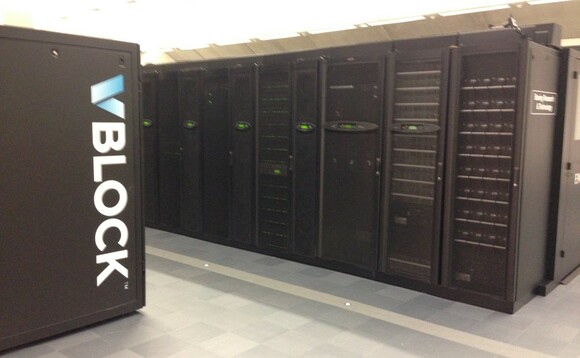 The supercomputer room
We are shown the supercomputer room, which is a sort of mini data centre for Lotus. I am told it's a "mirror" of Lotus' other data centre where Computational Fluid Dynamics (CFD) analysis is carried out to develop the aerodynamics of cars.
"For CFD we've got about 3,000 cores, 10,000 GB of RAM and 600TB of storage. We generate about 10TB of new data every week," Luca Mazzocco, Head of Partner Management at Lotus F1 tells me.
"It is difficult to put a number on the contribution to our aero performance as almost all parts tested in the wind tunnel these days will have had several iterations in CFD before being made," Mazzocco adds.
How can a virtual wind tunnel help win races?
One room we're shown includes 3D printed parts of a car and a diagram on the wall showing the airflow around the car. Mazzocco explains the relationship between CFD and the wind tunnel.
"The best way to look at it is as the verification of what we are doing in CFD. CFD is a computer system that uses mathematical models to simulate the airflow over the car. Effectively, it's a virtual wind tunnel. The advantages of CFD is that you can do about 400 simulations in a day using CFD," Mazzocco says.
"With wind tunnel you have a real physical car and have to make amendments to it, so you're probably limited to about 40. However, there are certain areas where the correlations between the wind tunnel and the real car are much stronger than CFD. So that's why we still use the wind tunnel. The car itself is a 60% scale model which is the maximum we are allowed as it's a cost-saving regulation. But it's a good model as it takes us 40% less time to make the car. We can build things much quicker and get a quicker turnaround of parts.
"Our correlation between the wind tunnel and track is really strong. Ferrari had to move their wind tunnel to Germany and use Toyota's wind tunnel because they found that their wind tunnel correlation was so poor."
How does it feel to do a pit stop tyre change?
The timed pit stop tyre change is one of the most interactive parts of the day as we are split in two teams so one part is in charge of quickly moving the new tyre in while the other team member screws it in with the wheel gun. It takes a bit of time getting used to using the wheel gun but the atmosphere soon turns pretty competitive with each member determined to get it done the quickest. We are told that getting it done under three seconds is pretty good. Obviously speed and accuracy is crucial but I have trouble getting used to the wheel gun - and let's just say that I won't be hired at the pit-stop anytime soon.
What about the thrill of simulating a race?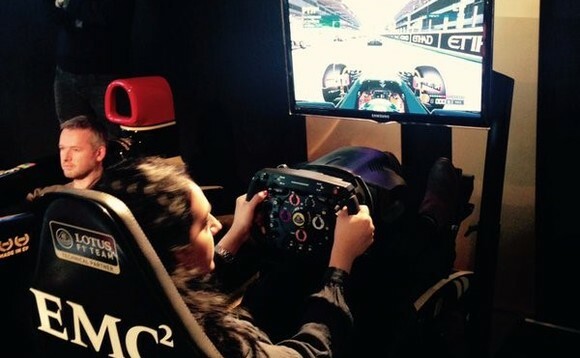 Feeling pretty despondent after my less than stellar performance at the pit-stop I am keen to win the race on the simulator. This isn't the full immersive simulator experience I had at Mercedes but I am secretly glad as I am not keen on feeling motion-sick again.
Even better, although the controls look complicated on the steering wheel, I don't have to worry about any of it apart from the accelerator and brake pedal. I get into my element pretty quickly.
"You're doing really well, you're 5th!" A voice says in awe from behind me.
This is more like it, I think to myself and keen to show off, I slam the accelerator pedal down ready to overtake anyone in my way, even if I have to drive them over the edge of the race track. I come across some pretty tricky bends but manage to tackle them and maintain my position. Things are really starting to look good.
But my joy is short-lived. I somehow drive into the inner lane which leads to the pit stop by accident and I seal my fate. My heart sinks as all the other cars gloatingly speed ahead of me while I grudgingly got refuelled with fuel I don't even need. It seems like forever before I finally get out of the pit stop and although I try catching up with the other cars, my heart just isn't in it anymore and it is impossible to catch up. I come last.
I notice some awkward shuffling from people that have been watching.
"You will have enough fuel to last you a lifetime now!" I hear from behind me.
How do drivers test peripheral vision, reaction times and stamina?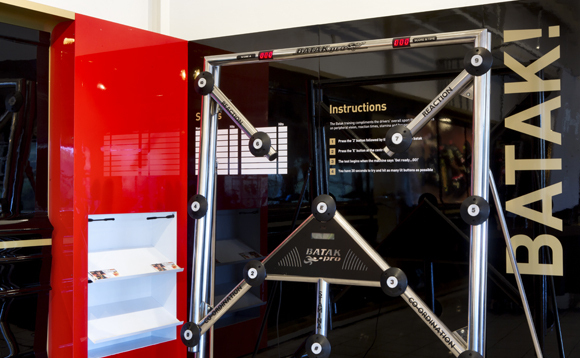 I still have one last shot at redemption on the fitness equipment which tests peripheral vision, reaction times and stamina. The round targets are numbered and light up randomly and the goal is to stretch and hit as many of these targets as possible under a timer. This is quite fun and I don't do too badly on it. I am initially in the lead but then get beaten by two of the others. But I still end with a fairly respectable score.
Now that Renault has completed its Lotus takeover from next year, it remains to be seen whether it will fulfil its goal of becoming world champion within the next eight years. And while the factory tour felt a bit more rushed and secretive compared to the Mercedes Formula One tour, the pit-stop try-out and games were really good fun and provided a great insight into the cut-throat nature of F1.
Also read:
Inside Mercedes' F1 factory: Simulator, data and sensors